Combining Stunning Interior Design with Innovative Smart Technology: The Easier Way to Enjoy the Best of Both Worlds
08 May 2019
Home Automation
There once was a time when the worlds of technology and interior design were just about as far apart as it gets.
With the latter focusing predominantly on aesthetic qualities and a touch of everyday functionality, there was seemingly no room -nor much need- for the gizmos, gadgets and complicated devices of smart home technology.
Yet as we march headlong through the 21st century, those days are long gone.
Smart technology: An essential part of modern living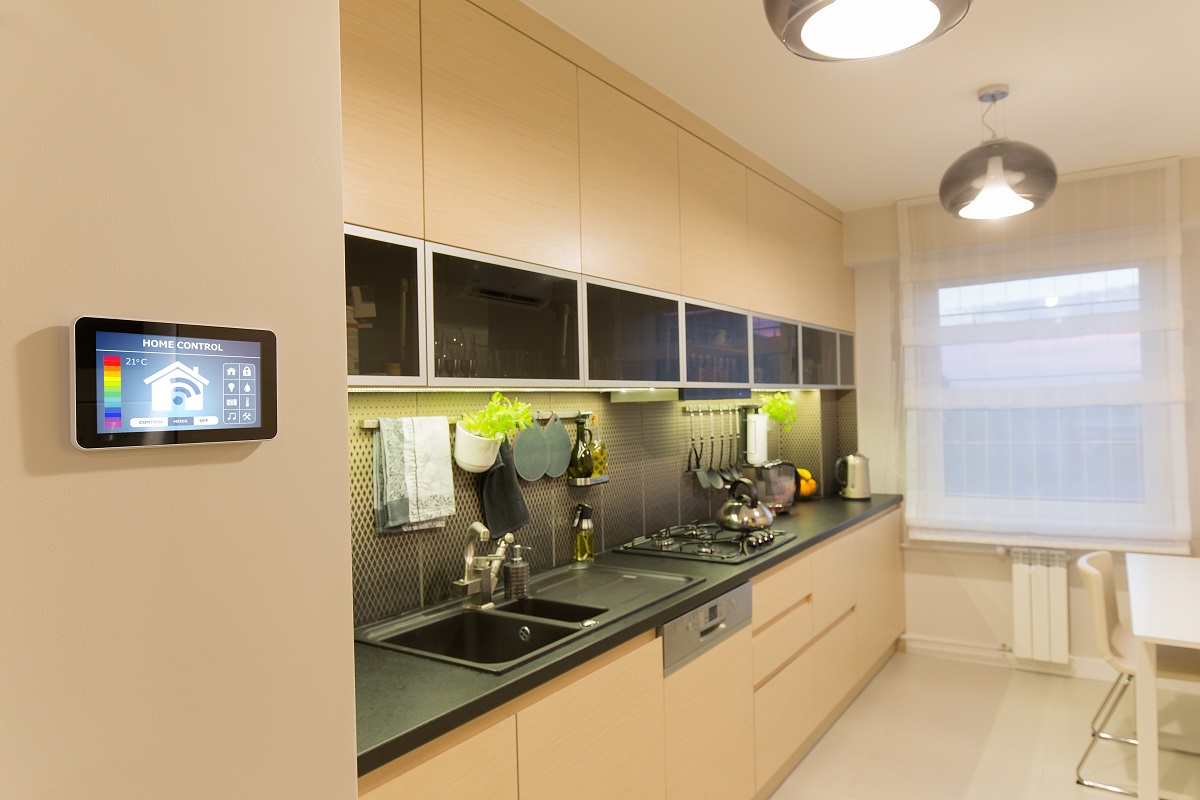 Today, with somewhere between 6.4 billion and 17.6 billion smart home devices expected to be in operation in people's homes by the tail-end of next year, smart technology is no longer a cute little add-on that interior designers and property developers can use to bump up their asking prices.
Rather, it's an integral part of modern living that needs to feature at the very heart of the design process if those same developers and designers are going to attract this generation of property buyers.
Smart Technology Integration if you're going to design and develop properties that truly appeal to today's buyers, then smart technology should be integrated into the very heart of your interior design process.
Why combining smart technology and interior design matters now more than ever?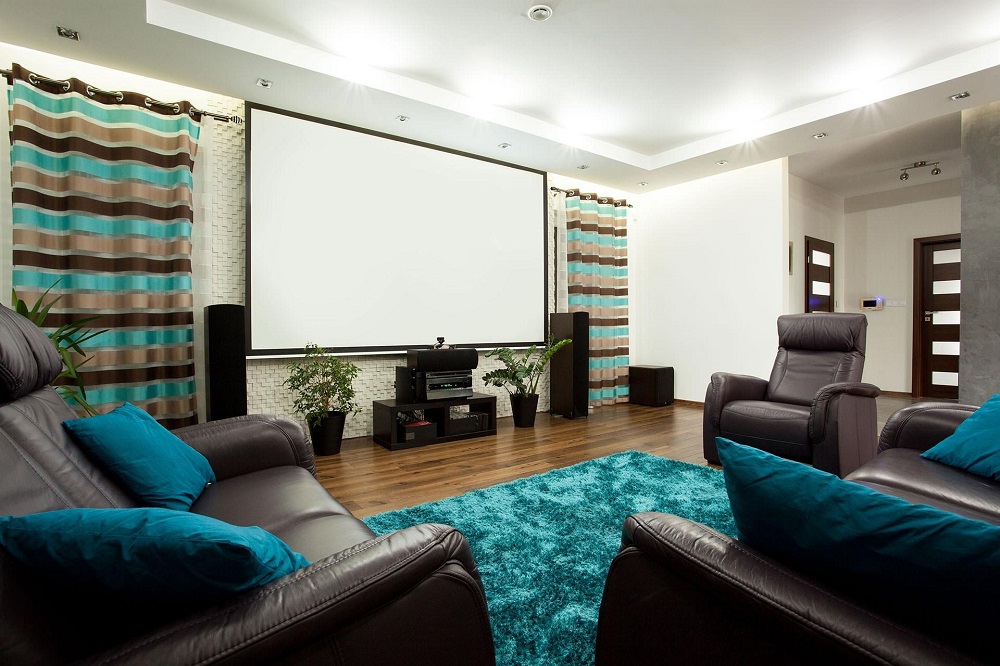 The world of smart home technology is at a very interesting stage of its evolution.
Whereas once it was an added luxury affordable for only the rich and well-to-do, products such as home automation installations, smart home security systems, next-generation home entertainment and intelligent lighting control are all well on their way to becoming a normal part of day-to-day living.
Household penetration of smart technology currently stands at 24.9% but is expected to grow to 43.5% within the next couple of years.
Smart home technology is no longer a luxury. It's fast becoming an ever-evolving, yet an ever-present staple of the modern home in much the same way that your television or refrigerator is.

Before long, things like voice-activated home automation and multi-room AV solutions will become as commonplace in the home as the television, microwave, or fridge-freezer.
Not that even those items will play the same role in the modern home as they did ten years ago.
Before too long, smart home experts predict that most household items will have at least some form of smart technology embedded in them, requiring properties to have an Internet of Things (IoT) infrastructure in place.
IoT-Terior Design: Integrating Smart Technology from the Beginning
While it's entirely possible to retro-fit a smart home infrastructure in an existing property, the truth is that to do so is far more costly and far more complicated than it would ever be to actually integrate that infrastructure into the initial design plans.
This process of considering a property's smart technology needs at the very earliest design stages has been referred to be some as IoT-terior design, though even if you're not a fan of such cutesy names, one thing is for certain:
If you're an interior designer or property developer looking to catch the attention of modern homebuyers, then to do so in a way that is truly cost-effective means combining technology and design as early as possible.
Integrating smart technology into your plans from the very beginning is typically easier and more cost-effective than retrofitting an IoT infrastructure at a later stage.

All of this, of course, begs one very important question:
What's the best way to combine smart technology with interior design?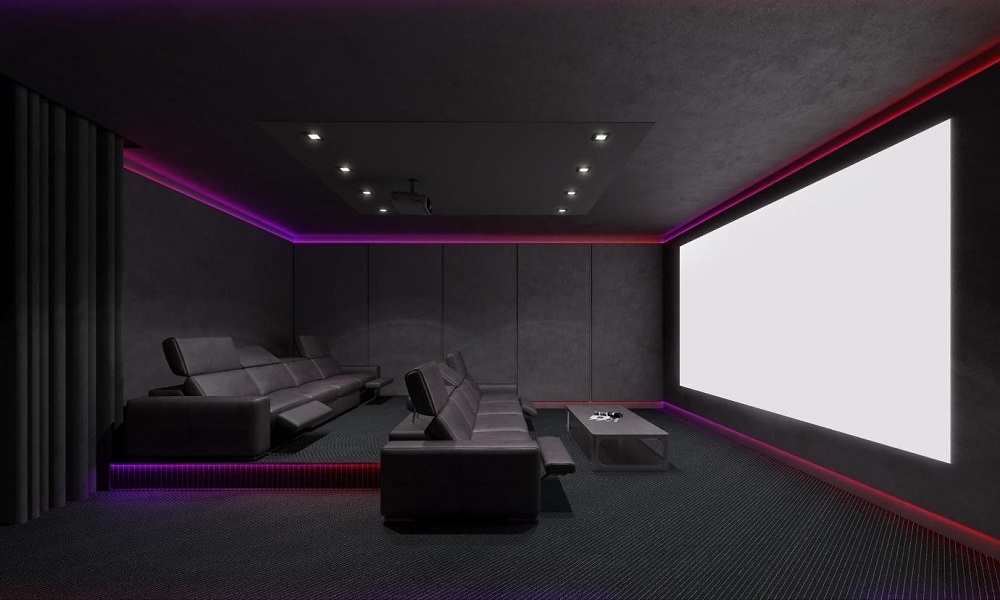 While some intrepid designers may want to brave it by going it alone, armed with little more than their existing design know-how and some online research into the world of home automation technology there is a better, easier, and more efficient way to do things:
Teaming up with a home automation installer who can help you design, plan and integrate IoT infrastructures and who can offer the kind of expert insights into not only the kinds of smart home technology today's property buyers are looking for, but how to install that technology in a way that compliments, rather than clashes with, your interior design.
Why work with a professional home technology integrator?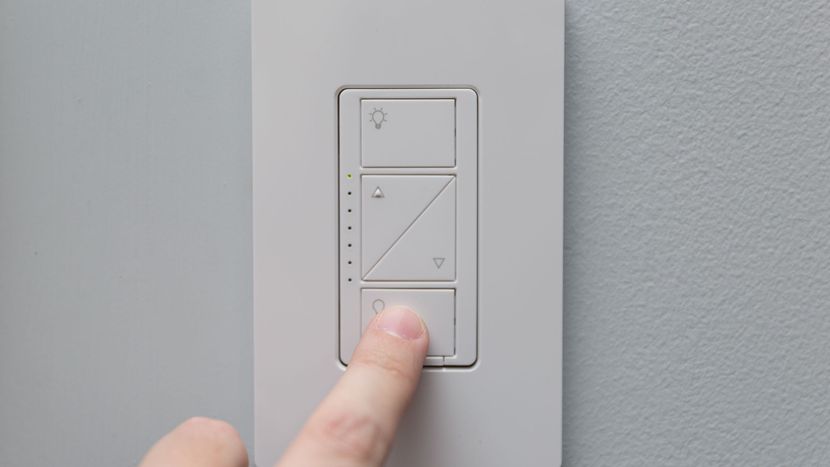 According to a survey carried out by the National Kitchen & Bath Association (NKBA), 74% of interior designers wanted to learn more about smart appliances, while centralised lighting control (66%) and voice-activated devices (57%) also ranked highly among the types of smart technology they wanted to integrate into their designs.
Truth is, while it's possible to get a basic level of knowledge about such systems just by reading up on them, a professional home technology integrator not only has the in-depth expertise on all these technologies but also the first-hand experience of installing and maintaining them.
That experience proves invaluable when it comes to pointing out the pros and cons of a particular system, or considering how certain property layouts may lend themselves best to one particular type of home automation design over another.
Professional smart home integrators offer the experience and expertise needed to help designers make the most of smart technology in a way that enhances rather than detracts from the aesthetic qualities of their design.
Experts in future-proofing the homes of tomorrow
Of course, it isn't only this generation of property buyers that you have to consider when integrating smart technology into your interior design plans.
Technology moves at such a rapid pace that the systems and devices we're familiar with today will likely be obsolete -or pretty close to it- in just a few years.
As such, it pays to build a future-proof infrastructure that makes it easy and affordable for homeowners to update their smart home systems without having to put a completely new infrastructure in place.
Eliminate the headaches of installing next-generation home technology
A large part of future proofing a home means more than just fancy lights and cutting-edge entertainment, it means upgrading every aspect of the property, including:
Smart kitchens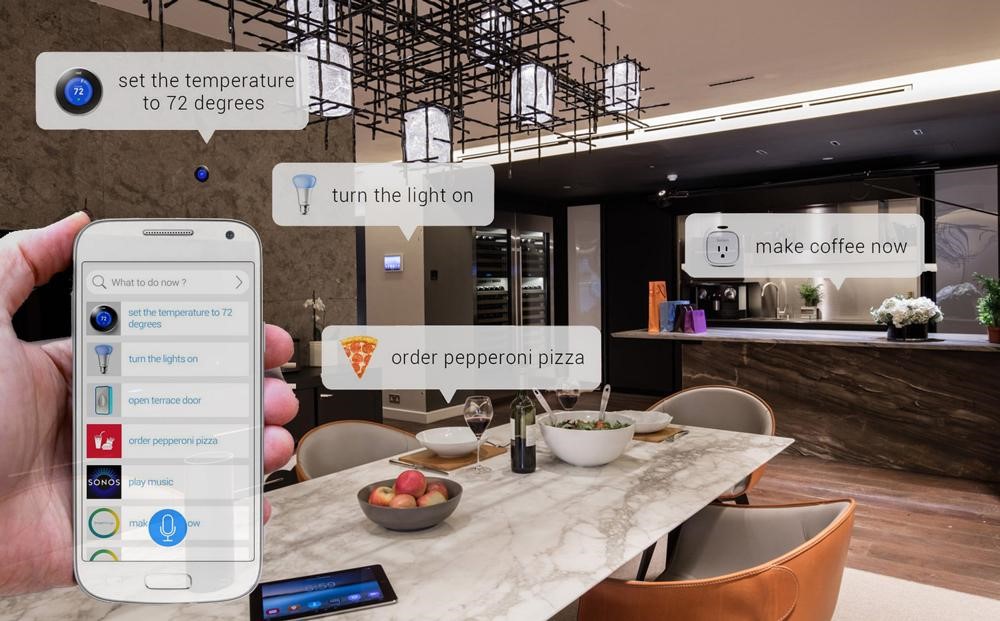 Some of the more popular products our home automation specialists have been tasked with installing recently include the Samsung Smart Family Hub Refrigerator (from £2,999), a 24 cubic feet refrigerator that is designed to help you manage your home and family life with integrated calendar, streaming audio, and more.
Integrating voice-activated control systems
Other popular smart kitchen appliances your home automation installers can help with include:
GE's Wi-Fi oven (from £1,187)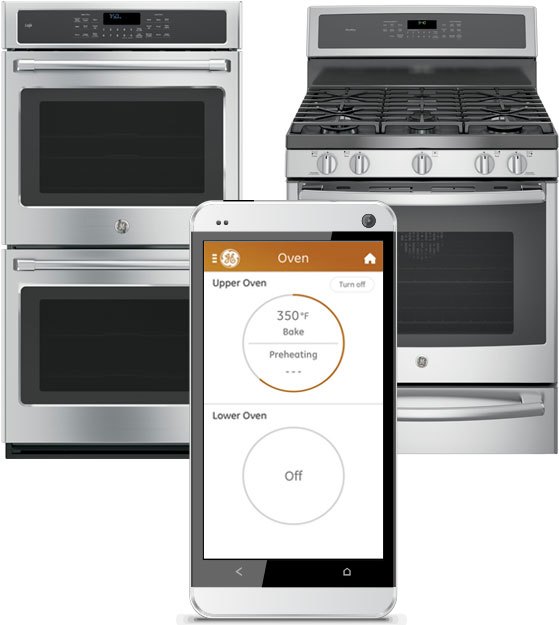 A state-of-the-art smart hoven that lets you pre-heat your oven directly from your smartphone, even if you're out of the house, which is perfect if you want to get a start on dinner on your way home from work.
Best Smart Kitchen Hub – Amazon Echo Show (£229)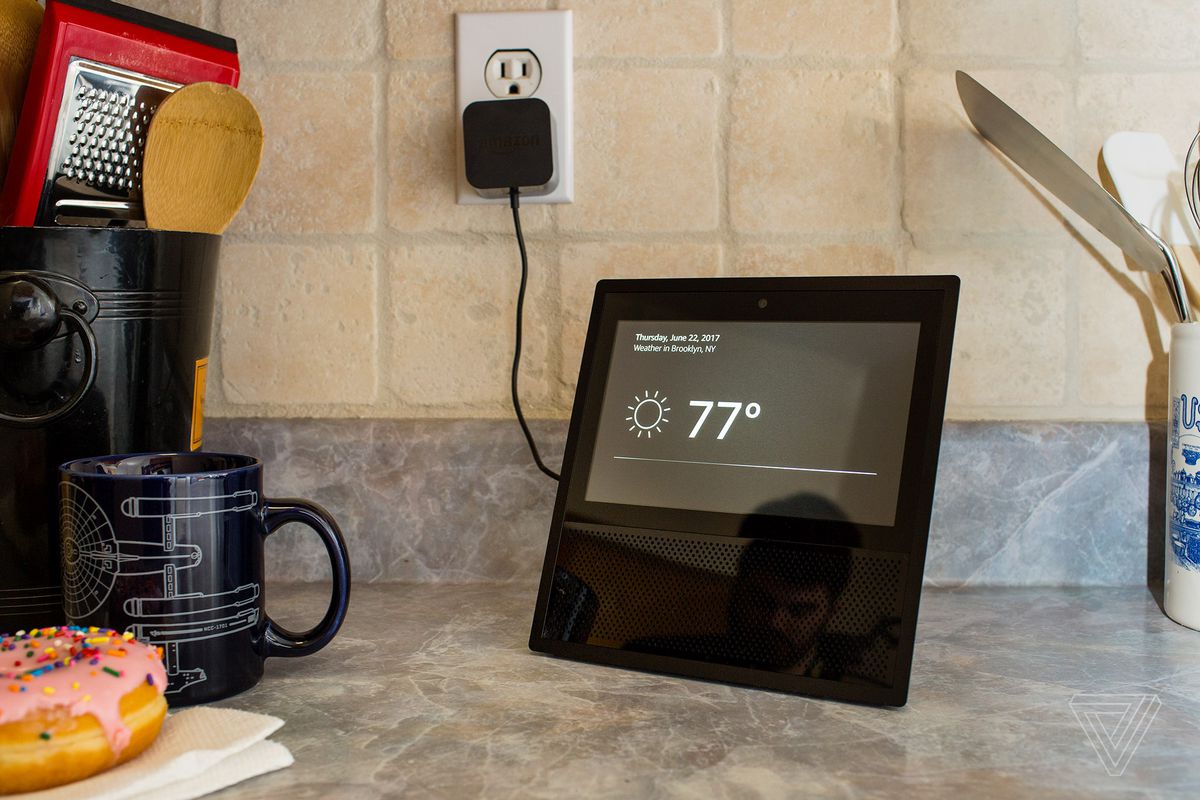 Taking Alexa to the next level, the Amazon Echo Show comes optimised for video calling and messaging throughout your property. It also allows you to see who's at the door when combined with your home security cameras and can be integrated with the rest of your smart home system for smooth, stylish home control.
LG ProBake Convection with Smart Wi-Fi Enabled Induction (from £3,699)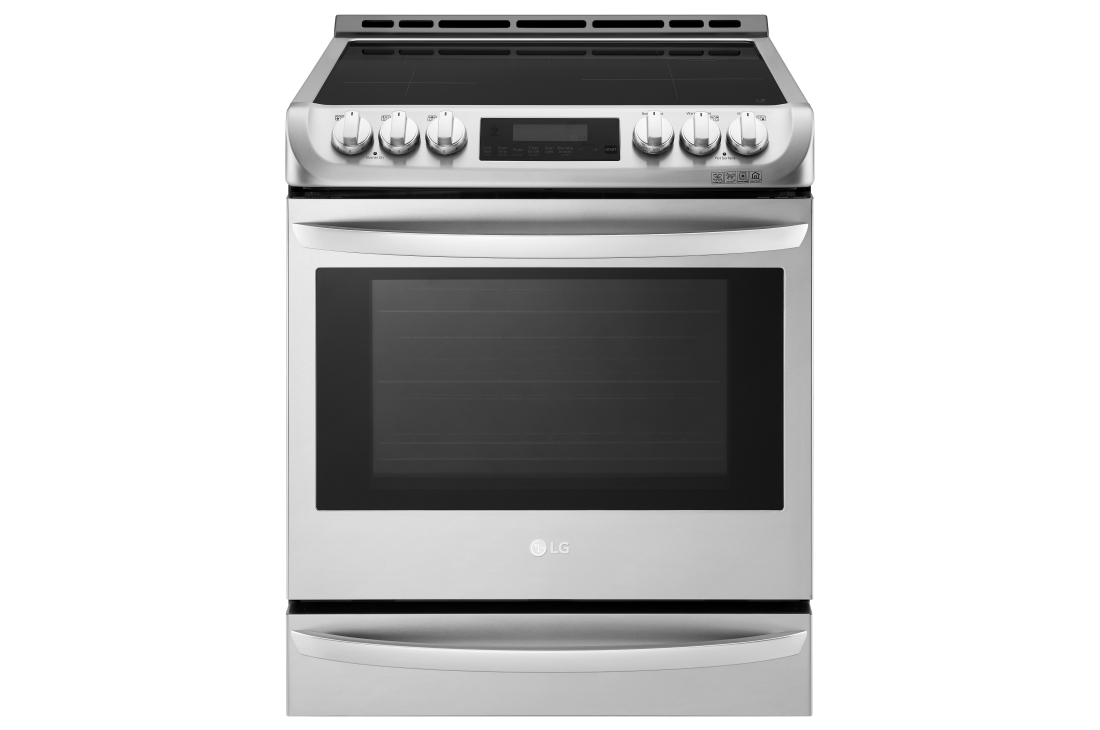 Transforming the way you cook, LG's ProBake Convection takes the heating element out of the bottom of the oven and puts it on the back wall to optimise the heat distribution system. The best part is that you can control it from anywhere with your LG SmartThinQ app, or integrate it with voice control systems like Google Assistant, Amazon Alexa, SideChef or Innit.
Keep the family entertained with smart home entertainment
The kitchen is the heart of any home, so why not make it a more enjoyable place to spend time with an audio-visual installation. With prices starting from £12,500, you could bring the family together before mealtimes, or simply enjoy catching up on your favourite shows while you prepare dinner.
Smart Lighting in the Kitchen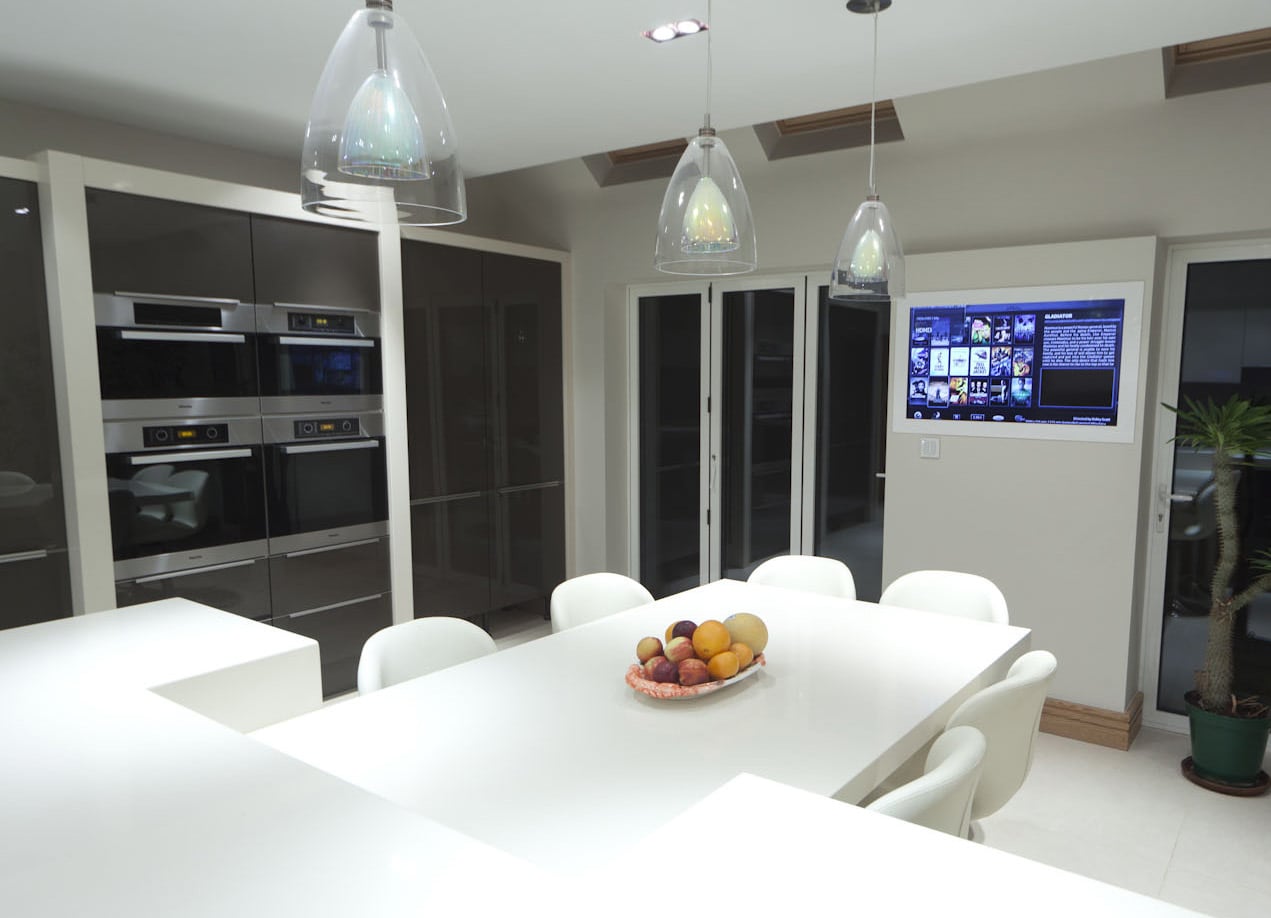 Of course, all of this extra technology may make life infinitely easier, but let's not forget that what we're really concerned with here is combining smart technology with stunning design, which is where intelligent lighting control really plays an important part.
For our money, few smart lighting systems offer a more perfect combination than the flexibility, ease of use, and ability to create beautiful scenes for any occasion than Control4's smart lighting with voice control.
Starting from £5,999, Control's system is fully compatible with Amazon Alexa, allowing for hands-free illumination that really makes your kitchen look beautiful no matter whether you're sneaking down in the middle of the night for a midnight feast or having people over for a formal dinner.
Smart motorised Blinds installation Compatible with Amazon Alexa and Google Assistant
Of course, it isn't only artificial lighting that can have such a dramatic impact on your home.
The new Brunt Blind Engine (from £399) turns your existing blinds into a smart, motorized smart lighting solution. When properly integrated into your property by a qualified smart home installer, the engine allows you to make the most of natural lighting with a fully automated solution that can be controlled by a smartphone app or via voice.
Smart Dishwasher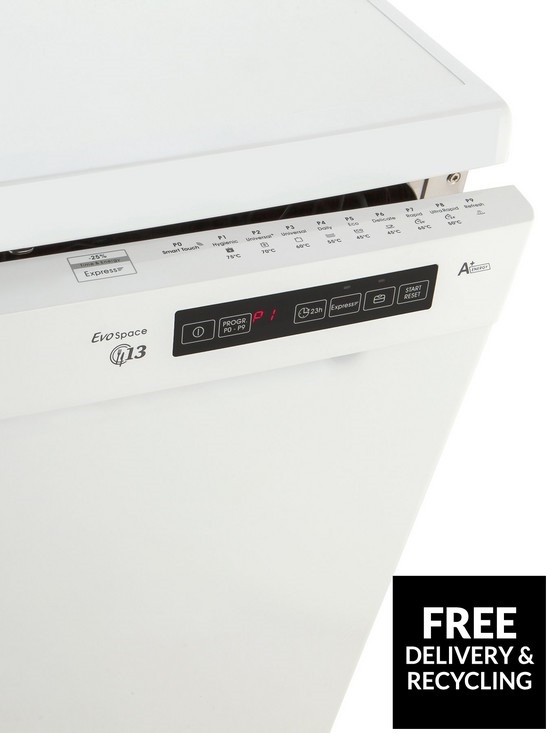 Few of us relish doing the dishes, but thanks to a range of top-of-the-line smart dishwashers such as the Candy CDP1DS39W Smart Touch 13-Place Dishwasher (£249.99), getting those plates cleaned becomes effortless, all with a look that perfectly blends in with the interior design of any home.
The entry-level smart dishwasher connects to your phone via a simple app that lets you control wash cycles wherever you are, even if you're out of the house.
Drop Connected Kitchen Scale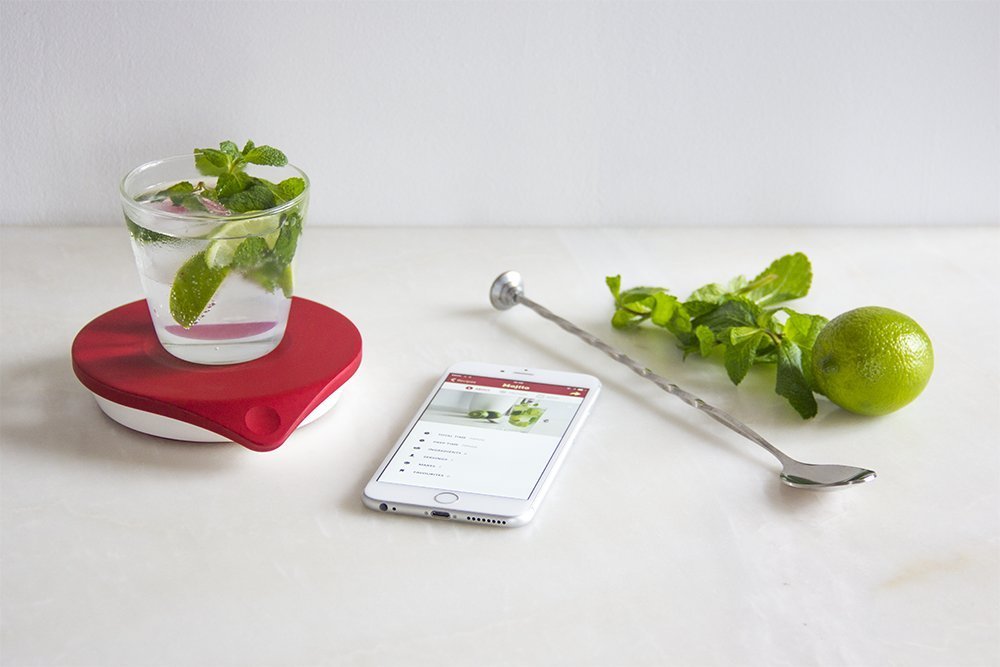 The Drop D600A Non-Slip Connected Kitchen Scale and Cocktail Maker (£99) has been a favourite with Pro Install AV customers upgrading their smart kitchens for a number of reasons.
Not only does it come with an interactive recipe app to give you all the inspiration you need at meal times, but it also ensures a higher level of accuracy than traditional scales, is low energy (batteries normally last for a full year), and connects via Bluetooth to avoid unnecessary wires.
Smart Switches and Sockets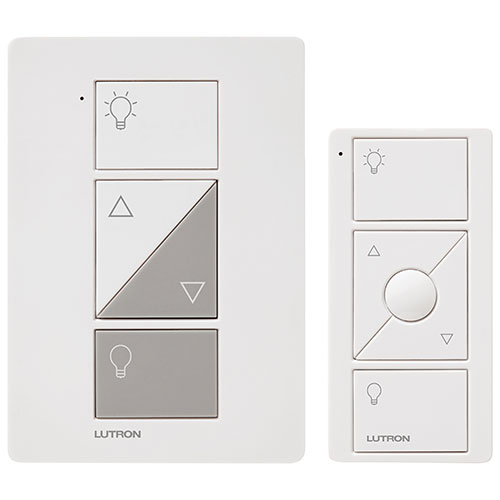 While most devices themselves are completely wireless, sockets and switches are still an essential part of every home.
Products such as the Lutron Caseta Wireless dimmer (£100) and the Get Eden smart switch allow for easy control over your entire property, all from a single, easy to use mobile app.
Speak to your home automation installer, and these can even be integrated into your existing smart home control system so that you can manage multiple aspects of your smart kitchen from one place.
Interactive pantries make meal planning smarter
Of course, future-proofing your smart kitchen doesn't just mean adding in a few fancy devices that can be controlled with a mobile app.
The Internet of Things (IoT) is providing innovative new solutions to the age-old chore of grocery shopping.
Fully integrated into pantries and refrigerators, IoT-connected kitchens can automate the ordering and delivery of everyday essentials by hooking up directly to your Amazon or other online store accounts.
Meanwhile, cameras in a smart pantry or fridge can allow you to check exactly what you've got in stock when you're in the grocery store so that you only by exactly what you need.
They can also help by scanning the existing contents of your pantry and putting together a delicious recipe using only the things you already have in stock.
Beyond the Kitchen: Smart technology for the bedroom and living room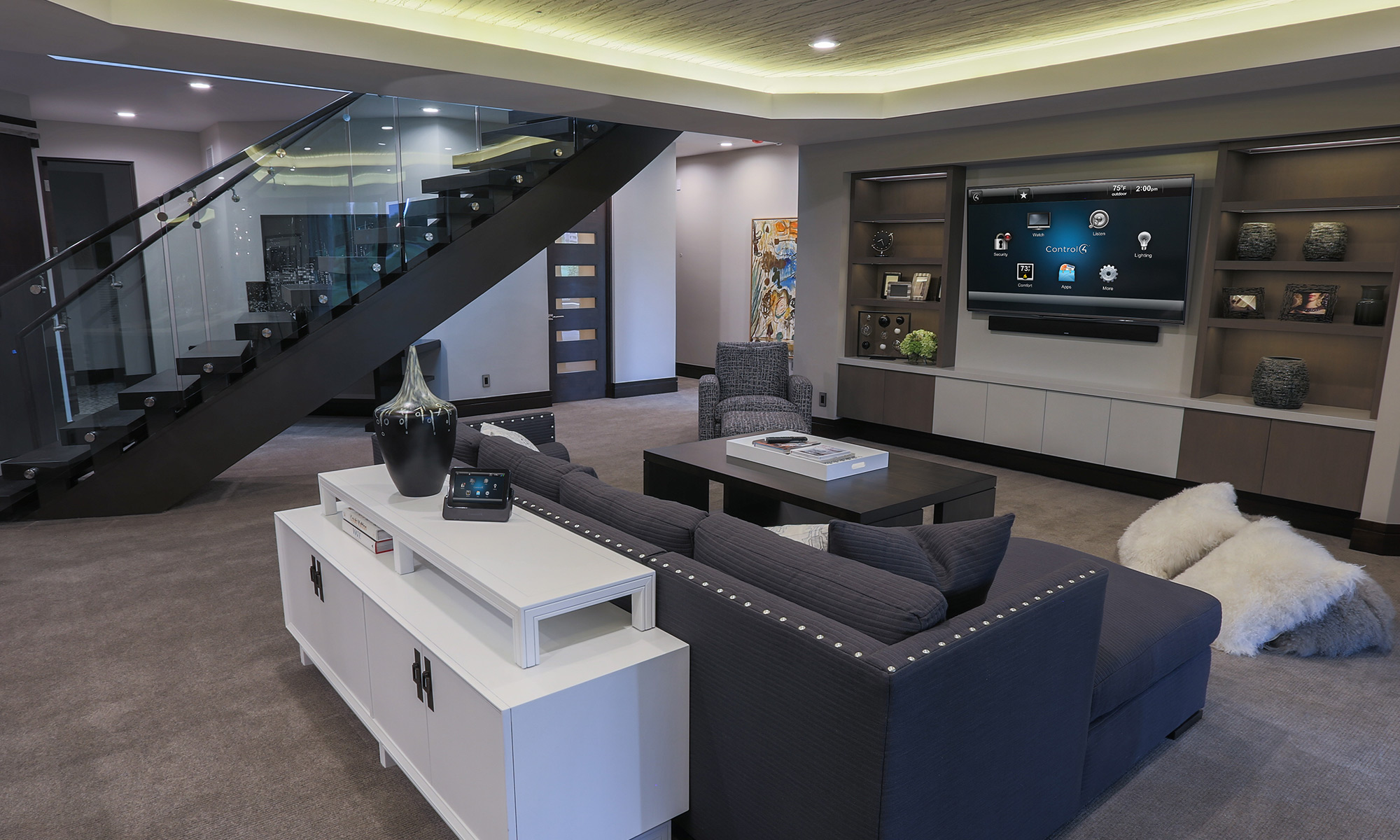 A number of the products we've listed above, such as intelligent lighting control from Control4, the Brunt Blind Engine and an array of smart switches and sockets can also be integrated into your living spaces to make for stylish, simple living wherever you go.
Yet there's much more to it than that.
Audio Visual Design and Installation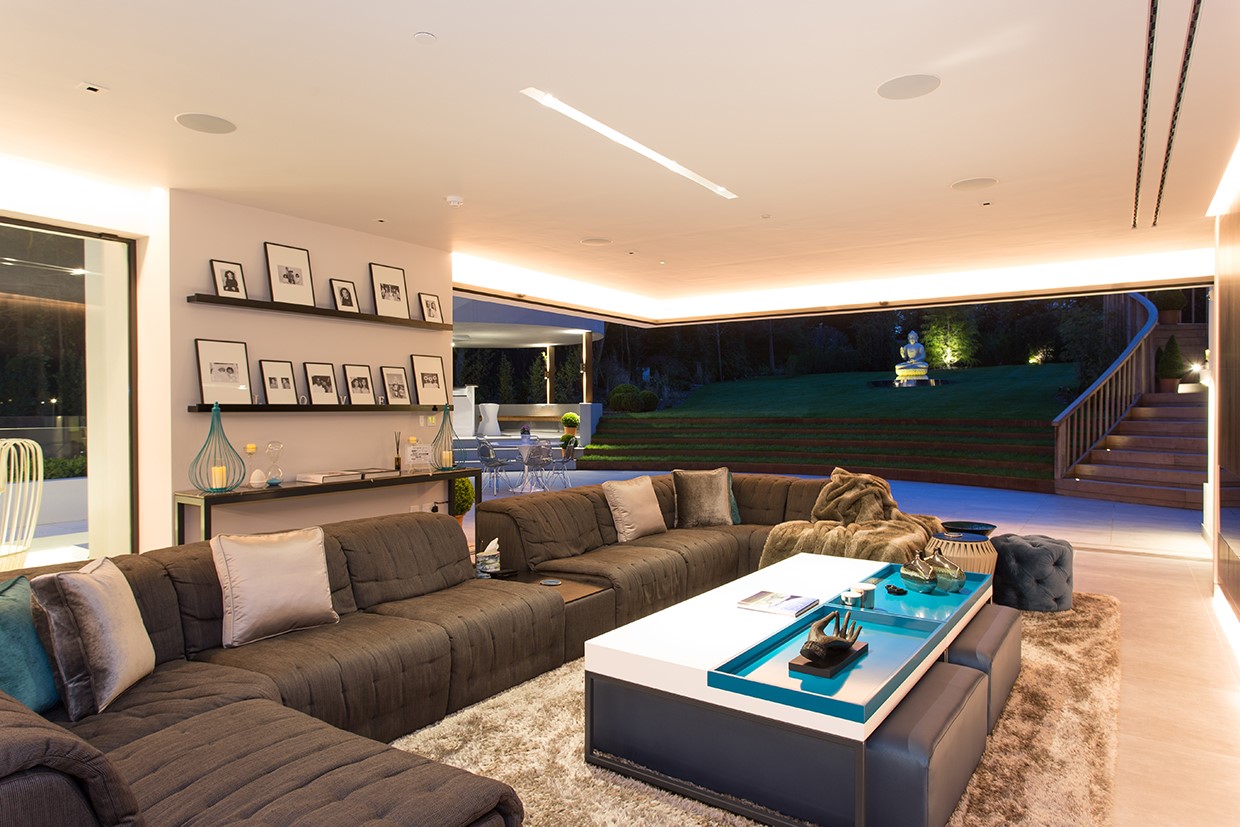 With prices starting from just £12,500 for a completely bespoke home cinema installation, upgrading a property's home entertainment options don't have to break the bank.
Nor do they have to come at the expense of beautiful interior design.
Projectors and screens that roll up into the ceiling, audio speakers that can be built directly into walls and ceilings (and even covered over with the same paint or material as the wall itself) and bespoke cabinets that integrate essential hardware into the overall design can help homeowners to enjoy the very latest in home entertainment in spaces they'll love spending time in.
Smart Home Security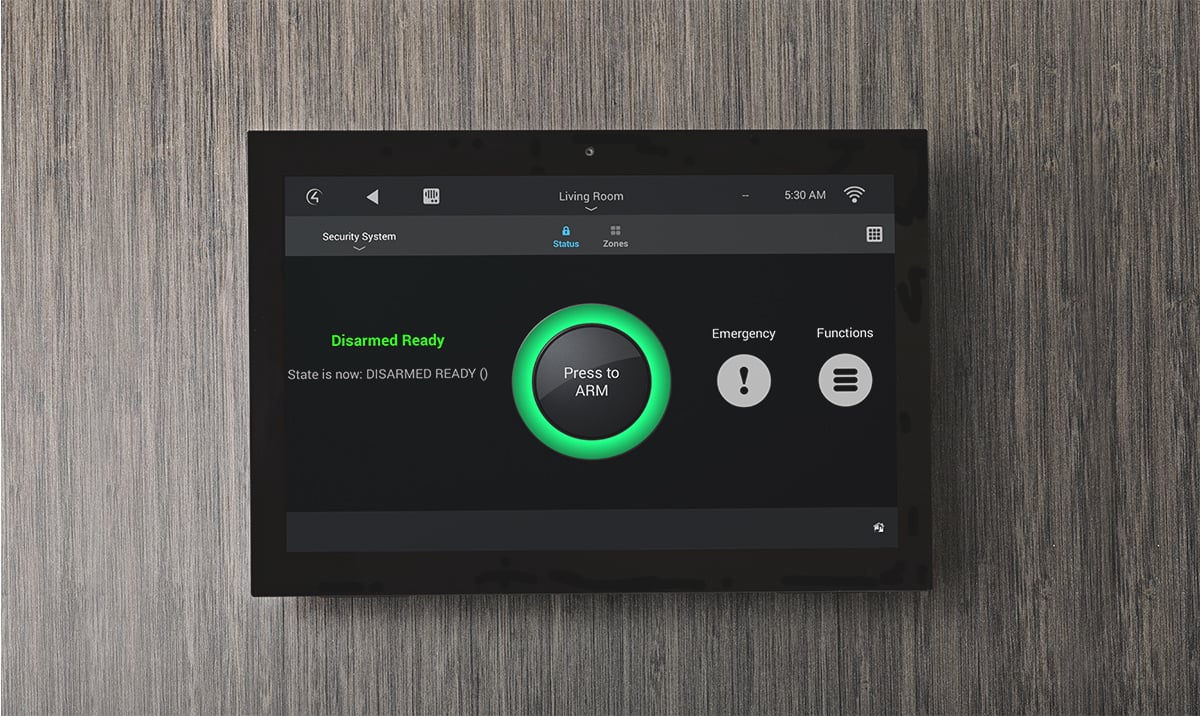 Naturally, having all this high-tech equipment in your home means very little if you and your loved ones don't feel safe there.
That's why Pro Install AV's home automation installation specialists take great pride in helping homeowners to come up with a complete smart home security package that's well suited to their family and their property.
From CCTV cameras that can be viewed on any device in the home to customised home automation scenes that can simulate occupancy when nobody's home (a powerful deterrent to would-be intruders), and next-generation alarm systems complete with motion-sensor detectors can all be subtly and discreetly integrated into your property for complete peace of mind and protection.
Smart Heating and Cooling Thermostat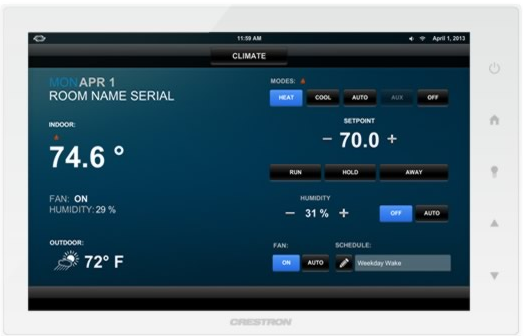 The smart lighting solutions we mentioned earlier aren't the only ways you can get better management over your home energy usage.
Smart thermostats from Crestron and other leading brands start from as little as just £25 and offer a smarter way to control the energy that results in long-term cost savings.
Google Home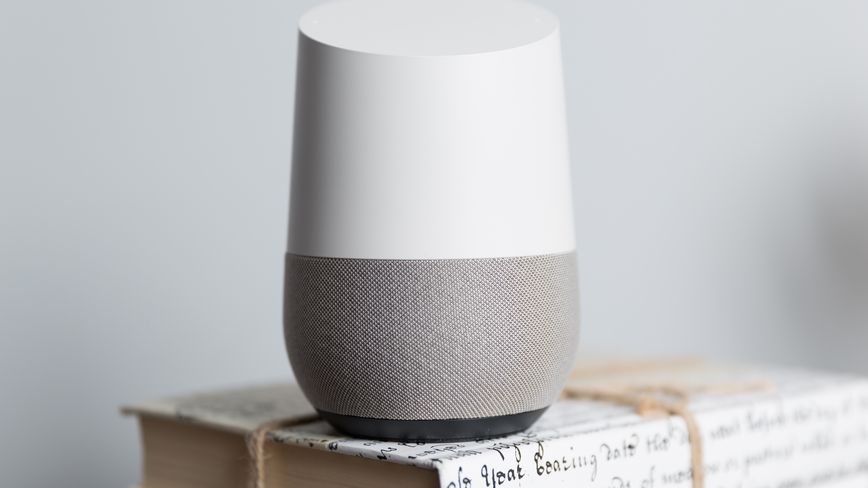 Of course, one of the best things about all of this smart home technology is that can all be effortlessly controlled either via a smartphone app or via voice thanks to an increasing number of smart home speakers.
By now, we're all familiar with the leading Amazon Echo brand, but Google is right up there too with their own Google Home smart speaker (£65).
There to help you do everything from turning down the thermostat to giving you today's traffic report, it's no surprise that more and more of our customers are reaching out for help with integrating Google Home into their existing smart home system.
Smart Home Integration Via Voice or Smartphone: From lowering the blinds in your smart living room to powering up your home entertainment system, turning down the thermostat and more, every aspect of your integrated smart home can be controlled via voice or via simple-to-use apps on smartphones and other devices.
For many interior designers, one of the biggest bugbears concerning smart technology is that in-wall control panels and other control devices take something away from the aesthetic quality of their designs.
It doesn't have to be this way. A professional smart home installer can work with you to swap touchpad technology for voice-activated control, ultimately creating a property that not only looks great but is incredibly easy to manage.
Want to know more about how a home technology integrator can help you combine smart tech with interior design to create a truly spectacular modern home? Talk to the experts at Pro Install AV today. Contact us online to arrange a free consultation, or call now on +44(0)20 7096 0078.