Contemporary or Classic: Introducing a Whole New World of Home Cinema Design
05 Feb 2018
Home Cinema
From stylish, ultra-modern media rooms complete with motorised projectors and the latest in home fashions to lavishly decorated spaces reminiscent of the traditional theatres of old, creating a bespoke home cinema design in 2018 presents homeowners with a whole new world of options never before available on such a large scale.
The only question then, of course, is how do you choose a design that best compliments your tastes, your home, and your lifestyle.
To help you make that decision, expert home cinema installers Pro Install AV explore the latest trends in home cinema design, from retro throwbacks to the pinnacle of contemporary minimalism.
Channelling the Golden Age of Cinema
Over the last couple of years, we've seen an increase in the number of homeowners eschewing modern design trends in favour of an interior design that really does channel the spirit of the traditional, classic cinema.
Think opulent furnishings adorned in luxuriant reds and golds, a decor resplendent with intricate patterns and soft lighting scenes that really do transport you back into another age, and you're somewhere close to imagining the kind of spectacular, grand designs we're talking about.
Of course, throwing back to the golden age of cinema doesn't mean you have to make sacrifices when it comes to quality technology.
A state-of-the-art home cinema installation can still be incorporated into even the most old-school of interior designs, bringing the best of both worlds together to create an experience like no other.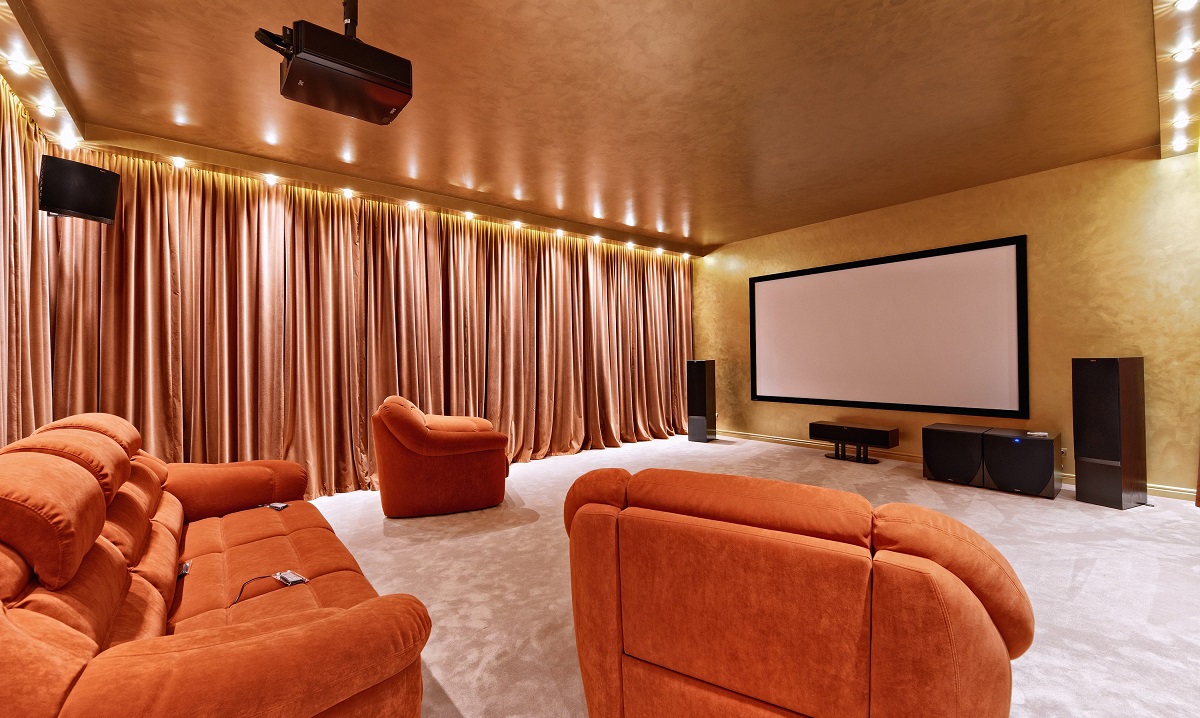 Top Features of Traditional Home Cinema Design
Starscape Orion Lighting
One of our most in-demand lighting systems, Orion utilises 120 fibre optic lights with a unique 'twinkle wheel that illuminates different lights at different times. The resulting effect is like gazing up into a starlit night sky, perfect for those romantic movie nights with that special someone.
Soft Italian Leather Seats
Perfect for creating that classic feel, leather seats help create the look and feel of a classic cinema with the added advantage of modern comfort and convenience, especially when you choose seating with added drinks holders, footrests, and even massage systems.
Fully Immersive 3D Audio
Quality audio systems are the unsung heroes of home cinema installation – bringing whatever you're watching to life and making you feel as though the action were happening right there in the room with you.
To create this stunning, 3D experience, Pro Install AV recommend bespoke audio systems combining the best products from leading brands like Dolby Atmos, Auro 3D, and DTS:X.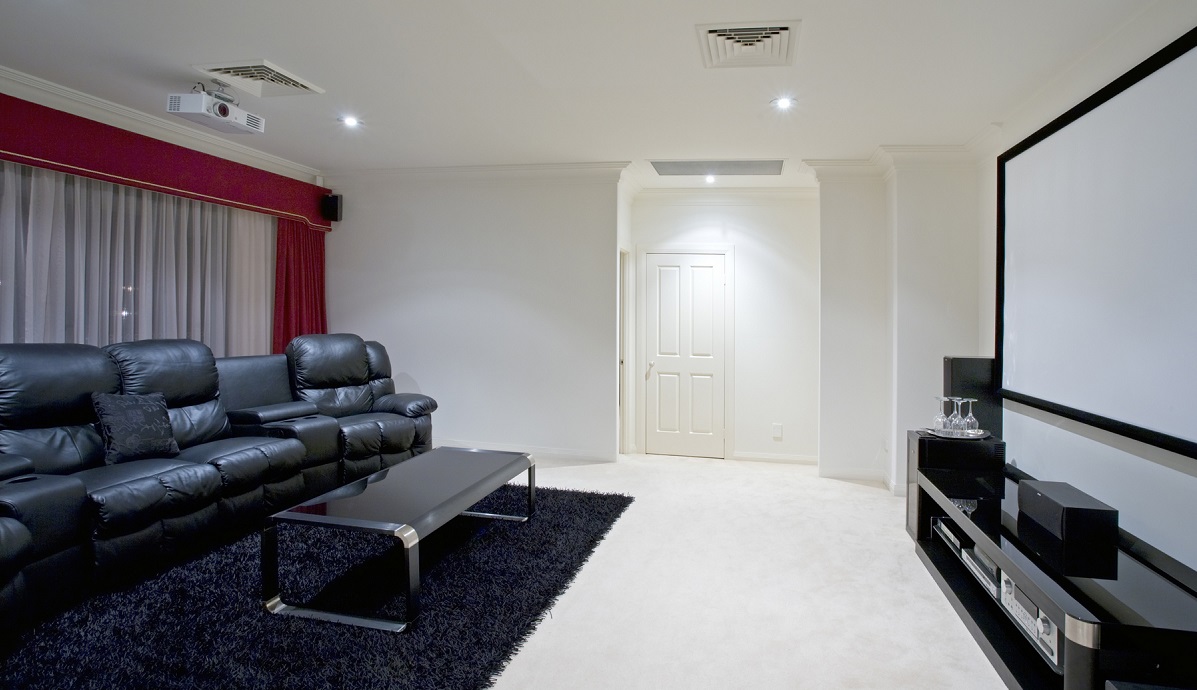 Cool, Contemporary Home Cinema Design for Any Living Space
From the extravagant and opulent to something far more subtle, yet nonetheless exceedingly stylish, contemporary design continues to remain popular despite the growing demand for retro media rooms.
What exactly does contemporary entail in 2018? Well, if the trends in bespoke home cinema design that we've encountered in recent months are anything to go by, minimalism is very much en vogue, with homeowners looking to limit the amount of space they need for hardware without compromising outstanding quality viewing experiences.
At Pro Install AV, we've been meeting this demand by making the most of innovative technology from world-renowned brands like Sonance, JVC and Kaleidescape.
This allows us to combine features like invisible, in-wall speakers, motorised projectors that roll away when not in use, and powerful media servers into a customised system that delivers maximum performance with minimal space requirements.
Complimenting this minimalist approach, we've found that bespoke equipment racks can prove hugely beneficial in eliminating clutter and even ensure that your system compliments your interior design rather than clashing with it.
Our Favourite Features of Contemporary Home Cinema Design
Lutron Intelligent Lighting control
Using only your smartphone, Lutron HomeWorks enables you to lower the lights to create just the right ambience for a romantic movie night, the big game, or simply a relaxing evening in with a box set. This is perfect for helping you set the perfect scene for any occasion with compromising your beautiful, minimalist aesthetic with in-wall control panels.
Sonance In-Wall and Ceiling Speakers
These innovative speaker systems can be built right into the structure of your building and finished with the same coating as the rest of your walls or ceiling, ensuring premium quality sound without taking up an inch of space.
4K UHD Cinema Screens
The pièce de résistance of any home cinema installation is, of course, the projector screen. With content creators like Netflix, Amazon, and even major Hollywood Studios taking the quality of their shows and movies to the next level by investing in 4K Ultra HD (UHD), now is the perfect time to invest in a 4K UHD projector.
Contemporary or classic? Which style will you opt for when you work with Pro Install AV to create your beautiful bespoke home cinema design? Contact our team online today to explore a whole new world of possibilities, or give us a call on +44(0)20 7096 0078.