Control4, Latest innovations Can Transform Your Company in 2019
21 Jan 2019
Control4
Pro Install AV explain how the brand's range of
multi-room AV,
lighting control and
Automation solutions
Can help your business to improve productivity and deliver outstanding value to your customers.
Control4 can give you competitive advantage by improving operating efficiencies. Set your lighting, music, temperature and video to greet your customers with the perfect welcome.
It's the end of a long day spent managing your business. You're tired, battle-worn, to sit back, relax, and unwind.
Thankfully, the Control4 home automation system you installed makes doing that much easier.
On opening the doors, that state-of-the-art system sets the lights and temperature to just the right level to help you feel completely comfortable and at ease.
The soothing sounds of your favourite musician automatically begin streaming at just the right volume through your AV system, and everything you need to enjoy the perfect night-in is only ever a click or an Alexa voice command away.
As you sit down and use your Control4 installation to bring that big cinema screen down from the ceiling, load up a movie, and dim the lights, you can't help but imagine what a difference all of this smart technology could make to your business.
After all, if it can make your life much easier.
And if it can make you feel this good, imagine what it could do for your employees or, better yet, for your customers.
Ready for the good news?
Whether you're a hotel looking to meet the ever-increasing demands of digital savvy guests, a restaurant or entertainment establishment who needs to keep up with the competition,
Or an office-based company hoping to improve staff morale and productivity (and therefore profits),
Control4 business solutions offer a number of game-changing systems designed to help you do just that.
Here, your Control4 dealer Pro Install AV explain how the latest innovations in smart technology can help your business achieve all of its goals in 2019, no matter what those goals might be.

Control4 Technology for Hotels
Save money through improved energy management
Reducing your carbon footprints
Automate lighting and climate systems to minimize energy waste
Today's modern hotels face a myriad of complex challenges.
Quite apart from the usual uphill battle of balancing essential back-office and front-of-house tasks with the need to deliver outstanding service to your guests,
You're now left with the added pressure of meeting -and surpassing the expectations of guests who are becoming used to having access to top technology wherever they go.
With home automation systems communicating with smart homes products like
Amazon Echo
Google Home
Apple home pod
Becoming all the more affordable, guests have come to consider things like intelligent lighting control and smart TVs as fairly commonplace.
What this means for your hotel?
Is that if you're going to create memorable, premium quality experiences that convert one-off guests into long-term, loyal customers.
Then your hotel technology has to be first class.
Thankfully,
A next-generation Control4 installation can help you achieve just that without taking too much of a bite out of those ever-delicate budgets.
Below, we'll look at just some of the ways that the brand's hotel technology can help you transform your guest experiences with automated welcomes and personalised guest experiences.
First, however, let's look at how Control4 technology can help you improve your hotel's overall operational efficiency so that your staff have more time to focus on what matters your guests.
Specialist Hospitality Management Software Packages
Personalised Guest Experiences
Automated Welcomes without Losing the Personal Touch
Smart Technology for Restaurants and Entertainment Venues for your Guests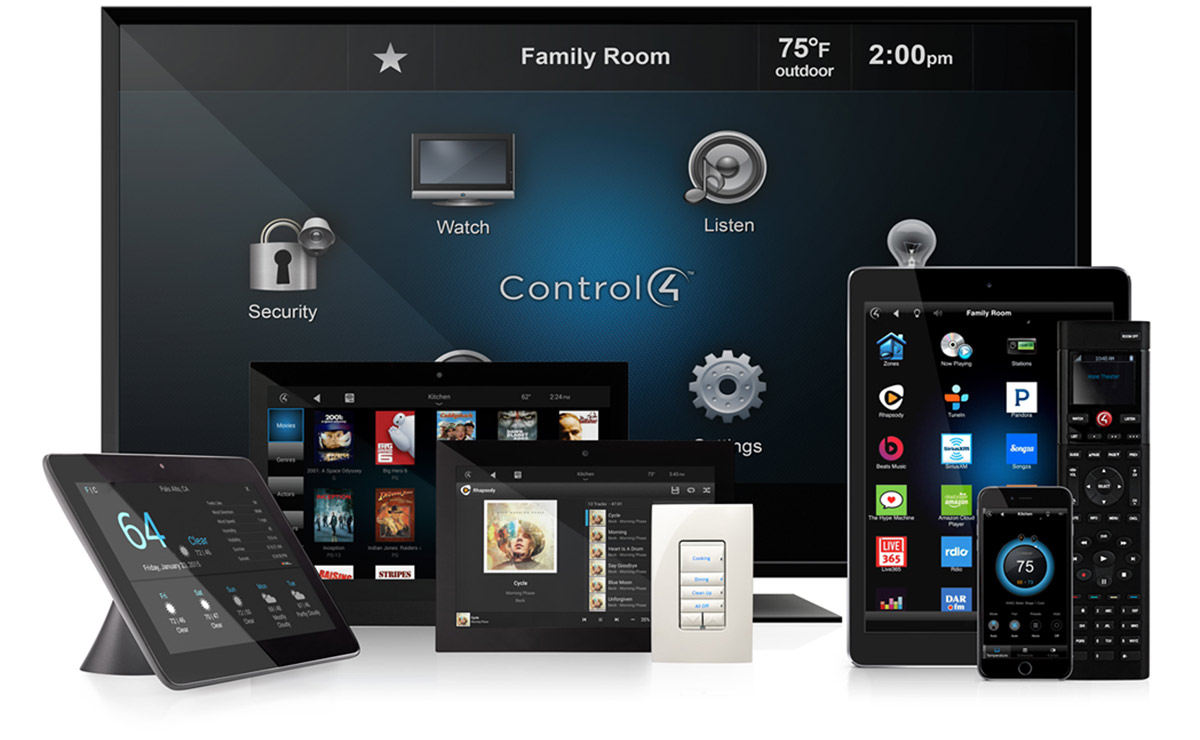 Specialist Hospitality Management Software Packages
Your on-site staff can effortlessly manage your entire hotel from Control4 Web management console.
Taking the hassle, hard work and headaches out of managing the day to day operations, service, and maintenance of your hotel,
Control4 have developed many dedicated system management solutions which integrate effortlessly with your existing PMS (Property Management System), trouble ticketing system and even the technology in your guest rooms.
With the use of software package, your on-site staff can effortlessly manage your entire hotel from one single Control4 Web Management Console that is every bit as easy to use as the Control4 home automation system you might already have in your home.
The result, of course, is that those staff now have more time to attend to the needs of your guests and deliver a personalised experience they'll truly cherish.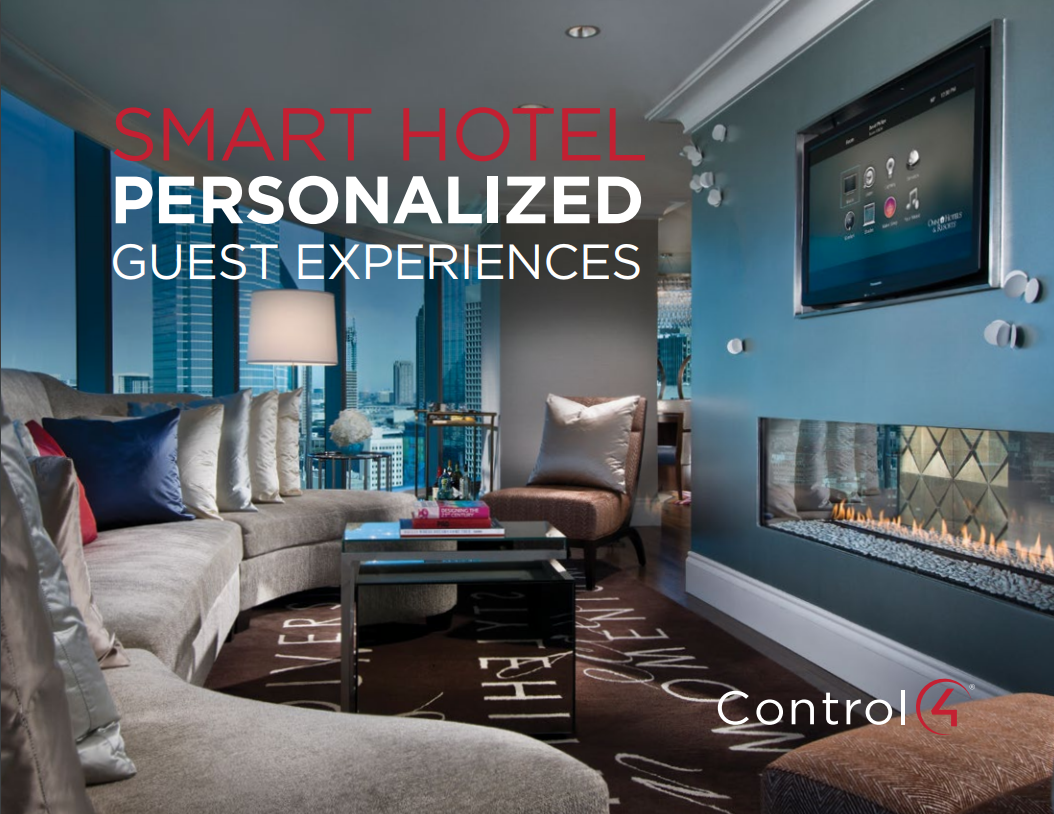 Personalised Guest Experiences

Customize the room experience to delight every guest and to deliver five-star guest experiences.
Did you know that Control4 products are the smart technology of choice for many of the world's leading hotel brands?
Four Seasons, Dorchester, Mandarin Oriental, and Rosewood are just a few of the elite names who work with Control4 dealers to help them deliver five-star guest experiences.
What does this mean for you?
It means that no matter whether you're a small, single-site hotel or a burgeoning chain with goals of expansion, it means that with a Control4 installation of your own, you'll be able to deliver the very same first-class service as those world-leading brands.
An integral part of delivering such service is giving guests complete control over their environment, allowing them to personalise their own hotel experience so that it's just right for them.
Smart Hotel – Let's see the action
With a Control4 installation in your rooms, guests can say goodbye to the shrill cry of an alarm clock or a dreary wake-up call and choose instead to wake up to their favourite TV show, radio station, or song.
They can set the automated shades or drapes to gradually open at a certain time in the morning so that they can rise with the sunshine, or even combine multiple options (such as opening the shades and flicking on the news) to create a truly unique wake-up scene.
After waking, your guests can use a single remote to control everything from lights, temperature, TV and music and access control. That same remote can even be used to book a table at your in-house restaurant or request valet service.
A single button powers down the entire room so that your guests can enjoy a perfectly peaceful night's sleep.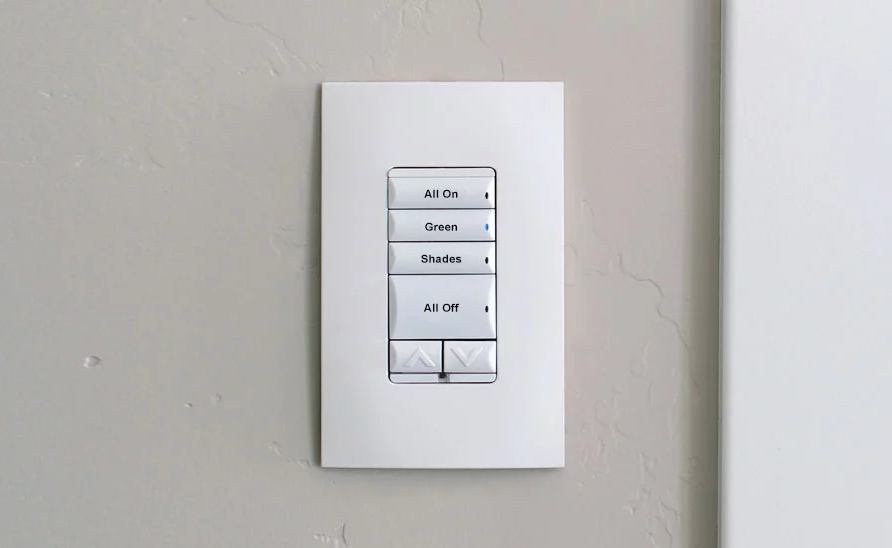 You can read more about personalised guest experiences here
Automated Welcomes without Losing the Personal Touch
Of course, the five-star guest experience doesn't simply begin once guests get their hand on the remote control, it begins the very moment they arrive at your hotel.
Your hotel technology system can help you to optimise the entire check-in process, not only to reduce the number of staffing resources you need to oversee that process,
But also reducing the amount of time it takes for your guests to go from front desk to their rooms.
Not that automating the check-in process necessarily has to mean that you lose the personal touch that is so integral to creating a warm, welcoming atmosphere for your guests.
The Automations
Immediately upon check-in, your hotel's PMS triggers the automation system to create an "occupied" state in your guest's room, with the temperature automatically being set to a comfortable level as the guest heads to their room.
On arrival, a pre-set "welcome" scene is activated: The drapes or shades open, lights rise to a suitable level, music plays, and the TV displays a personalised greeting, welcoming the guest to your hotel.
The best part, of course, is that despite any fears about what such a Control4 system might cost, prices are highly competitive when compared to other smart technology brands.
What's more, your entire system is fully scalable so that you can start by implementing a Control4 home automation system in just several of your premium suites before gradually rolling it out to the rest of your hotel when you're good and ready.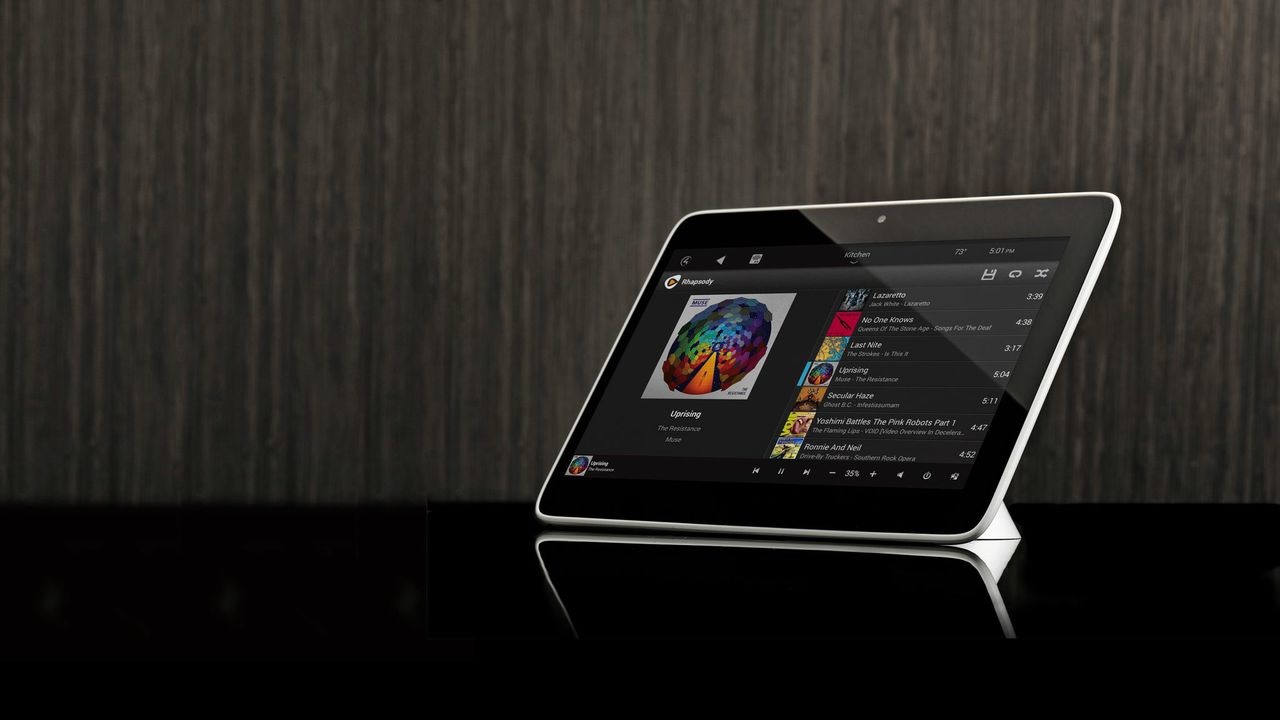 Smart Technology for Restaurants and Entertainment Venues for your Guests
Control4 makes it easy for your team to control multi-room Audio visual systems and lights all from one simple interface.
Delivering world-class service to your guests goes beyond the in-room experience.
If your hotel has its in-house restaurant, bar, or entertainment area, you'll find that working with your Control4 dealer can help you transform the way guests enjoy that part of the hotel experience too.
Likewise, if you operate an independent restaurant or venue, then an investment in smart technology may be just the ticket to ensuring your business truly thrives in 2019.
With smart energy control systems, you can effortlessly manage lighting and climate, not only creating the perfect ambience for your guests but also minimising the amount of energy you need to create a beautiful environment.
Naturally, you don't need us to tell about the kind of positive impact that can have on your energy bills.
With pre-set scenes, you can load up your entire establishment at the start of the day, and power everything down again at the end, all using a single button.
See the smart technology in action
Cater for All Tastes with Multi-Room AV Solutions
If you run the kind of establishment that often has multiple TVs on the go showing the big sports games of the day. The news, or your brand's in-house channel,
then you'll know what a challenge it can be to manage all of those different sets on top of preparing food, serving drinks, and delivering the kind of the first-class service you've built your reputation.
A multi-room AV solution can make the whole process much easier, allowing you to stream multiple HD video sources through multiple different TV sets and control the whole thing from one easy-to-use control panel.
Likewise, if you wanted to stream audio in your dining suite and show the football game in your bar area, a multi-room AV system will allow you to do just that and control the volume levels to avoid the sounds of each source clashing with each other.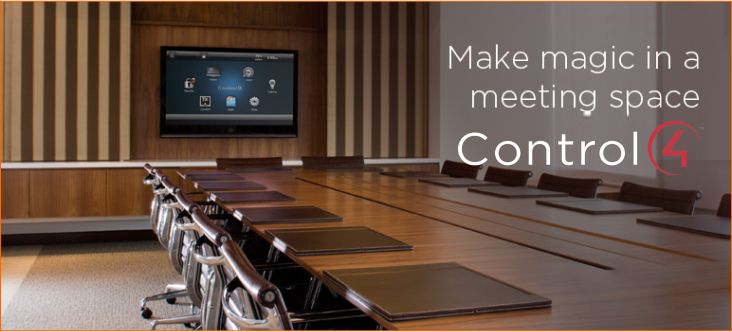 Control4 for Business: Transforming the Boardroom Experience
Incorporate video conference call capabilities to include off-site employees and manage it from one easy-to-use interface.
So far, we've focused heavily on how Control4's smart technology can transform guest and customer experiences, but that's not to say that they're the only ones who get to have any fun.
Heading to the boardroom, you may well find that a typical Control4 system cost is well worth the investment thanks to the way that it creates the optimum environment for your top-level executives to engage in the kind of creative decision making that helps your business to flourish throughout 2019.
Think about it:
When your executives feel relaxed, comfortable and energised, they're far more likely to come up with those game-changing ideas and solid, profit-generating strategies that you rely on, and a good smart home system can prove invaluable in creating this kind of atmosphere.
Intelligent heating and lighting control can be used to maximise comfort.
When combined with your existing boardroom technology, it can be used to automatically lower the lights as your projector powers up, creating the perfect environment for those big presentations.
Are you worried about remote-based executives missing out?
Video conferencing technology can be seamlessly integrated into your Control4 installation and, of course, the whole thing can be managed via a single, highly intuitive user interface.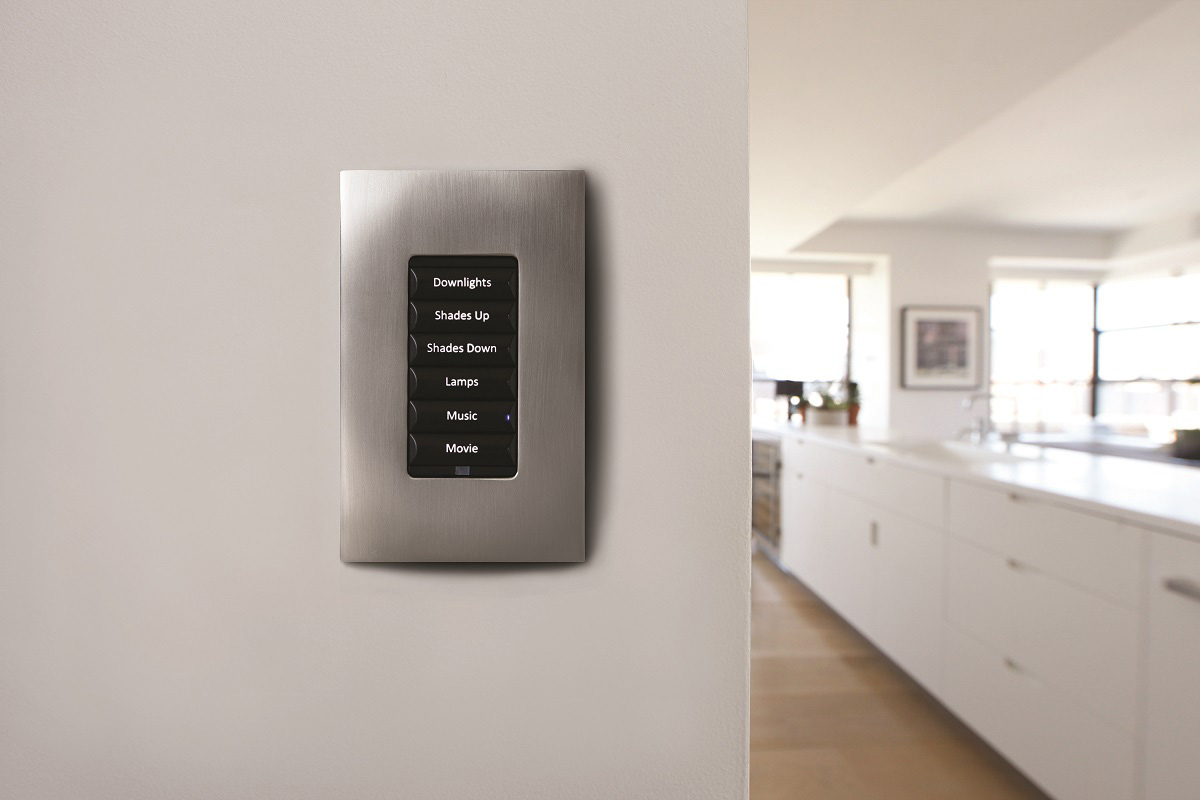 Improve Efficiency and Moral with Smart Energy Products from Control4
We've seen what a difference smart technology can make to your guests, customers, and even your top-level executives, but what about your front-line staff?
There's good news there too
with the appropriate pre-set scenes and automated controls, you can use your Control4 business technology to manage lighting and temperature throughout your premises, effortlessly creating the optimum working environment right the year round.
Why is this important?
Because as countless research shows, when employees work in an environment that is set at an appropriate temperature with appropriate lighting, they feel more comfortable.
Greater levels of comfort lead to an increase in morale. An increase in morale leads to an increase in productivity and an increase in productivity, as we all know by now, leads to an increase in profitability.
That's not to mention the fact that staff with high levels of morale are far more motivated to provide better service for your customers and guests, and at the end of the day, isn't that what's truly important?
How can Control4 help you to achieve all of your business goals in 2019?
Contact Pro Install AV, London's leading Control4 dealer, online today.
Alternatively, to find out more about Control4 system costs and arrange a free, no-obligation quote,
call us now on +44(0)20 7096 0078.