Five Essential Smart Home Upgrades for Your Workout Space
16 Sep 2019
Smart Technology
No one could ever deny the importance of keeping healthy. In today's fast-paced, ever-demanding world, taking a few moments of our day to engage in even the briefest bit of cardio or resistance training can do us a world of good.
But let's be honest:
Going to our nearest gym to get that training in isn't always the best option.
For one thing, it's a pretty expensive price to pay every month, especially when you get there and find that all of the equipment you want to use has been taken up by other gym-goers.
That's to say nothing of the time constraints and how difficult it can be to fit a workout into your busy schedule when you're already so busy.
It's for this reason that more and more people are eschewing the traditional gym altogether and instead opting to invest in a range of digital fitness technology that enables to workout at a time and place that's right for them.
Forget spending a fortune just to squeeze in a workout at an over-crowded gym that's never open at a convinient time for you. With these best-in-class smart fitness devices you can get all the exercise you need in your own home.
Smart Gym and Digital Fitness Tech is on the Rise in Europe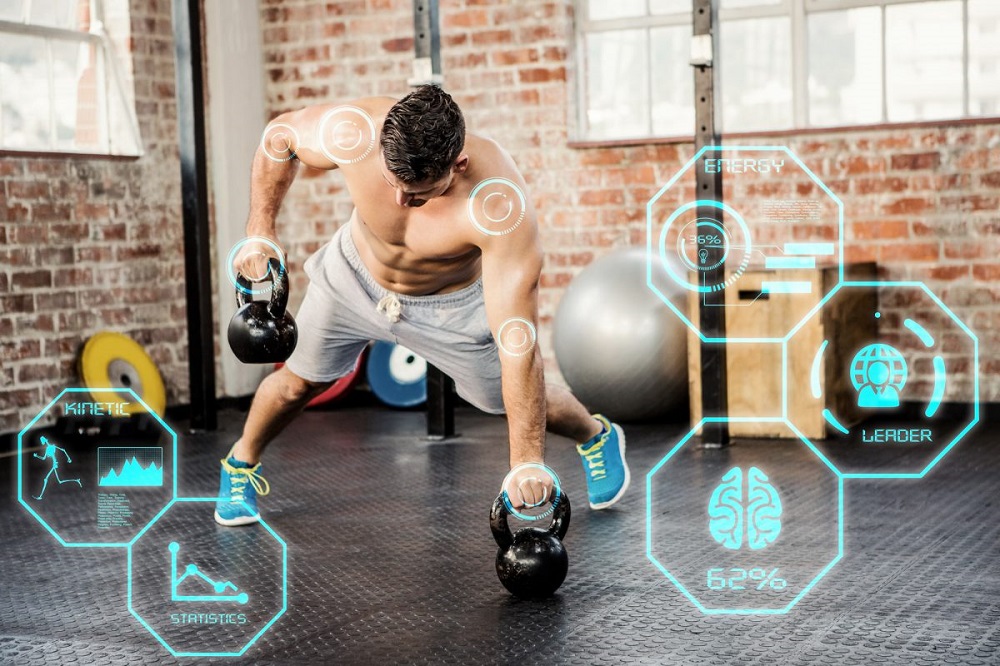 In fact, such is the demand for modern home exercise equipment that the global digital fitness market is set to reach an estimated $27.4 billion by 2022, the result of a 32.6% growth up from the year 2017.
This growth is thanks in no small part to the unprecedented popularity of smartwatches like the best-selling Fitbit (£89) and Apple Watch £229, with other major players such as Samsung Electronics and Adidas also contributing thanks to increased sales of smart clothing, smart shoes and other wearable tech.
Yet those are far from the only products worth getting hold of if you're to ditch the gym in favour of a personalised workout space that really works for you.
Here are the devices and smart home upgrades you should be investing in to make the most of your home gym and turbo-charge your workouts in 2019.
Fitbit, Apple Watch and a range of wearable smart technology are among the top products contributing to a rapid growth in smart fitness technology, helping users to optimise their workouts and track key performance data.
1: Multi-Room AV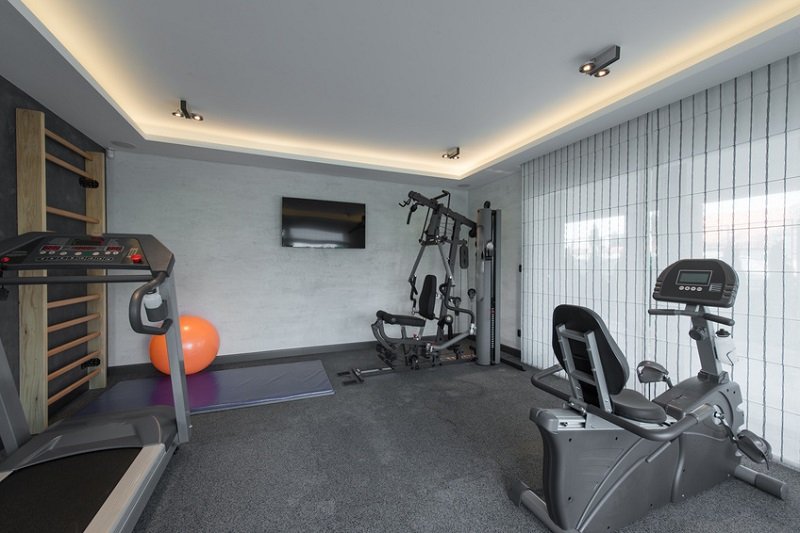 While it may not be the first thing that springs to everyone's mind when it comes to smart home upgrades for your workout space, that doesn't mean you should underestimate what an impressive difference a multi-room AV installation can make.
Think about it:
We all like to have that little something extra to keep us motivated while we workout.
For some of us, it's an adrenaline-charged soundtrack pumping out through an old iPod while we bust out another set of reps. For others, it's watching a movie or TV show to distract us as we spend yet another hour crushing that cardio.
But if you're ready to ditch that outdated iPod once and for all, and if you're sick of having to balance a tablet perilously on the edge of your treadmill, a multi-room AV solution (from £12,500) may be the answer.
In-wall and in-ceiling speakers can be used to pump your favourite sounds through the room without ruining the aesthetic design of your workout space, while digital displays allow you to stream your favourite content, even if your entertainment devices are stored in another room.
The best part?
When you integrate your multi-room AV with a smart home automation system, all of this can be controlled effortlessly via an app on your smartphone, so there's no need to break your exercise routine to manage it.
A multi-room AV system can transform any home workout space, helping you enjoy the music, movies or entertainment that keep you motivated without relying on an old iPod or tablet device.
2: Bowflex SelectTech 560 Bluetooth dumbbells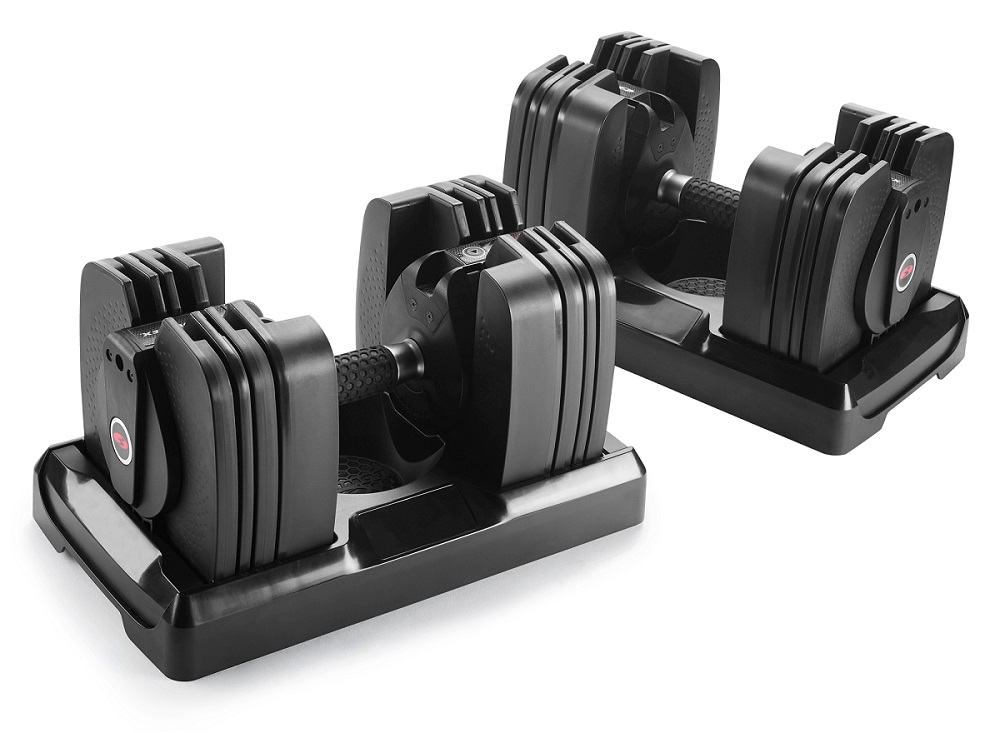 There's nothing dumb about these dumbbells. One of the smartest pieces of home fitness technology we've come across, Bowflex SelectTech 560 Bluetooth dumbbells (£380) take resistance training to a whole new level.
Each set comes with Bluetooth capability and can record every training session, logging vital data about your sets, reps and weights into an easy-to-use smartphone app.
The app itself can work with the data you collect to help you plan a lifting regime and improve your overall strength training.
What we particularly like about Bowflex's smart dumbbells is that they're fully adjustable in increments of 2.5 lbs, so you can lift anywhere between 10 and 60 lbs and finally clear up the space taken by all of those non-smart dumbbells cluttering your home gym space.
Smart dumbbells are fully adjustable so that you can work out at different weights without having to fill your work out space with lots of separate pieces of equipment.
3: Tonal Smart Gym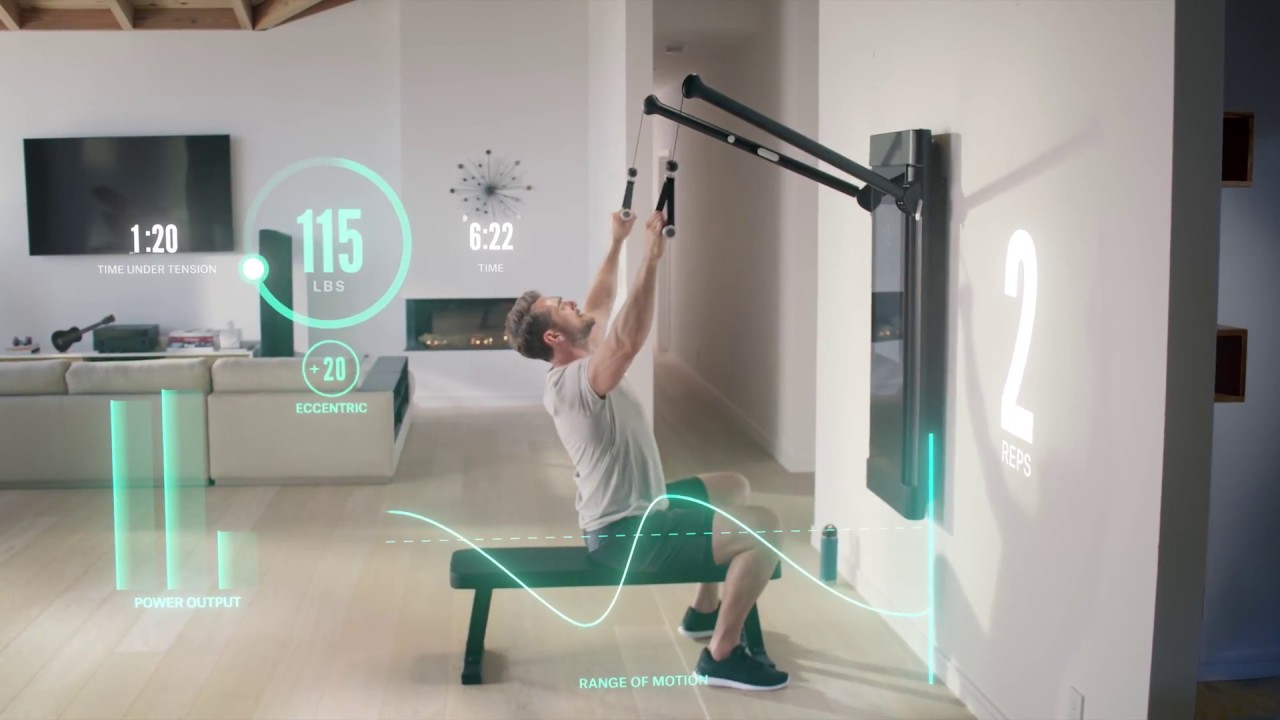 Of course, you don't need an entire room filled with all the latest equipment to get a really good home workout in.
If space is limited, smart gym products like the much-publicised Tonal (£2,500) can provide a complete workout, complete with expert guidance and instruction, while taking up minimal space in your home.
Measuring just 22 x 51 inches, this svelte piece of kit comes with two flexible cable arms that can be hidden away when not in use, and an LED touch screen which provides not only hands-on control but also streams purpose-made Tonal workouts.
When you're ready to use it, you simply pull out the arms, select a workout, and get to it.
The streaming service costs an extra £49 per month but is well worth the subscription for the sheer number of different workouts it offers.
Though it's better suited for upper-body workouts, there are options to train your whole body, including HIIT sessions and circuit training.
With smart gym devices like Tonal, there's no need to dedicate an entire room for exercise. Simply attach this slim device to a wall and enjoy maximum workouts while taking up minimal space.
4: Peloton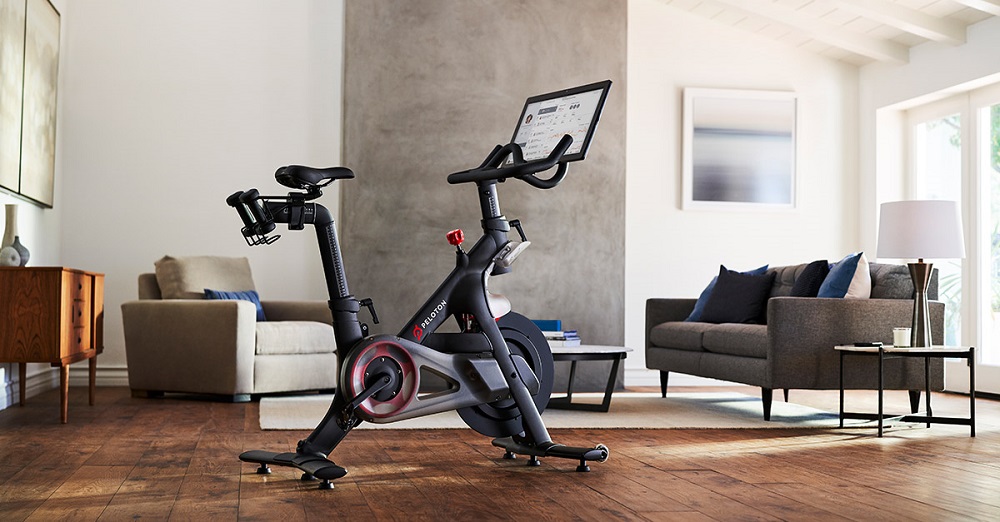 You can't have spent much time in the world of health and fitness without at least hearing of Peloton.
Even if you've never actually used one -or seen one up close and personal- the revolutionary home gym equipment that brings your favourite spin classes into your living room and provides what by all accounts is one heck of an intense workout.
The next generation of home exercise bikes, Peloton attaches a tablet to the bike itself, and you can use this to join in with real-time exercises classes led by trained instructors.
You can also talk to your home automation specialists about integrating Peloton with your multi-room AV set up for easier management and control.
The bike starts from £1,900 which comes with a one year warranty, delivery and professional set up, but if you have the money, you can choose to add in a range of extras such as specially-designed Peloton shoes, weights and headphones, with packages ranging from £2,000 to £2,389.
One of the hottest smart fitness products to hit the market in the last couple of years, Peloton brings real-time spin classes into your living room. Join trained instructors and thousands of health enthusiasts from around the world in live exercise classes guaranteed to leave you feeling amazing.
5: Smart mirror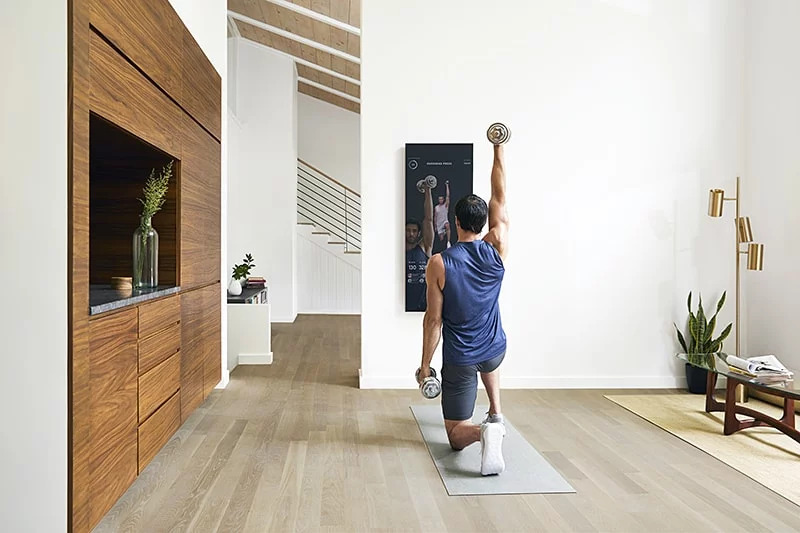 Mirror, mirror, on the wall, who's the fittest of them all?
At first glance, Smart Mirror (£1,495) looks just like any normal mirror, helping it to blend in beautifully with the aesthetic design of your home.
Switch it on, however, and it becomes an all-powerful piece of home exercise equipment, streaming your choice of live or pre-recorded fitness classes. These include cardio, resistance training, boxing, pilates, yoga and more, with over 50 unique classes to choose from each and every week.
What's more, you can sync Mirror to your FitBit or Apple Watch so that it can collect real-time biometric data. This data can give you feedback about how you're progressing and help you plan future workouts accordingly.
And when you have that right there in your living room, why bother ever paying for a gym membership ever again?
Discover how easy it is to integrate smart fitness technology into your existing home automation system by contacting Pro Install AV online or calling now on +44(0)20 7096 0078.