Five Home Automation Essentials No Home Should Be Without
09 Aug 2019
Home Automation
For some homeowners, home automation products have always been in held in regard as something of an unessential luxury. For some, products like voice-activated home control and smart lighting are fancy add-ons which, though they may make a property look like a cross between The Jetsons and an episode of MTV Cribs, fail to add any genuine value to the day-to-day lives of everyday people like you and me.
Yet thinking is rapidly going the way of the dinosaurs and if they're not careful, the people who continue to dismiss smart technology may be going right along with them.
The truth is that in today's everything-digital, always-connected society, home automation systems and other smart home tech are quickly becoming as commonplace in the modern home as the television or land and telephone was twenty or thirty years ago.
It's for this reason that more and more property owners are looking to integrate smart technology into their properties, not to keep up with the Joneses (or The Jetsons for that matter), and not simply to look fancy, but because the very way that the modern home will operate in the next five to ten years depends on it.
If you're thinking of upgrading your property in 2019, here are five home automation essentials you absolutely shouldn't be without.
Smart home automation products are becoming as familiar a sight in today's homes as the TV or microwave was in the homes of the 90s and early 2000s. Today, we look at the top products that are fast becoming an essential part of living in the 21st century.
1: Smart Door Stations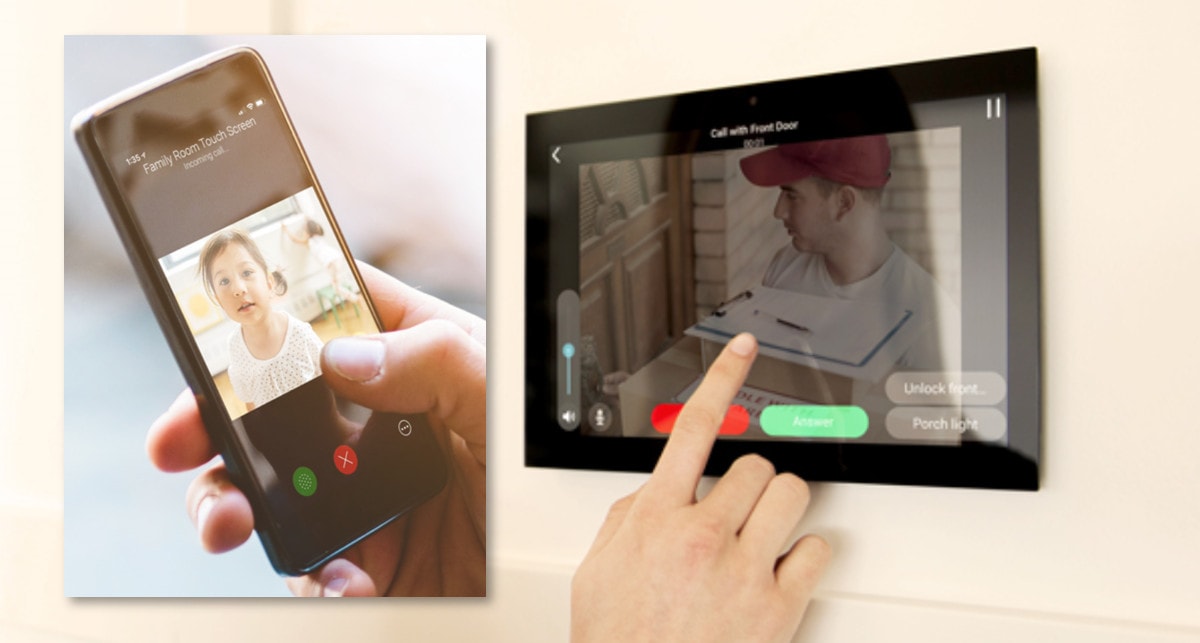 Smart speakers like Amazon Echo and Google Home may have been the biggest smart home gadgets of the last few years (and we'll have more of them later), but if the predictions of our own home automation installers are anything to go by, the next product to see a boom in popularity will be the smart doorbell.
Already, the global market for video doorbells is valued at 0.5 billion, with experts forecasting market growth of up to 1.4 billion by the year 2023.
There's a good reason for that too.
For one thing, smart video doorbells are easy to install. They attach to the front of your property just like any bog-standard doorbell, albeit with the added bonus that they include a built-in camera, intercom and motion-sensor.
When someone presses the bell, not only does it ring out throughout your home, but it also sends an alert to your smartphone. You can then use the two-way camera to interact with whoever is at the door directly from your home.
This is a handy way to increase your home security, creating the illusion that you're home even when you're miles away.
Smart video doorbells are this year's biggest smart home trend, and for good reason too. With two-way camera and intercom system, they not only make life more convenient, but can also prove to be a valuable part of your home security set-up.
Increased Security
In 2016, smart doorbell creators Ring teamed up with the Los Angeles Police department to install their products in Wiltshire, California. The result was a 55% drop in crime within the first six months of the doorbells installation.
While Ring's products (starting from £89) may be getting a lot of attention from the popular press at the moment, we at Pro Install AV are still big fans of Control4's own line of doorbells, such as the Control4 DS2 Mini Door Station and Intercom Anywhere system (from £800).
This not only allows you to interact with people who come to your door but provides a whole-home intercom system that you and your family can use to communicate with each other throughout your property.
Imagine, no more standing at the top of the stairs screaming at the kids to come down for dinner. simply use the Intercom Anywhere system to pop up on their iPad and chat to them face to face.
Your Control4 installers can integrate the Mini Door Station into the rest of your home's Control4 ecosystem, helping you to enjoy fun little extras such as changing the tune your doorbell plays when somebody arrives at your property – ideal for holidays like Christmas and Halloween.
2: Smart lighting
It's no secret that intelligent lighting control can help you transform the way your home looks, giving you the freedom, flexibility and total control to create beautiful lighting scenes for any occasion.
Planning a romantic dinner for two or a family movie night? A single click of a button can instantly alter all of the lights in the room to create the perfect ambience.
Yet while aesthetic appeal is certainly a big selling point for world-class smart lighting systems like Lutron HomeWorks (from £1,000 to £25,000), that's not all that they're good for.
Working with your Lutron HomeWorks dealer, you can enjoy a smart lighting system that integrates with the rest of your home security system to keep you and your loved ones safe. For example, if you're on holiday, you can pre-set your lights to turn on at a specific time every evening, creating the impression that you're home in order to deter intruders. Or you can hook your lights up to the motion sensors in your security system to serve as a powerful intruder deterrent.
That's to say nothing of the benefits that smart lighting can have on your sleep.
Our bodies rely on the natural production of a hormone called melatonin which regulates our sleep cycle. This production can often be disrupted by too much bright light in the evenings, making it harder to enjoy a peaceful night's rest. A smart lighting system can gradually reduce your home's lighting, helping to reset your natural melatonin production and aid a good night's rest.
There's no end to the ways that smart lighting control can improve your home life. As well as enhancing your security, intelligent lighting control can also help you improve the aesthetic charm of your home, beat away the winter blues, and even improve sleep.
3: Automated temperature and thermostats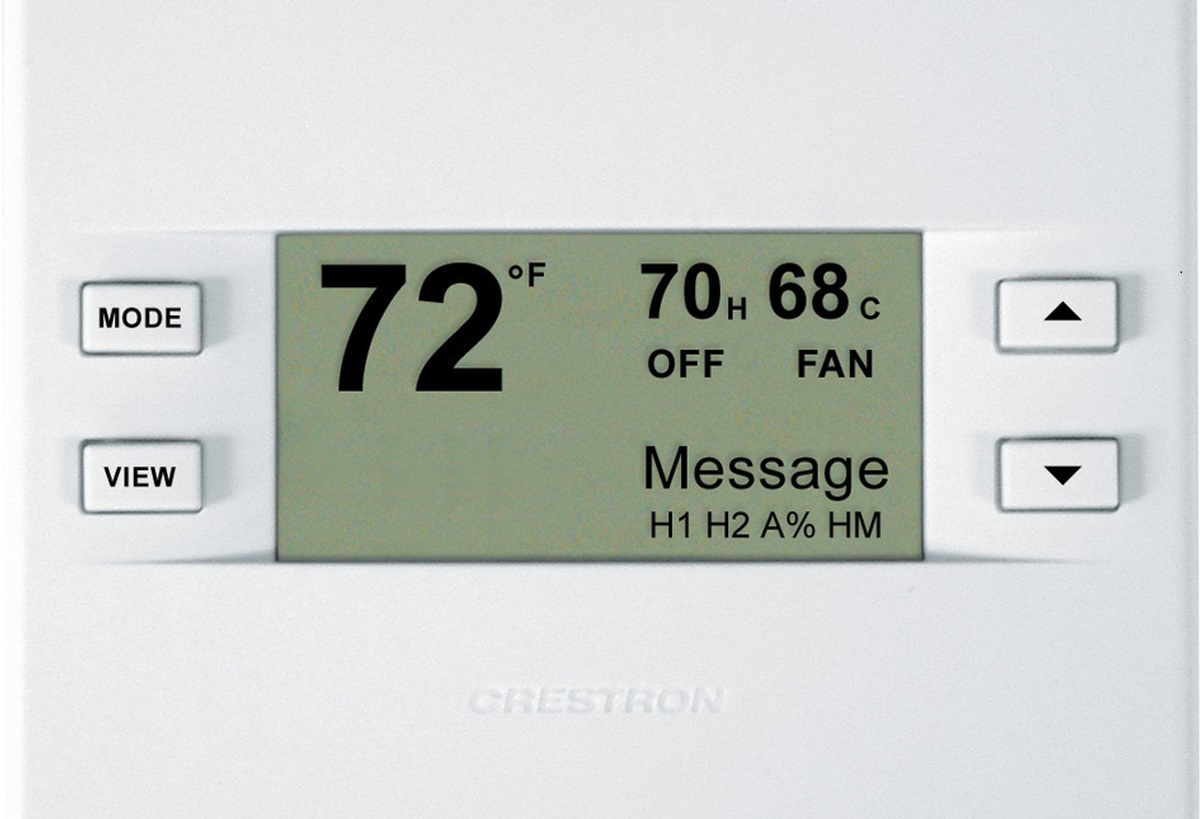 Along with improving sleep, security and serene scenes of aesthetic beauty, intelligent lighting control systems like Lutron HomeWorks can also help homeowners to reduce their home energy usage.
By only using the amount of light you need when you need it, and by making better use of natural lighting, you can reduce both your regular energy bills and your overall carbon footprint.
Yet smart lighting isn't the only way to do that.
Automated climate control systems and smart thermostats such as the CHV range from Crestron (from £300) allow you to enjoy pinpoint precision control over your home temperature via a smartphone app, meaning you can enjoy complete control from absolutely anywhere.
This can be helpful if you wanted to turn on the heating as you set off from work on those cold, dark winter evenings, or to check that you're not spending money on heating your home while you're away on holiday.
Integrated into your complete Crestron home automation system, products like the CHV-TSTA come with a stylish design and a cool white, black, or almond finish so that they blend in beautifully with the interior design of your home.
Additional features include easy access to both indoor and outdoor humidity and temperature readings, separate heating, humidity and cooling setpoints with automatic changeover, remote access, and the option to manage multiple Crestron thermostats via the Crestron home automation system.
Smart thermostats and other climate control devices are a welcome addition to any home. Used correctly, they can help you keep your home at a comfortable temperature with minimal energy expenditure, ensuring both your carbon footprint and your utility bills remain at an all-time low.
4: Smart home security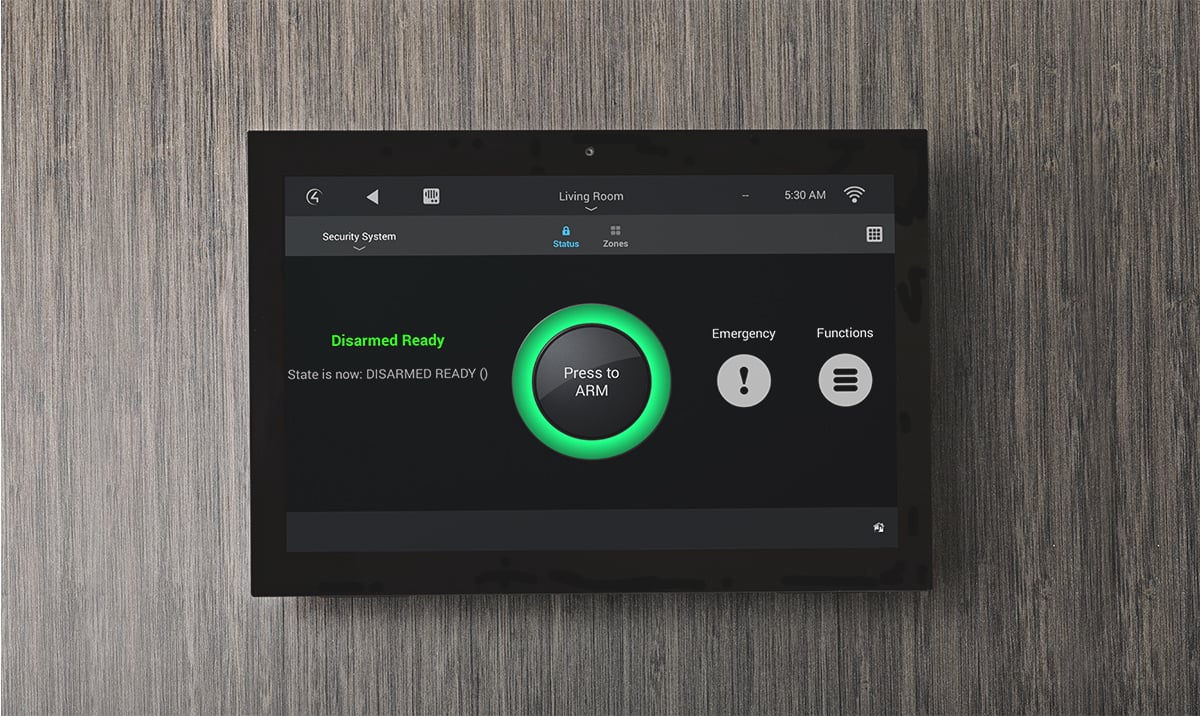 We've already touched on smart security and the way that products like smart doorbells and intelligent lighting control can help you keep you and your loved ones safe, but for total peace of mind and protection, you may want to consider investing in a smart security system.
Smart CCTV cameras offer round-the-clock monitoring so that you can keep an eye on your property from anywhere in the world via safe, secure live video feed, but that's only for starters.
If you've worked with your Control4 installers to integrate a smart home system into your property, you can use the company's 'Mockupancy' feature to simulate home occupancy even when you're away sunning yourself on a beach or working late at the office.
This feature will keep tabs on the way that you generally use your smart home entertainment system, smart lighting control and other home automation products. Then, when you leave the house and put your Control4 system in 'Away Mode,' it will replay the same behaviours that you carry out when you're home.
To any would-be intruder, this makes it look as if you're home as usual and create a strong deterrent.
Control4 can also integrate smart locks with individual passcodes that you create and control, as well as access control solutions that allow you to use your smartphone app in place of a key, and even options to set different levels of security for different areas of your property, ideal if you want to create a no-go area while hosting a party or if there's a room in your home you don't want the kids getting access to.
If you only invest in one area of smart home technology this year, make it security. Cameras with round-the-clock monitoring, alarm systems and simulated occupancy settings can all help you enjoy the peace of mind of knowing your home and your loved ones are always well protected.
5: Voice activated home automation control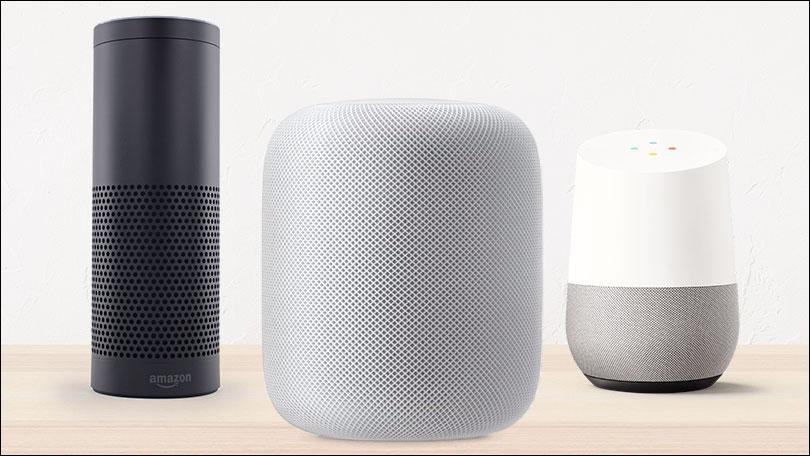 Last but by no means least, let's not underestimate the importance of voice-activated home automation control.
Indeed, while it's entirely possible to control your entertainment, lighting, security and energy via in-wall panels, switches and even smartphone apps, life becomes even easier you can enjoy the same level of control simple via voice commands.
Today, popular Crestron and Control4 home automation systems, along with similar set-ups are all compatible with leading smart speaker systems such as the Amazon Echo, Google Home and Apple HomePod, making managing your modern home as easy as saying a few words.
To find out more about upgrading your home with the latest home automation essentials, contact Pro Install AV online today or call us now on +44(0)20 7096 0078.