Five Reasons Your Hotel or B&B Should Invest in Smart Technology This Year
13 Jun 2019
Smart Technology
Somewhere between the iPad, the Internet-connected TV and the IoT refrigerator, smart technology has been taking over today's homes at an ever-rapid pace.
While such technology may bring a whole new level of comfort and convenience to the life of the modern family, most smart home technology is far from a luxury; it's an essential part of 21st century living that many people -including your hotel guests- have come to rely on.
As home automation installations, streaming media and cloud-based platforms become more commonplace, travellers are no longer content with spotty WiFi and a hotel TV that offers the five basic channels and dodgy reception.
By upgrading your business' smart technology, you not only meet those guests' expectations but help convert them into loyal, repeat guests as well as increasing bookings among first-time guests.
But don't just take our word for it.
With smart technology becoming an essential part of everyday living, installing it in your hotel or B&B can help you meet the expectations of modern guests, improving brand loyalty and increasing bookings in the process.
What do Hotel and B&B Guests Want?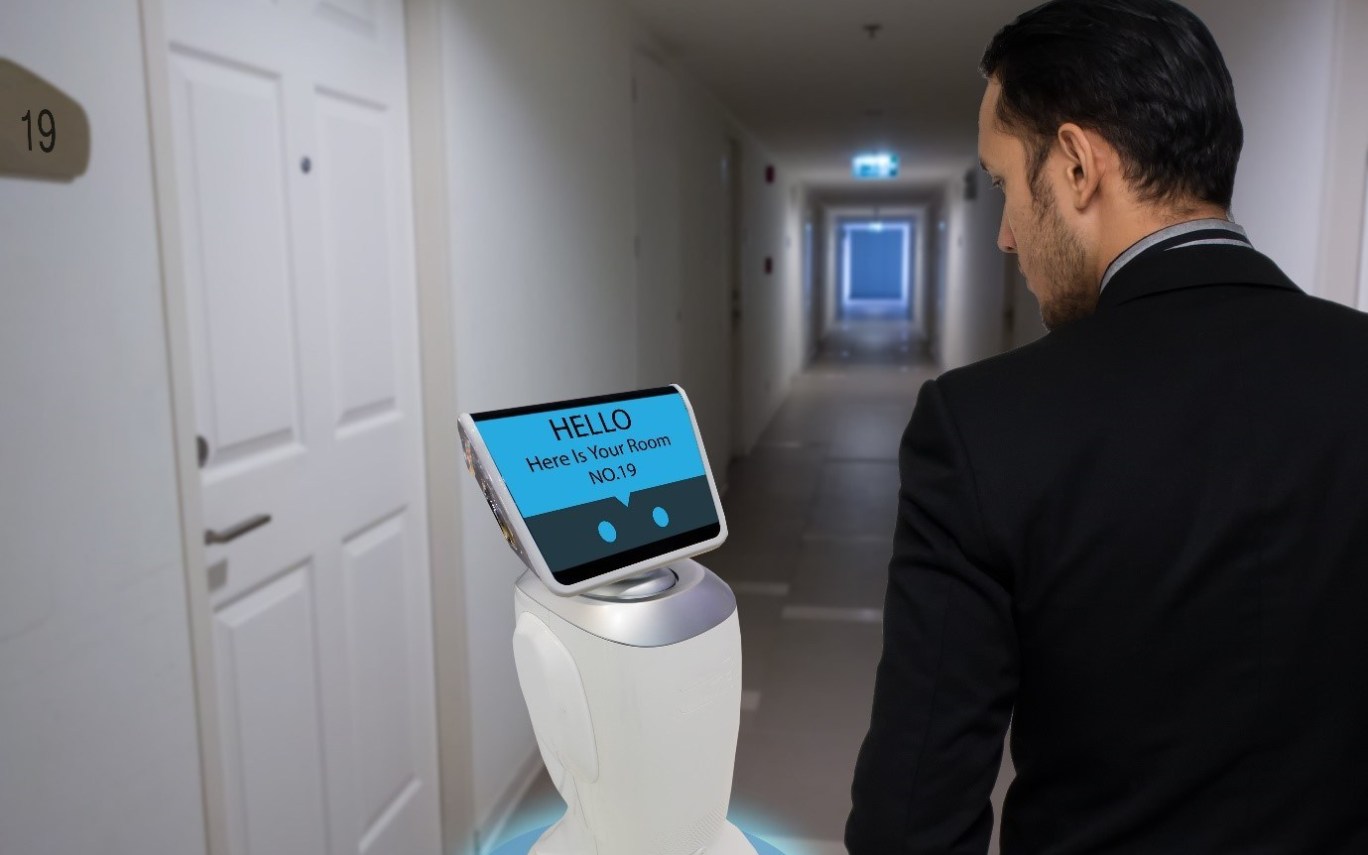 In spring 2019, hotel app developers Criton researched the hotel preferences of almost 4,000 travellers. The study revealed some fascinating insights and statistics, including:
64% of business travellers have at least one hotel app on their smartphone
79% of guests would use their favourite hotel's app if they had one
69% of guests would be likely or very likely to check in to a hotel using an app
68% would be likely or very likely to use a digital key.
Meanwhile, two-thirds of respondents to a 2017 study by Oracle Hospitality said that it was "extremely important" or "very important" that hotels continue to invest in technology.
Where Does Smart Technology Make the Biggest Difference in the Hospitality Industry?
Of course, much has been made of how modern technology has revolutionised the check-in experience for today's travellers.
With the right apps and a forward-thinking Property Management System (PMS), hotels and B&Bs can dramatically reduce check-in times and, in some cases, even reduce the need for a permanently-staffed check-in desk, freeing up staff resources so that they can better attend to the personal needs of guests.
Still, smart tech's impact on the hospitality industry doesn't begin and end at the front-desk.
Cloud platforms can significantly improve back-office performance and communication, while the use of home automation installations and next-generation entertainment systems are transforming tired, old guest spaces into state-of-the-art smart rooms.
Smart hotel technology can do much more than simplifying your check-in process; it can deliver a whole new in-room experience for guests, improve security with greater access control and even increase back-office productivity.
What is a Smart Room?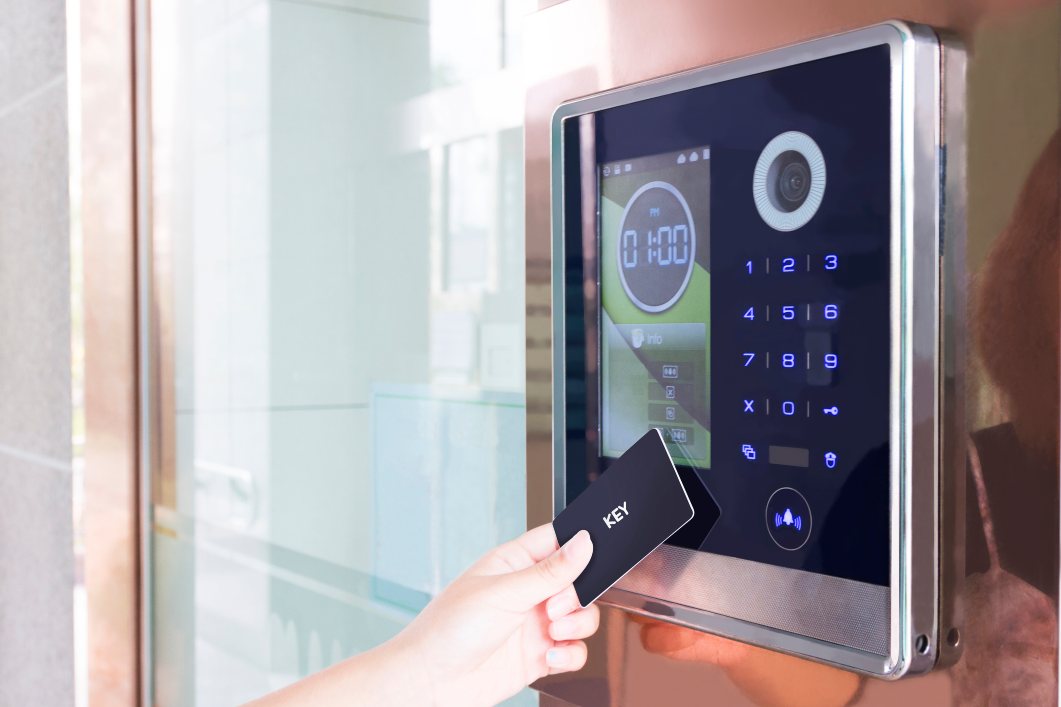 In its most basic sense, a smart hotel room is any room in a hotel or B&B that utilises the Internet of Things to make life easier and more enjoyable for guests.
This involves connecting devices to the business' WiFi infrastructure so that guests can take effortless control over the room's heating, lighting, entertainment systems, and even the curtains.
Some of the more common ways that top hotels are creating smart rooms include:
Installing smart room controls so that guests can manage every aspect of their experience from one single device.
Adding voice-controlled entertainment so that a single voice command could load Netflix, order pay-per-view entertainment or set their smart room system to wake them by playing the morning news programme.
Installing interactive eConcierge systems so that guests can access services at the touch of a button.
Smart hotel rooms employ intelligent lighting and heating control, next-generation entertainment systems and dedicated concierge platforms to give guests complete control over their in-room experience.
Five reasons why smart technology is worth the invest
So far, so good, but with a limited budget, how can your independent hotel or B&B justify the expense of next-generation smart technology?
To answer that question, we invite you to take a look at these five advantages that will help you view smart technology not as an unnecessary expense, but as perhaps the smartest investment you make for your business all year.
1: Greater Personalisation and Customised Guest Experience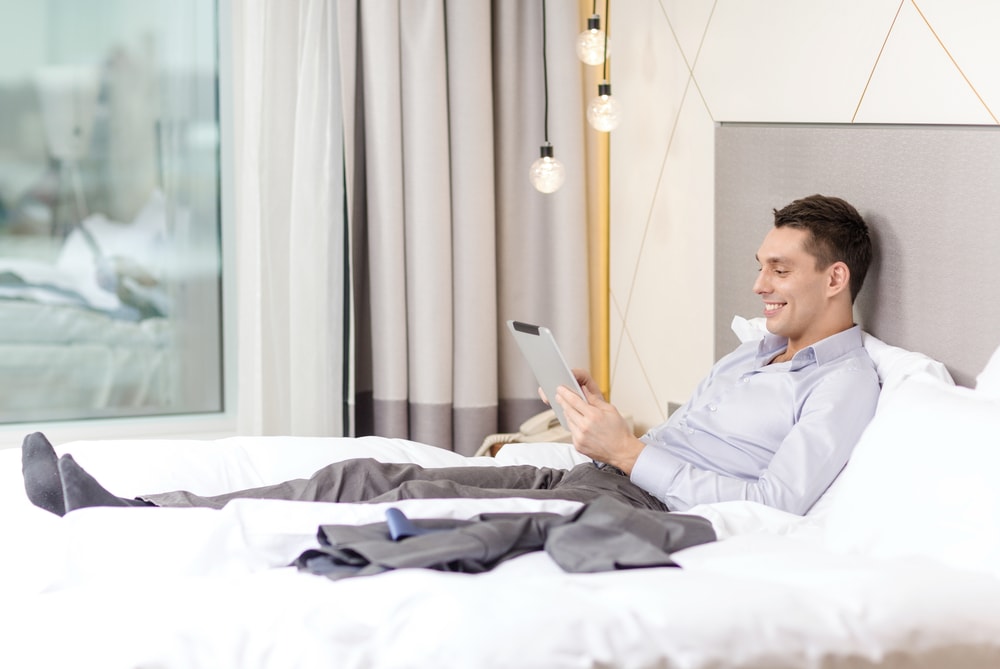 Since it first burst onto the scene over a decade ago, Airbnb has caused major disruptions to the travel and hospitality industry, not only by providing guests with an affordable alternative to traditional hotel accommodation but by completely changing what those guests have come to expect.
In today's on-demand culture, it's no longer an option to give guests a 'stay.' Frequently, they expect fully immersive experiences customised to their liking.
Installing smart technology in your hotel or B&B allows you to meet those guest expectations.
You could, for example, create an automated system so that when a guest checks in using their smartphone in your reception area, that triggers their room to turn on the heating and lighting while loading a personalised greeting on their in-room entertainment.
Guests can then use their in-room controls to personalise the room to their preferences, perhaps by adjusting all the various aspects from a single device.
The rise of Airbnb means more guests expect a personalised experience when they stay at your hotel. Giving them greater control over their room allows you to do that.
2: Improved Sustainability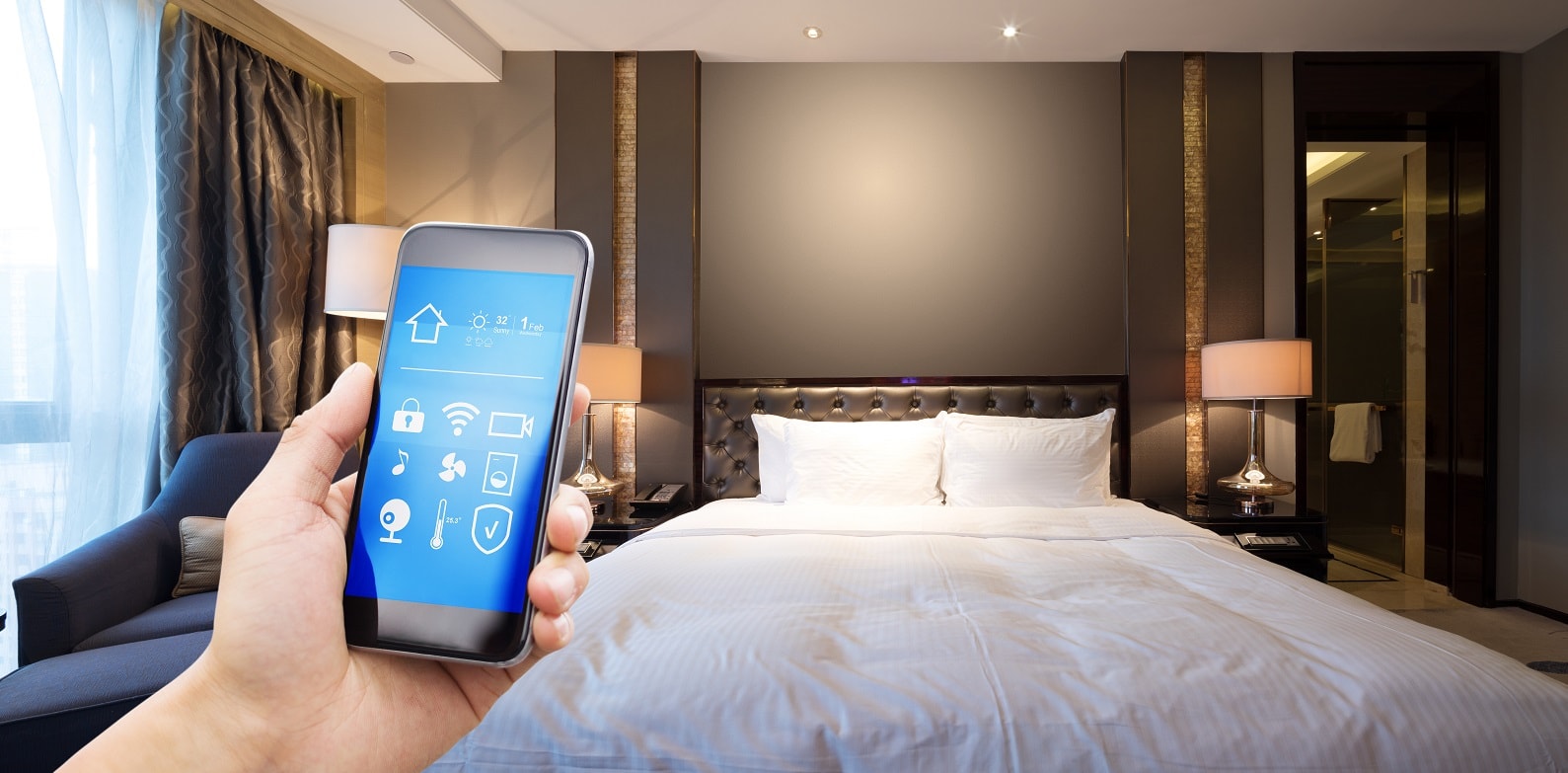 Smart technology and energy efficiency go hand in hand. With IoT connected thermostats, automated curtain and blinds and intelligent lighting control, there are several things you can do to make your rooms not only smarter but greener too.
Heating and lighting could be set to turn off whenever a room becomes unoccupied automatically; lights can automatically be reduced during hours of daylight and thermostats can automatically cut off when a certain temperature is reached.
This not only helps your hotel appeal to eco-conscious guests but can also provide long-term cost savings by improving sustainably.
Today's hotel technology isn't just smart; it's energy efficient, helping you to reduce your expenditure on heating and lighting.
3: Enhanced Customer Experience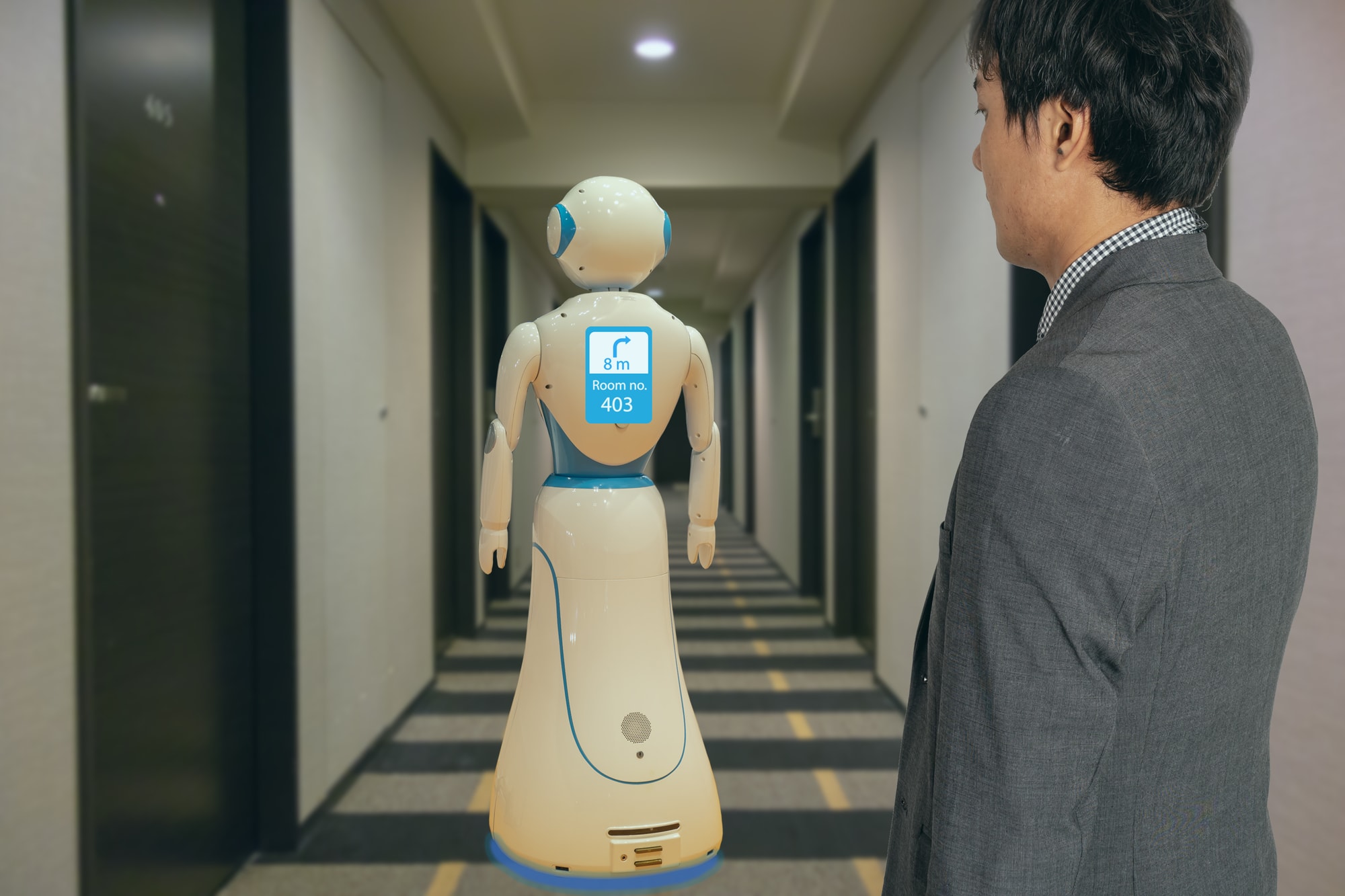 Adding all new levels of personalisation isn't the only way that smart hotel technology can transform your guests' experience.
Bringing the traditional concierge service into the digital age, smart room systems can enable guests to order room service, request information or access a menu of additional hotel services at the touch of a button, or even via a voice-activated control system.
They could even use their own devices to access your hotel's eConcierge system through a dedicated app or combine the app with next-generation access control rather than relying on easily-lost keycards.
4: Remote Room Controls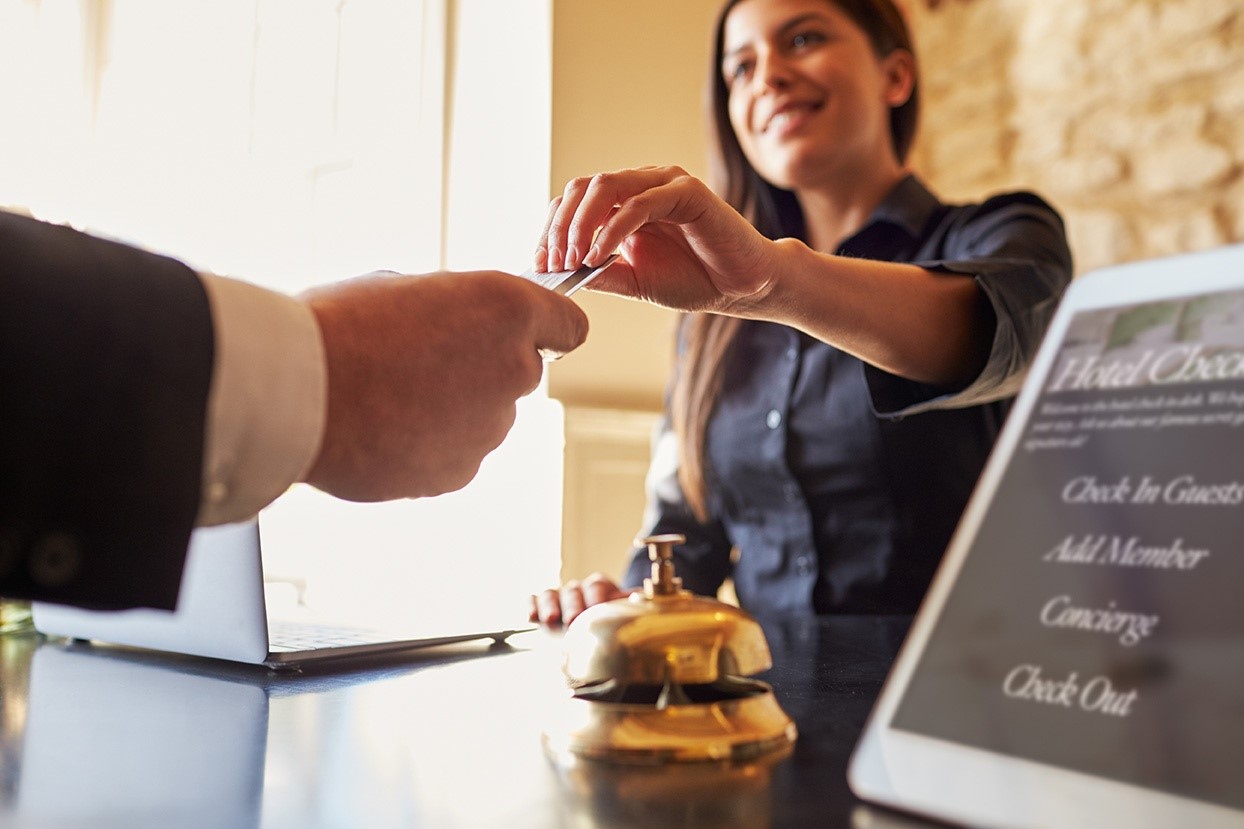 Of course, it isn't just guests themselves who can benefit from having automation technology installed on your property.
A smart hotel system gives your staff remote access to any room in the hotel without them having to visit it physically.
Using this system, those staff could help prepare a room for guest's arrival by turning on the heating so that the room is at an appropriate temperature or setting a beautiful lighting scene to impress those guests the moment they walk through the door.
Remote controlled smart rooms also have the advantage that staff can attend to faults in any given room directly from the front desk.
So if a guest has a problem with their lights, for example, an employee can fix it using a tablet from wherever they are in the hotel, this not only saves them time but also leads to happier, more satisfied guests.
Remote controlled rooms mean your hotel staff can attend to faults and meet guest requests without ever leaving the front desk.
5: Faster and More Reliable Repairs
Speaking of fixing faults, when something goes wrong or technical issues arise with your hotel technology, it's essential that the problem is solved as quickly as possible.
This is especially true of in-room technology, where one faulty or redundant piece of hardware can put a serious dampener on a guest's stay.
Traditionally, fixing said technology meant calling for support and waiting until they could physically travel to your location, visit the room in question, diagnose and, finally, fix the problem.
Smart hotel technology and the Internet of Things allows you to solve problems much faster. Your support team can monitor, access, and run diagnostics on your system remotely.
Round-the-clock monitoring means that potential issues can be identified and resolved before they pose a threat to your day-to-day operations.
Should something still go awry, however, remote support staff can find and fix that problem quickly, keeping your hotel running smoothly and leaving your guests ready to leave you that glowing five-star review.
Ready to transform your hotel or B&B by investing in the latest smart technology? Not sure where to start? Start with a free consultation from the leading smart technology installers in London, Pro Install AV.

Contact us online today to discuss your requirements or call now on +44(0)20 7096 0078.