Home Entertainment – smart options that bring the cinema into your home
19 Sep 2022
Home Cinema
Bringing the cinema into your home is no longer a pipedream. With an array of smart devices available, you'll enjoy limitless media and music at the push of a button. As a Control4 authorised Gold Dealer, our team will provide their expertise in media room design to create a bespoke home cinema.
Home entertainment streamed from a central hub
With a central hub, you can stream music to chosen rooms within your home. For that matter, you could stream the music to the exterior too. The choice is yours. Plus, all tastes are catered for, which in short, means every member of the family is happy.
Revolutionising how you manage home entertainment
Home automation provides the perfect platform to revolutionise how home entertainment is managed. All controlled from a single device, it's clutter-free.
This smart technology allows you to play chosen tracks wherever and whenever you want. Add a unique cinema experience, and you're all set to never want to leave home again!
Hiring award-winning home automation installers ensures the work is carried out seamlessly which doesn't impact daily life.
TV that's genuinely on demand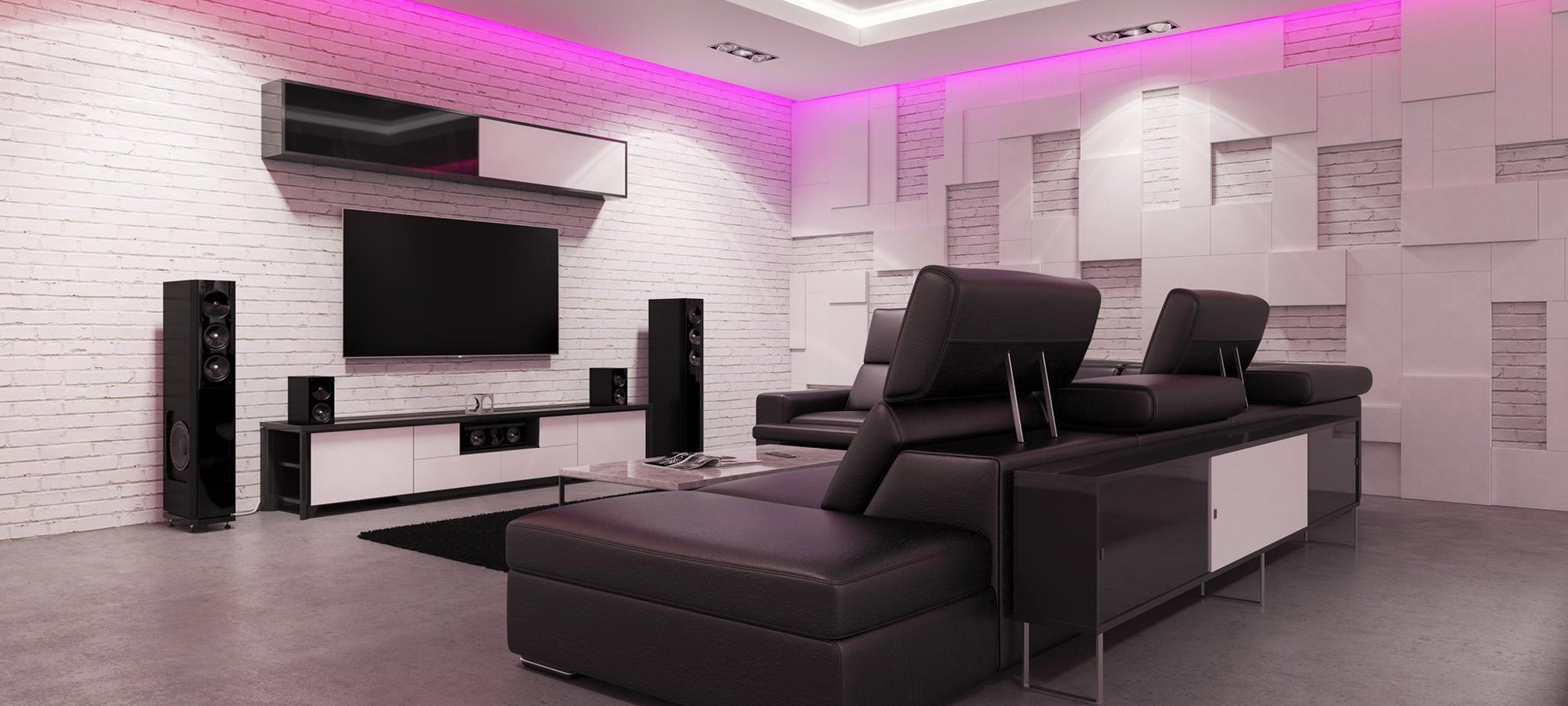 You can opt for multi-room television access the whole family can enjoy. Or a blockbuster home cinema experience. The choice is yours because home automation technology is limitless!
You can broadcast your favourite films and shows to any room in the home with a comprehensive multi-media system. You can also set controls when required in specific rooms. The HD viewing on these systems is top quality with the added bonus of being controlled from a single device.
You can organise a consultation with Pro Install AV so one of our experts can provide advice on home automation in London.
So, what are the benefits of smart home entertainment systems?
Smart home entertainment systems provide you with so many benefits. You can set a mood in a room with a chosen music track. Add surround sound to a home cinema. The audio/visual quality is outstanding.
Most households these days have a smart TV. They can access the internet and play a range of services. But take a step up by adding smart entertainment, and you're set for a superb experience in smart home entertainment.
In short, the systems allow you to control your home from a smart home hub or by using voice commands. It doesn't get much better with a bespoke home cinema design that suits both your needs and budget.
Enhanced viewing experiences with smart home entertainment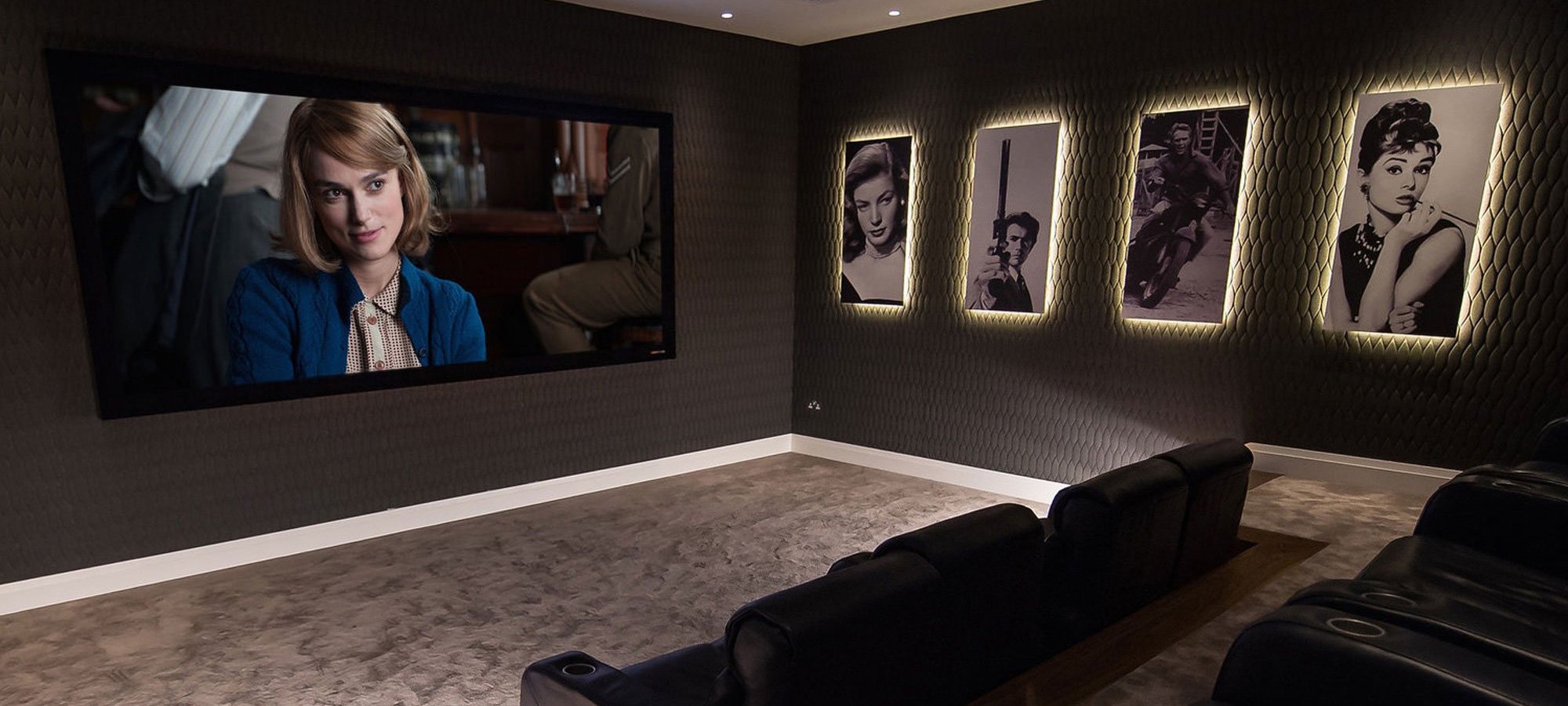 Smart speaker systems and smart TVs enhance viewing experiences. As a bonus, smart light bulbs set the mood to watch a favourite movie!
Then add connected smart speakers, which you control from the smart home hub. It allows you to stream your favourite tracks from your phone too. Adding smart speakers in every room means the music follows you from room to room.
The benefits of smart home entertainment options are limitless, which include:
High-quality audio and visual experiences
Controlled by one single home hub
Clutter-free
Music streamed throughout your home
Set a mood using smart lighting to match a favourite track
Viewing is controlled throughout the home
The music library accessed instantly at the touch of a button
Brings choice to the whole family to suit individual tastes
Home entertainment devices: Configured with a smart home system
Another huge bonus of adding smart home entertainment devices is you can configure them with a smart home system. This enables you to control everything via your smartphone.
Best smart home entertainment devices worth considering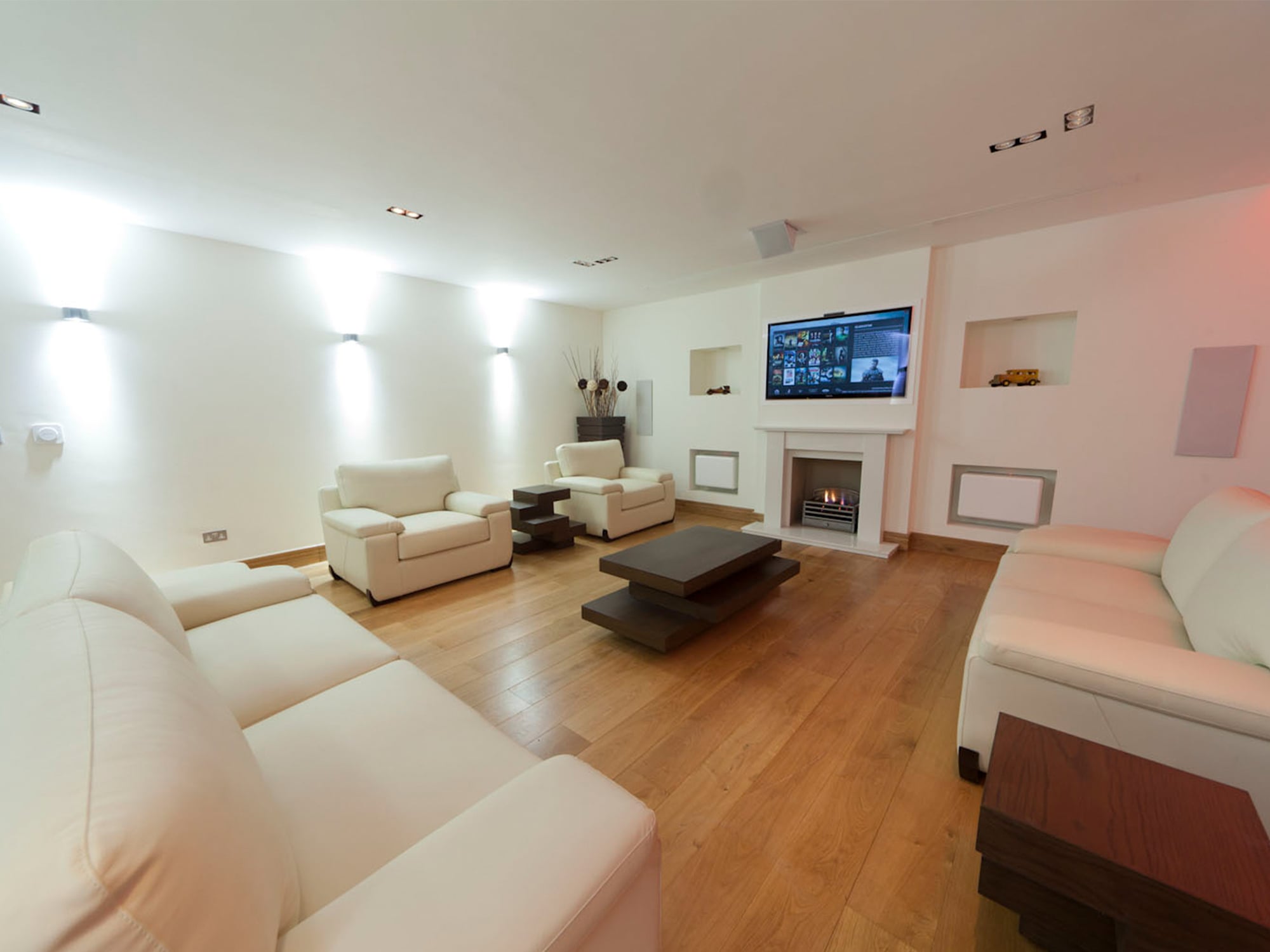 The choice of smart home entertainment devices gets better and better. Below are just a few worth considering if you're planning an upgrade:
Bose SoundTouch –10 Wireless Music System
The Bose SoundTouch –10 Wireless Music System is an excellent choice if you're looking to install sound in several rooms. There are 10 wireless speakers which provide top-quality sound.
The system works well with home WiFi or Bluetooth, allowing you to stream tracks from all types of services and your music library. It's been rated as one of the best smart home entertainment devices for several years.
Sonos Playbar Soundbar
The Sonos Playbar Soundbar is an excellent choice as it works with many other devices. Plus, it's compatible with several hubs. You can add a subwoofer, plus it's clutter-free.
Amazon Echo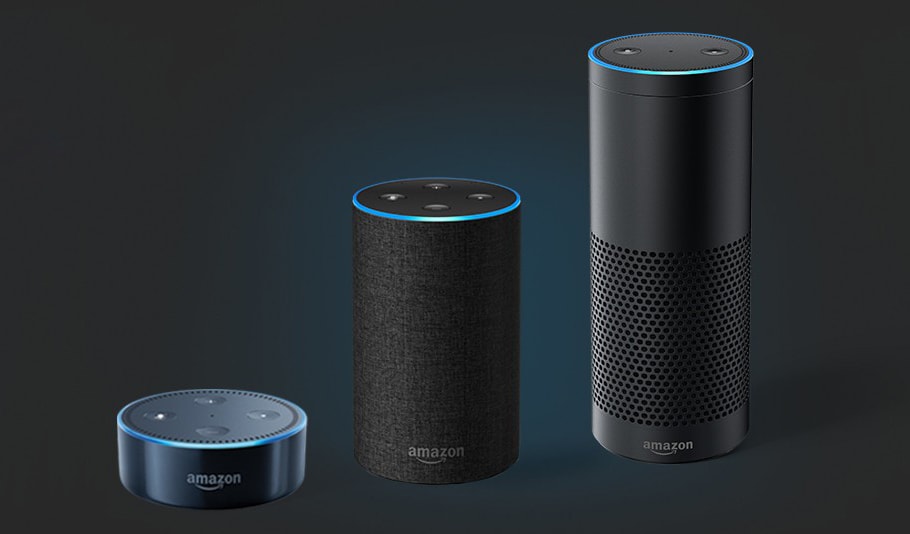 Packed with loads of features, Amazon Echo allows you to control and connect with all your smart entertainment devices via a built-in app. Moreover, Amazon Echo also allows you to control other smart devices in the home. This includes heaters, switches, lighting and anything else you plug in.
Samsung HT-H5500W Home Theatre System
It doesn't get much better than the Samsung HT-H5500W Home Theatre System. It works with WiFi, Bluetooth, and many other smart wireless devices. The system can be connected to a hub which lets you control things through a smartphone or tablet. You can stream music from Netflix, HBO and other platforms. There are 5 speakers as well as a subwoofer in the package.
JmGO G1 LED Projector Media Player and Smart Home Theatre
With its unique design, the JmGO G1 LED Projector Media Player and Smart Home Theatre is an excellent choice for any home. The system allows you to playback footage from laptops, smartphones, cameras and other systems via its projector. The system comes with built-in speakers and a TV tuner. 
Cambridge Audio Alva ST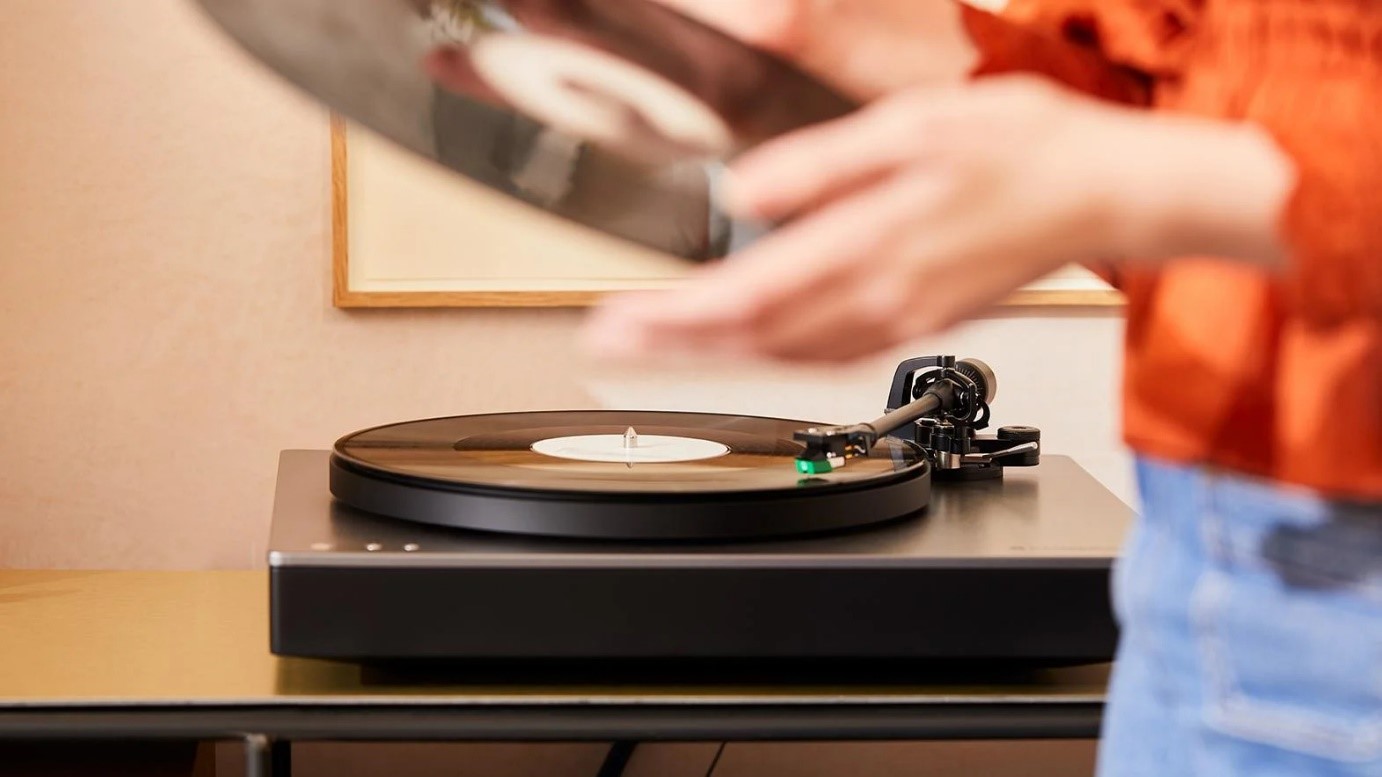 The Cambridge Audio Alva ST is a Bluetooth turntable which allows you to stream 24-bit/48kHz audio through Bluetooth speakers or headphones. The turntable is stylish with its diecast aluminium platter and Audio Technica AT-VM95e magnet cartridge.
Mark Levinson No 5909
The Mark Levinson No 5909 offers an exceptional headphone experience for that quiet, alone moment or two. Audio quality is phenomenal with its noise-cancelling Bluetooth cans, which feature 40mm Beryllium-coated drivers. In addition, the headphones are battery-powered with a bold design available in black, grey or red.
Sony Master Series A95K
As smart TVs go, the Sony Master Series A95K provides a top-quality audio experience. The TV boasts an OLED, the first to be rolled out in the Sony Master Series A95K. In addition, a camera automatically powers off the TV when nobody is in a room, a real energy saving feature.
Need some help choosing the right smart home entertainment system? Then contact one of our friendly advisers. They'll be more than happy to assist you.
With our expertise, your home cinema installation will be a smooth experience that brings hours of entertainment. Trustworthy, reliable and professional are part of our company's ethos as a Control4 Authorised Gold Dealer based in London.