Transform Your Garden with These Intelligent Lighting Tips From London's Top Lutron Dealer
08 Jun 2018
Intelligent Lighting
The sun is finally shining and the summer is well and truly upon us, meaning if there was ever a perfect time to head outdoors for a season of garden parties, barbeques, and working on your tan, now is most certainly it.
Yet just because you'll be spending more time outdoors over the next couple of months that doesn't mean you can't enjoy the same added style and convenience that you get from the smart technology inside your home.
By making the most of intelligent lighting control, either as a stand-alone solution or in combination with your existing smart home automation system, you can transform your garden into a safer, more stylish and exceedingly more beautiful place to spend those long summer evenings.
Here, top London Lutron dealer Pro Install AV offer our expert advice on how to make the most of smart outdoor lighting over the next few months.
Avoid Using Indoor Lights Outside
Though it may sound obvious to some, it wouldn't be the first time we've heard of homeowners attempting to create their own smart lighting installation by simply taking any old lighting system and fitting it into their garden.
The result, more often than not, is total disaster.
The truth is that most indoor lights simply aren't built to withstand the elements in the same way that outdoor ones are. So, by using the wrong kind of lights, you run the risk that one exceptionally cold night or one heavy rain show could cause serious damage, ruining your lights and rendering your warranty invalid in the process.
To avoid this, it always pays to check the IP rating of any system you buy.
These have two numbers; one to denote how much protection against solid objects like dust and dirt that system offers, and another to denote how waterproof it is.
As you may have guessed, the higher the IP rating, the better protection your lights offer, though a quick chat with your Lutron installer will help you determine which products are best suited for your outdoor space.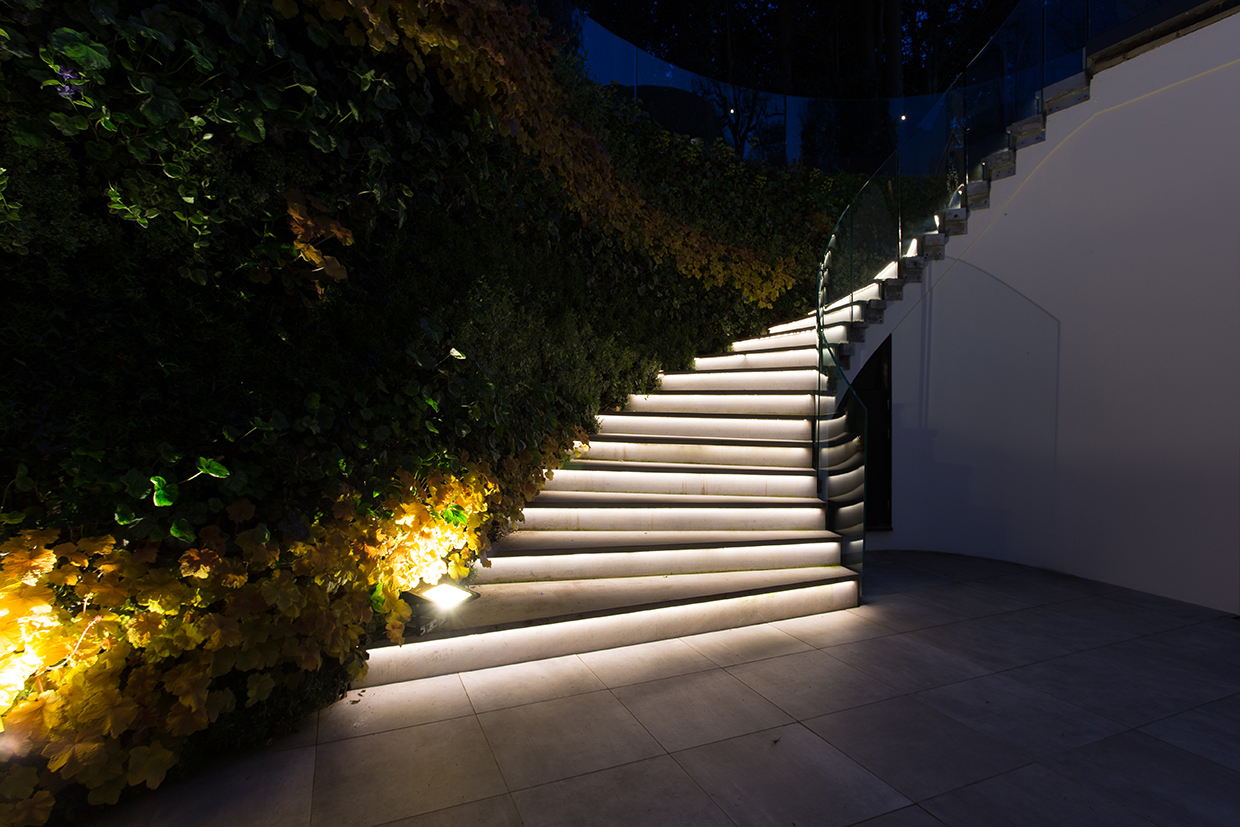 Illuminate Steps and Pathways
For most people, installing intelligent lighting is all about adding creating a certain style and ambiance, but that doesn't mean it doesn't have a practical use too.
Soft lights such as garden lanterns work perfectly to illuminate pathways, helping you and your guests to move around safely and avoid trips and falls whilst still enhancing the overall aesthetic appeal of your garden.
Meanwhile, specially-fitted spotlights help steps and stairways to stand out after the sun goes down, again serving as useful practical features whilst making the entire space look spectacular.
Combine Lighting With Outdoor Water Features to Create Dazzling Results
Remember that time when you were on holiday and saw that incredible water feature with the colour-changing lights? Remember how it really stood out from everything else around you? How it radiated a certain magical quality that stopped you in your tracks and, even if just for a moment, completely took your breath away?
What if we told you could create that very same effect within your own home?
If you already have an existing water feature, talk to your London Lutron dealer about combining it with an intelligent lighting installation to create a dazzling focal point for any outdoor space.
Alternatively, you could even install underwater lights in your ponds and pools, making a stunning centrepiece that's sure to impress guests at your next big garden party.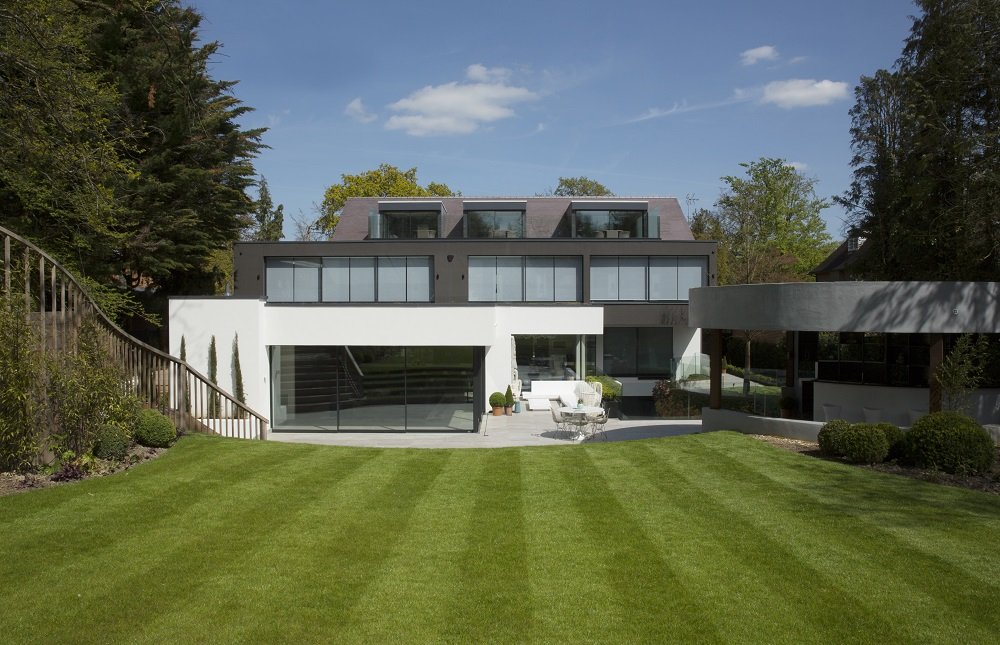 Consider How the Colours of Your Lighting Fittings Blend With the Rest of Your Garden
Spend any amount of time looking into smart lighting installations for your garden, and it soon becomes apparent that most lights come with fittings that are either black or other dark colours.
Despite this, you may find it better to work with your Lutron installer on finding fittings that are either olive green, bronze, or copper.
These colours typically blend in better with trees, plants and other natural areas, enabling you to enjoy all the benefits of intelligent lighting without having hardware that clashes with the natural beauty of your garden.
Create Separate Zones to Make the Most of Your Intelligent Lighting System
If you have a particularly large outdoor space, you might want to consider dividing it up into different sections and creating a bespoke smart lighting installation that really brings the best out of each area.
You may, for example, choose soft, whites or lights with slowly changing colours to create a wonderfully warm, inviting space around a barbeque, patio, or other areas where guests convene.
Elsewhere, brighter, sharper lights typically work well in turning a rockery, flower beds, or ornamental features into a display akin to a true work of art.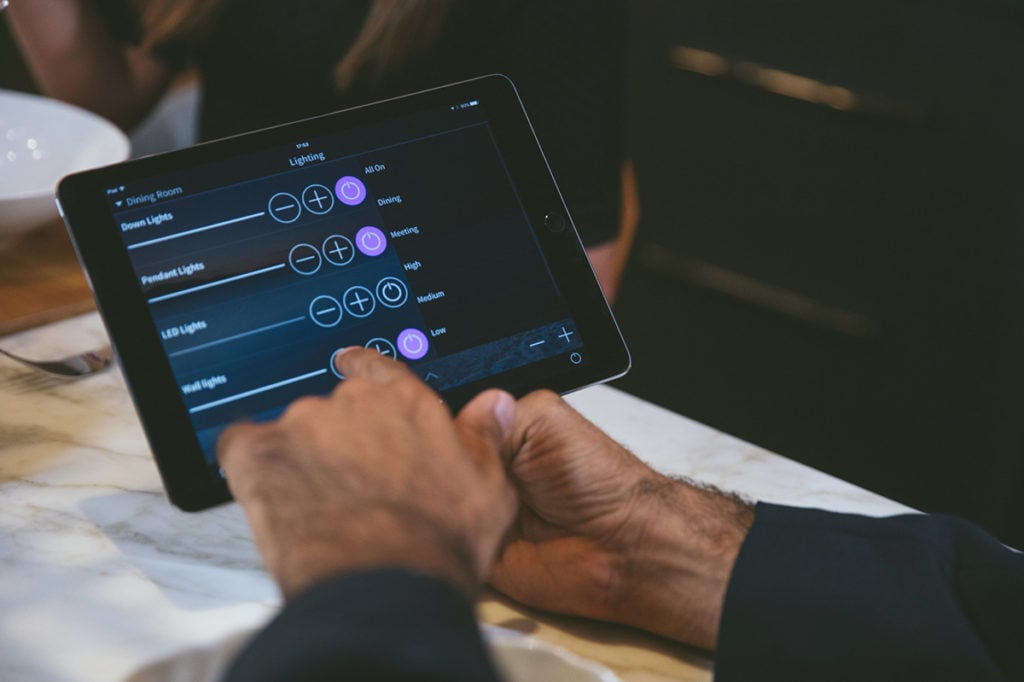 Set Unique Scenes at the Click of a Button With a Smart Lighting Control System
You worked hard on developing your own outdoor oasis, and even harder working with your London Lutron dealer in putting together your ideal smart lighting system. Now's the time to kick back, relax, and spend more time enjoying the fruits of your labour than you do running around managing your outdoor lighting.
Intelligent lighting control enables you to create the perfect scene for any occasion, save it into your system and load it whenever you need it.
The best part?
You can do all this at the touch of a button or -thanks to effortless integration with home assistants such as Amazon Alexa- even using voice commands.
Create one scene for those big outdoor parties, another for those romantic occasions when it's you and your loved one watching the sun go down, and another still for those nights when the sun begins to set a little earlier but you still want to make the most of your own outdoor paradise.
Transform your garden this summer with an outdoor lighting solution from Pro Install AV, one of the leading Lutron dealers in London. Contact us online to explore your options or call to book your free consultation on +44(0)20 7096 0078