Expert Predictions: What Does The Future Hold For Smart Home Technology?
22 Aug 2017
Home Automation
Go back and watch any science fiction show from even just a few decades ago, and it's almost guaranteed that you'll see examples what was then considered ultra-futuristic, space-age technology, but which today is simply commonplace in most of our lives.
Indeed, there once was a time when the likes of video conferencing, iPads, and streaming media were the reserve of Star Trek and the like. Today, it's hard to imagine modern life without them.
In fact, it's probably fair to say that such devices are almost primitive compared to the voice activated smart home technology, automatic lighting and state-of-the-art entertainment systems that are gradually working their way into more and more homes, bringing what was once considered a far-off, futuristic fantasy right into today's modern reality.
So, if we're already living in what we used to think of as 'the home of the future,' what exactly does the smart home of the future look like?
To find out, we asked the experts at London home automation experts, Pro Install AV.
The company specialise in designing and installing cutting edge smart home systems using the very latest in modern technology from around the world, so not only do they have a good idea of what tomorrow's technology may look like, they've already used most of it.
Here, the team sit down to give us their expert predictions on what the future holds for modern technology.
Samsung Family
Hub Refrigerator
────
By Samsung
────
£3,526
────
28 cu. ft. Capacity 4-Door Flex Refrigerator with Family Hub
────
Create shopping lists and see inside from anywhere with 3 built-in cameras
With the Family Hub refrigerator, Samsung has taken this idea to a whole new level, incorporating an interactive user-interface and several very clever features into their top-of-the-range fridge.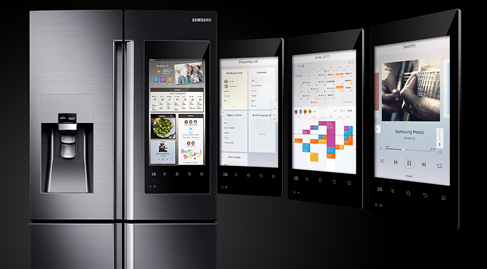 Source: http://www.samsung.com/us/explore/family-hub-refrigerator/overview/
SMART REFRIGERATORS BRINGING THE INTERNET OF THINGS TO THE HEART OF THE FAMILY
SMART KITCHEN TECHNOLOGY DOESN'T GET MUCH COOLER THAN THIS.
The average family refrigerator has often been more than just a box to store food in. For most folks, it's the very hub of family life; a place to leave notes for one another, to post pictures, to-do lists, reminders, and, well, you get the picture.
Standing at 28 cubic feet, the Samsung Family Hub Refrigerator allows users to see inside the fridge without opening it (thus saving energy), create smart shopping lists, and even play your Spotify playlists.
---
Hydrao Smart
Shower
────
By Hydrao
────
£89.90
────
Reducing your water usage in a fun, educative and eco-friendly way is now possible with HYDRAO First
────
The showerhead comes with the latest Bluetooth 4.0 low-power technology
With HYDRAO you are able to realize and adjust your water consumption. Saving up to 25% of water per shower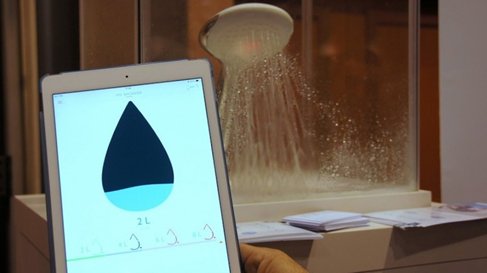 Source: https://www.hydrao.com/hydrao-first/
ADDING A TOUCH OF COLOUR TO WATER CONSERVATION
HYDRAO SMART SHOWER HEADS TURN EVERY SHOW INTO A FUN, VIBRANT, AND ECO-FRIENDLY GAME.
Pro Install AV say that one of the biggest reasons for customers investing in smart home technology is that it affords them a real opportunity to cut down on their energy consumption and thus save on their bill.
So it's no surprise to hear that the Hydrao is set to become the must-have gadget for tomorrow's smart bathrooms.
The shower head changes colour depending on how much water you're using. So, for example, if your shower head remains a nice, gentle green colour, that means you're using less than 10L of water. Go into the red zone, however, and that's a sign you're using way more water than necessary.
The device also helps to monitor how much energy is needed to make your shower water hot enough, with an app to track usage and set-up customisable profiles for different family members.
---
Samsung
VR9300K
Connected Robot
Vacuum
────
By Samsung
────
£800
────
Incredible suction power
────
High-performance sensors
────
Nothing gets missed
California-based company Neato Robotics just launched the Botvac, a vacuum cleaner that can be controlled via Amazon Alexa, whilst Samsung is also planning to enter the market, upgrading their CycloneForce model with voice control features.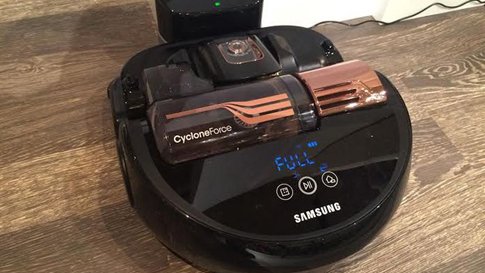 Source : http://www.samsung.com/us/home-appliances/vacuums/powerbot-robot/powerbot-turbo-robot-vacuum-vr2ak9350wk-aa/
TAKING THE HARD WORK OUT OF HOUSE HOLD CHORES WITH AUTOMATED VACUUM CLEANERS
FINALLY, THE SMART HOME TECHNOLOGY WE'VE ALL BEEN WAITING FOR
Let's be honest:
When most of us think about investing in smart technology, we do so because we want it to make our lives easier.
We want to be able to lower the lights, fire up the home cinema, and put on a movie without much effort, to monitor and manage the food in our refrigerators without too much hassle, or even keep an eye on home security at the click of a button.
Yet whilst top technology could make all that possible, even leading home automation specialists like Pro Install AV couldn't do much to get us out of our daily household chores.
Until now that is. Speaking to us for this article, the firm's experts demonstrated the one piece of smart home technology we've all been waiting for:
The automated vacuum cleaner.
---
HARMONY ELITE
────
By Logitech
────
£299.99
────
One-touch actions
────
Universal control
────
Alexa for voice control
You can create a 'Goodnight' activity which, when selected, locks the doors, lowers the lights, and even plays soothing music to help you drift off.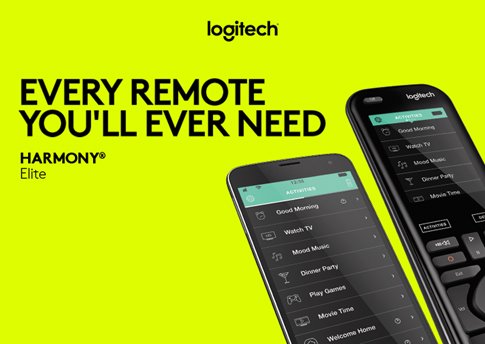 Source:http://blog.logitech.com/2015/09/16/harmony-elite-remote/
ENJOY COMPLETE CONTROL OVER YOUR ENTIRE HOME WITH HARMONY ELITE
A UNIVERSAL REMOTE CONTROL THAT ADDS A TOUCH OF MAGIC TO YOUR MODERN SMART HOME
Universal remote controls are hardly a new concept. We remember having one back in the day that achieved the seemingly mind-blowing task of controlling the TV, Sky box, and the DVD, all from one device.
But a universal remote control that really does control absolutely everything, from the automated lighting to the entertainment system, security features, and more? Now that is impressive.
Not only impressive, but it's readily available in the form of the Harmony Elite, a next-generation home automation from Logitech.
Not only does it control all of your devices individually, but it also allows you to create pre-set scenes and events for any occasion or activity.
---
Anova Precision
Cooker
────
By Anova
────
£130
────
Works with any pot
────
No other equipment
needed
────
Make it crispy
A simple device that clamps easily onto the side of any pan, the Anova uses a method of cooking called "sous vide" (pronounced sue veede) to make the kind of food you'd normally get at a top restaurant, albeit without the need for years or training and highly expensive equipment.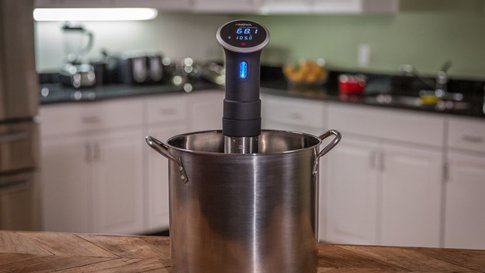 Source : https://www.cnet.com/products/anova-precision-cooker/review/
COOK TO PERFECTION EVERY TIME USING ONE SINGLE DEVICE AND YOUR SMART PHONE
MAKE MOUTHWATERING MEALS TO PROFESSIONAL STANDARDS, WITHOUT HAVING TO GO THROUGH YEARS OF CULINARY SCHOOL!
Second only to the main living space, the kitchen is often the single most in-demand room for home automation installation.
There's a good reason for that, too:
It's the one place most of us spend the majority of our time.
Whether that's cooking, cleaning, or catching up over mealtimes, the kitchen is typically the busiest place in any home.
So it makes sense that at least four items in our smart home of the future focus on that room.
Our experts at Pro Install AV have already given us their predictions on how we'll refrigerate our food in the future, but what about when it comes time to cook it?
That's where the Anova Precision Cooker comes into play.
---
DIGITAL ELECTRIC
SMOKER
────
By Char-Broil
────
£389.99
────
A high capacity wood chip box provides up to 6 hours of smoke
────
Once finished, your food is kept warm until you're ready to eat
At the time being, these smart smokers are actually reasonably priced at $399.99 USD (reasonable for smart tech, anyway!), so it may not be too long in the distant future before Char-Broil finds itself a commonplace item in the modern smart home.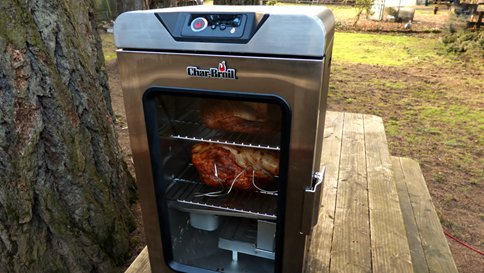 Source: https://www.charbroil.com/deluxe-digital-electric-smoker
TAKE A TRIP TO FOOD HEAVEN WITH THE CHAR-BROIL DIGITAL ELECTRIC SMOKER
MAKE ALL YOUR FAVOURITE SMOKED FOODS WITH NONE OF THE HASSLE
There isn't much you can't do with home automation technology these days, and that includes enjoying delicious smoked meats like you've never tasted them before.
The Char-Broil Digital Electric Smoker creates that rich, delicious smoked flavour you love with none of the guess work involved.
Simply pop your chicken, ribs, or other meaty treats in the oven, and the integrated meat thermometer to monitor and smoke your food to perfection.
When your food is done, the Char-Broil will let you know that it's done, and even keep your food warm until you're ready to dig in.
---
June Intelligent
Oven
────
By June
────
£1,146
────
Six carbon fiber
heating elements
────
Dual adaptive
convection fans
 ────
High-Precision
Food Thermometer
Currently priced at $1,500 USD, it may be a while before the June comes as standard with your typical home automation installation, but don't be too surprised if you see this one in more and more kitchens in the year to come.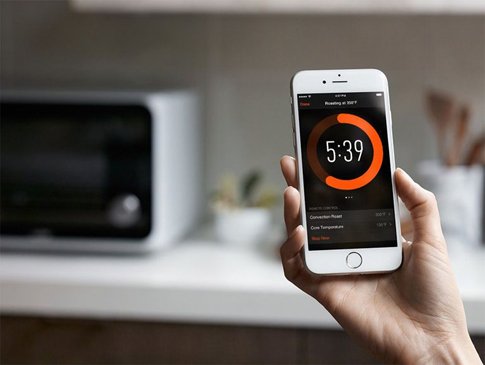 Source: https://juneoven.com/
THE JUNE OVEN: POSSIBLY THE MOST INTELLIGENT DEVICE YOU'LL EVER OWN
TAKE TOTAL CONTROL OVER YOUR COOKING WITH THIS STATE-OF-THE-ART KITCHEN APPLIANCE
Didn't we tell you there was a lot going on in the kitchen of the future?
As if it wasn't enough to sous vide and smoke your food to perfection, along comes the uber-intelligent June oven, making it even easier to make more of your favourite foods.
Taking cooking to a whole new level, the June oven identifies the food you put into it and makes helpful suggestions on the best ways to cook it.
Select one of those at the click of a button on your June Oven app, and off you go.
The app also reminds you when your food is done, and even allows you to check on your food as it's being cooked, thanks to the oven's in-built camera.
---
Lenovo Smart
Assistant
────
By Lenovo
────
Coming Soon
────
A Great Listener
────
Tap into Thousands
of Alexa® Skills
────
Compatible with
Other Smart Devices
The device can connect with scores of other smart devices to create a fully functional home automation system, and even remembers your preferences to deliver exactly what you need smarter, and faster, than ever before.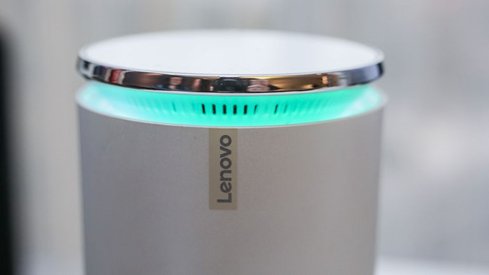 Source: https://www.cnet.com/products/lenovo-smart-assistant-with-amazon-alexa/preview/
ENJOY COMPLETE CONTROL OVER YOUR ENTIRE HOME WITH HARMONY ELITE
A UNIVERSAL REMOTE CONTROL THAT ADDS A TOUCH OF MAGIC TO YOUR MODERN SMART HOME
Google made headlines recently when they announced the launch of their Google Home device, a smart speaker set to rival Amazon's groundbreaking, Alexa-powered Echo device.
Yet if Lenovo has their way, it will be their Smart Assistant that really dominates the smart speaker market in years to come.
Like Echo itself, the Lenovo uses Amazon Alexa to do much more than just the basics.
Yes, it plays music, delivers news and traffic information, and answer questions, all triggered by simple voice commands, but it also does so much more.
The Lenovo Smart Assistant is so brand-new that it isn't even available for general sale yet, but our home automation specialists predict that this may just be the one device that is found in the smart home of the future more than any other.
---
Netatmo Smart
Smoke Alarm
────
By Netatmo
────
Coming Soon
────
Smart Smoke Alarm
────
Real-time alerts
on your smartphone
────
Automatic self-check
The Smart Smoke Alarm works with a range of other services including IFTTT and Apple Homekit.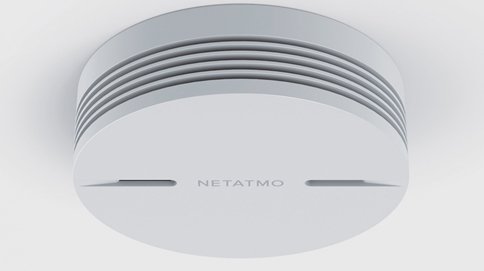 Source: https://www.netatmo.com/en-US/product/security/smoke-alarm
PROVIDE BETTER PROTECTION FOR YOUR LOVED ONES WITH THE NETATMO SMART SMOKE ALARM
TEN-YEAR BATTERY LIFE AND ROUND-THE-CLOCK MONITORING FOR COMPLETE PEACE OF MIND.
Let's be honest, nothing is more important to all of us than the safety and protection of our loved ones, which is why we've all got standard, run-of-the-mill smoke alarms fitted at home.
Yet what happens should disaster strike whilst you're away from home? Even the loudest alarm on the planet isn't going to do you much good if you're not there to hear it.
That's where this very handy device really comes into its own – alerting you via your smartphone whenever it goes off and allowing you complete control over your alarm, even when you're miles away.
The Netatmo Smart Smoke Alarm has an impressive ten-year battery life and even automatically checks its own battery life and performance to ensure it is looking after you and your loved ones.
---
Velux Active
windows
────
By Velux
────
Coming Soon
────
Roof windows
controlled by sensor
technology
────
Remote control of your home
────
Better indoor climate for all
VELUX and Netatmo are working together to bring you the first smart roof windows, blinds & shutters solutions. The solutions will be available in January 2018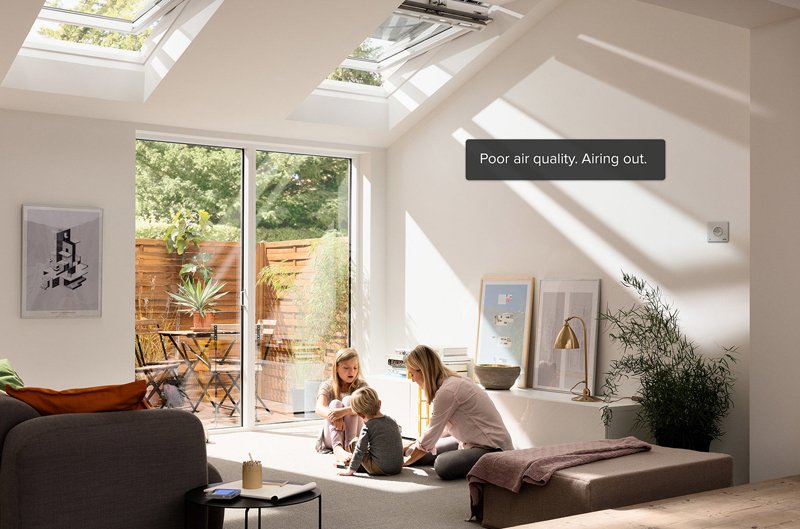 Source : https://www.netatmo.com/partners/velux
VELUX ACTIVE & NETATMO DELIVERING SMART CONTROL OVER ROOF BLINDS, SHUTTERS, AND WINDOWS
TWO LEADING BRANDS TEAM UP TO MAKE ENERGY CONSERVATION AND LIGHTING MANAGEMENT EVEN EASIER
We spoke earlier about how saving energy is one of the main reasons why people invest in home automation installation. To make their own installations even more effective in doing just that, Pro Install AV have been trialling the new Veluxe Active with Netatmo, so far the only system of its kind of adding smart control to roof windows, blinds, and shutters.
In-built smart sensors monitor a range of variables, including temperature, light, air quality, and humidity, and automatically open or shut open or close your roof windows or shutters to create the optimal, healthy environment at all times.
This revolutionary new product isn't set to hit the market until January of next year, but when it does, expect it to firmly establish itself as a major component in the smart home of tomorrow.