AV Design & Integration Turns Living Rooms into Luxury Home Theatres
06 Nov 2018
Audio Visual
From an average night in into one that's truly unforgettable, next-generation home cinema installations are bringing the multiplex into living rooms across the country. Here, Pro Install AV explain why more and more homeowners are turning to bespoke audio-visual design for a blockbuster experience of their own.
There's something altogether special about a night out at the cinema, isn't there?
From the way the sharp, crystal clear sound makes you feel like you're right there in the heart of the action, to the way those stunning, HD visuals bring every tiny detail to life with remarkable clarity, everything is designed in a way that truly transports you to another world.
Of course, that's before we even mention the way that just the right amount of light is used to create the ideal atmosphere.
Not that a night out at the cinema is exactly perfect.
Look:
Even despite all of that, there are still problems.
You still have to get in the car, you still have to drive all the way there, and you still have to share that experience with lots of strangers, depriving of you of the kind of intimacy you only really get at home.
The good news?
There is an alternative, and for many homeowners in the UK, USA and around the world, it's becoming the year's must-have home essential.
That alternative?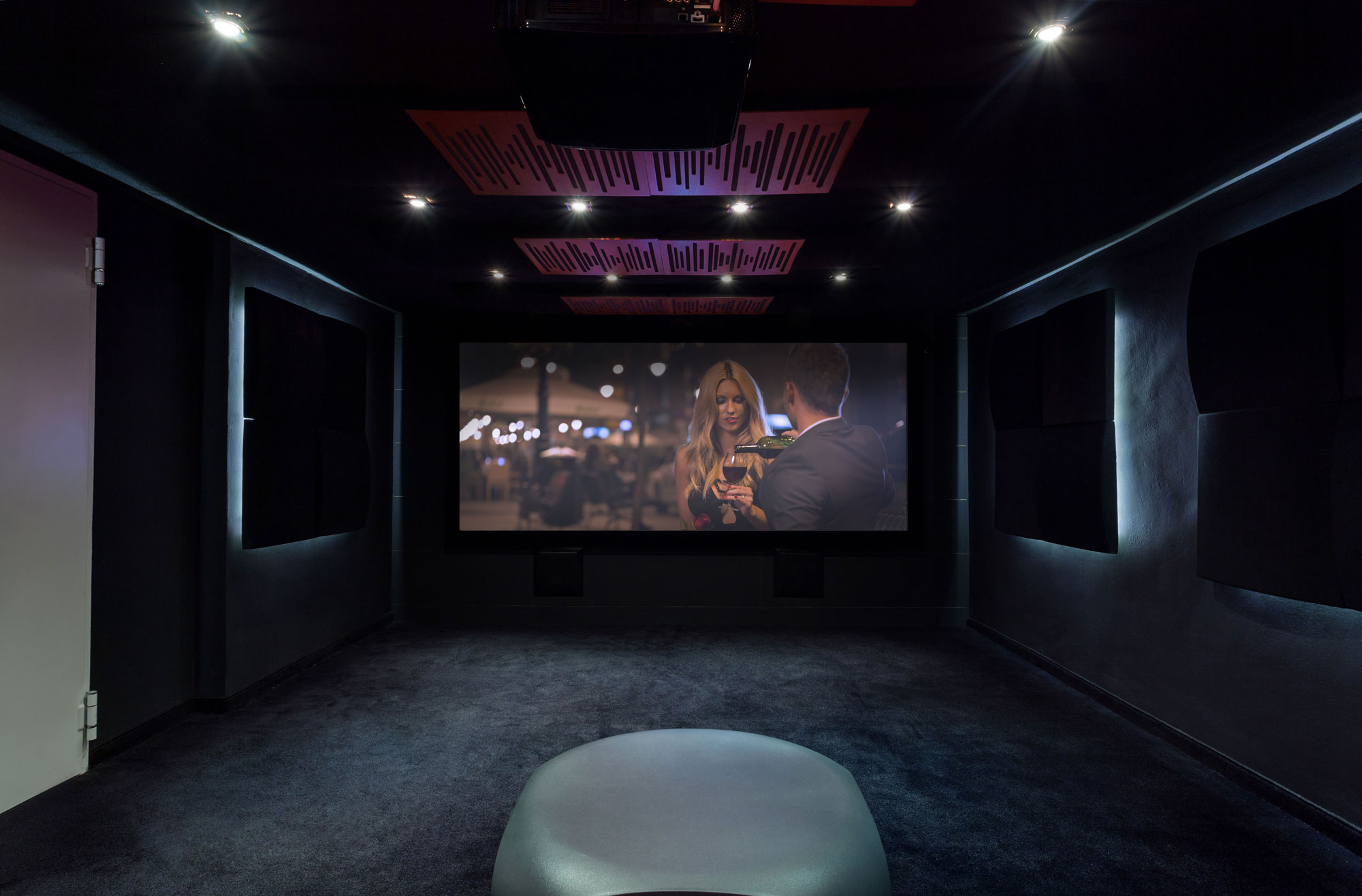 Home Cinema Installation
Using AV design and integration to create a unique installation that offers the best of both worlds – all the excitement and next-generation viewing experience of heading to your local multiplex, with none of the hassles of leaving the house.
In this month's Pro Install AV insider spotlight, we'll look at why more and more homeowners are investing in their own home cinema installation.
We'll explore how multi-room audiovisual design can help everybody in the home to enjoy their favourite shows, music, movies and more, and we'll answer your key questions about AV integration with world-class systems by the likes of Crestron, Lutron, and Control4.
Pro Install AV Insider Spotlight:
Creating luxury home theatres with AV installation
Remember the days when home theatres were the kind of things you'd only see on episodes of MTV Cribs?
Every hip-hop star and Hollywood A-Lister worth their salt had three key things they couldn't wait to show off:
Big car
Big bling
Big -and we mean BIG- home cinema screen.
Sure, such things looked good on TV, but the reality was that having a multi-platinum selling album was the only way to afford bespoke home cinema design.
Do you want to know a secret?
That just isn't true.
As the leading provider of AV installation in London, Pro Install AV have worked with people who own homes of all shapes and sizes and whose budgets range from one end of the scale to the other.
In doing so, we've learned how, with the right design and a little ingenuity, any living space can be turned into a state-of-the-art home theatre with all the luxury and next-generation technology that you'd normally find in the home of a superstar celebrity.
Today, we'll share with you our process for doing just that, offering our tips, suggestions and advice on how you too can add a home theatre into your living room.
Where do we start?
At the design stage, of course.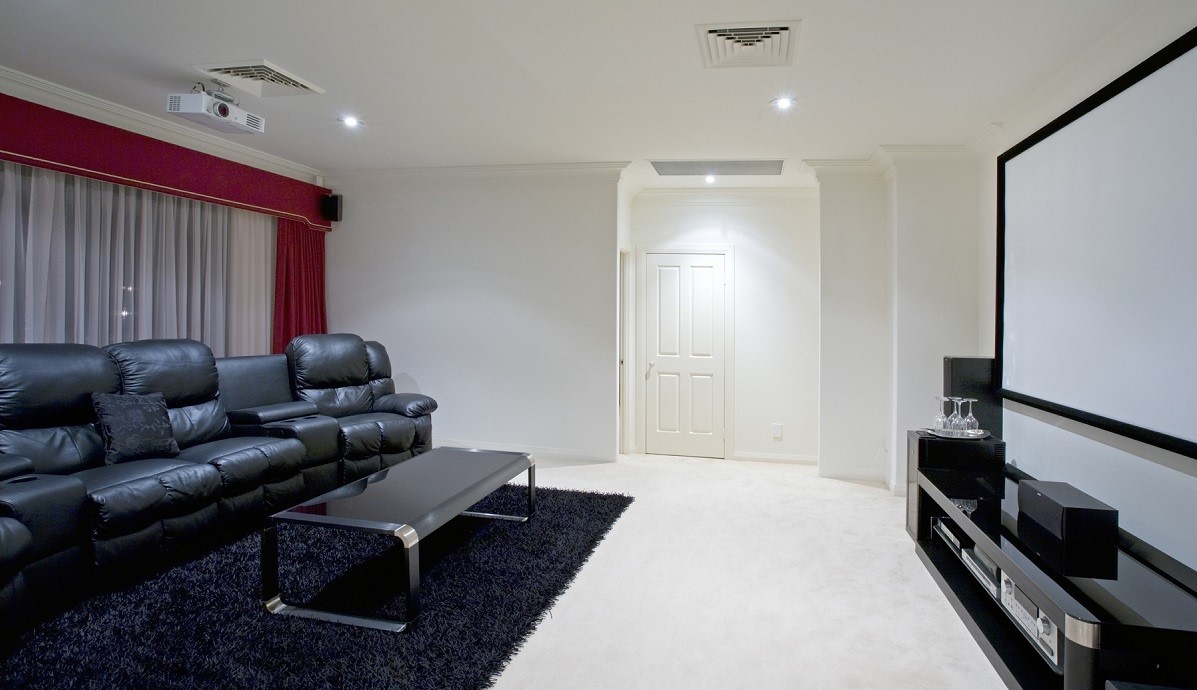 AV Design
Long before so much as a single speaker is set down or cable installed, the process of quality home cinema design starts with a simple yet in-depth consultation with a reputable AV installation specialist.
Sure, you could go it alone, but look:
That isn't always the most effective way to get the home theatre of your dreams.
Why?
For one thing, it means paying over the odds for essential equipment and missing out on the kind of rates that AV installers get as certified partners of official brands like Crestron, Lutron, and Control4.
For another, it means missing out on the experience and expertise factor, that certain something that helps turn a bunch of disparate speakers, screens and media solutions into a comprehensive home entertainment system.
What does an AV Installation Specialist Actually Do?
To begin with, they'll spend some time getting to know you and your property, then offer practical suggestions and inspiring ideas on how to develop a system that's perfectly suited to your space, your taste, and your budget.
Need an example?
Here are a few:
You might have a large space where entertainment is intended to be the focal point.
In that case, a permanent, 4K UHD cinema screen fixed to the wall might be the way forward.
If you're working with a modest living room or other space, the same result can be achieved with a cinema screen that rolls away into the ceiling when not in use and a 4K UHD projector which, likewise, can be tucked away when not needed to help you maximise your space.
You might want to explore different options for controlling all the different aspects of your system, such as Crestron or Control4 home automation, and you might want to think about all the different options for lighting and quality sound.
Once you've explored all the options with your home cinema installation team and chosen products and software that's right for you, that team will then get to work on all those individual components together into one design.
However, before the team get to work on the actual AV installation side of things, there's one very important thing to consider, which is this: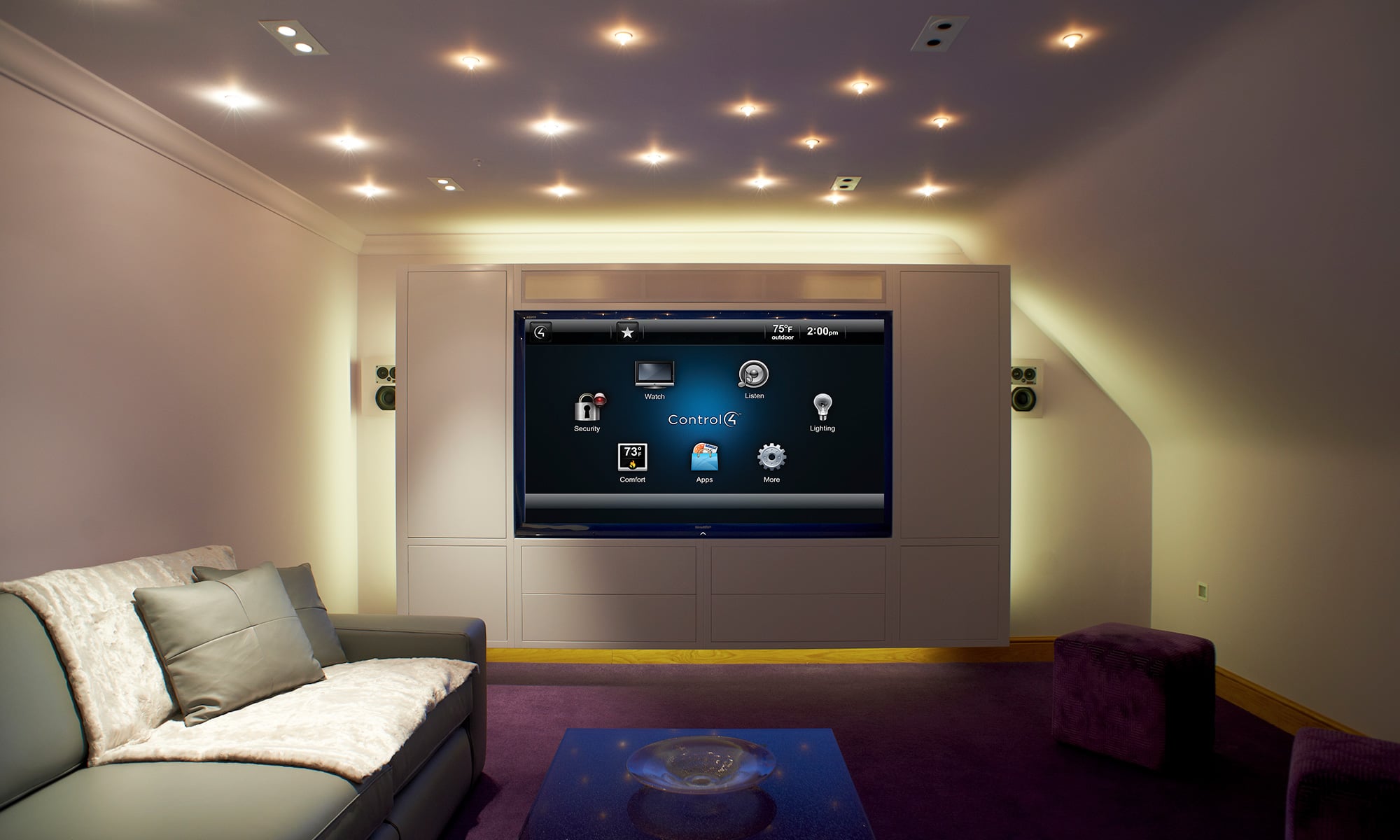 Multi-Room Audio Visual Design
Here's the thing:
Nobody says that enjoying a multiplex experience in your own home has to be confined to a single room.
With multi-room audio visual design, you have a number of unique options at your disposal.
You could, for example, have movies stored on your main media device in the living room, but stream them from any room in your home at the click of a button.
With a multi-room distribution system, you can even play content from multiple sources all via one system.
That means that you can watch the big game on your home cinema installation in one room, your partner can catch up on their box sets in another, and the kids can go at it on Call of Duty: Black Ops 4 all at the same time and all in stunning HD quality.
With the right AV design and integration, all of this can be delivered from one comprehensive system, eliminating the need for multiple media drives or unnecessary cabling.
As part of the design and consultation process, your home cinema design team will discuss these options with you and help you explore the best ways to integrate multi-room AV design into your home should you wish to.
AV Installation
Now we come to the exciting part:
Actually turning that AV design into the home theatre of your dreams with a full AV installation and integration process.
Depending on your unique requirements, this process could involve anything from a comprehensive Crestron installation complete with all the attendant hardware to a simple set-up with an HD movie projector and roll-away cinema screen.
In all likelihood, however, it is going to contain at least five unique elements:
Screen
The heart of your new system, there are likely as many options for home theatre screens out there as there are home theatres themselves.
Again, the one you choose is likely going to depend on two critical factors:
With the former, this is likely going to make all the difference not only to the size of the screen itself, but also as to whether you have something that's permanently fixed to your wall, or that can be hidden from view when not in use.
If the budget will allow, opting for a 4K UHD cinema screen will prove a solid, long-term investment. 4K offers four times as much detail as 1080p Full HD (hence the name), and while it will obviously produce optimum quality when used in conjunction with a 4K projector, 4K HD screens can even improve the viewing quality of projectors of a lower resolution.
Projector
As with the screen itself, the kind of projector you get will depend on whether you want it as a permanent fixture in your living room, or as something that can be concealed and only revealed for those big movie nights in.
With major content creators (such as Netflix, Amazon, and Hollywood studios) investing in more and more new 4K UHD quality movies and shows, now is a great time to consider buying a projector that will help you be well prepared for the next generation of home viewing.
Sound
Even the most impressive screens and projectors can only do so much to help you replicate that multiplex experience in your home.
To truly bring those big blockbusters to life, you're going to need a fully integrated sound system.
Brands like Sonance and Sonos may be chosen for their exceptional HD sound quality and stylish designs, but this isn't merely a case of buying a bunch of speakers and installing them wherever there's space.
By considering the relationship of your audio equipment to the shape of the room, the environment and even the furniture, the acoustic design process can help you to achieve maximum sound quality and to really *experience* those movies the way the directors intended.
Lights
Though it's often overlooked, the right lighting can make all the difference to your home cinema experience.
Not only does intelligent lighting design help create just the right atmosphere, but it also helps enhance the picture quality itself. As such, a quality Lutron installation using products like the brand's best-selling HomeWorks system is only going to add to your enjoyment.
Control
Last but by no means least, we come to the home automation control systems that tie the whole thing together and help you manage all the different aspects of your new Av installation from one single device.
To do that, let's move on and talk about AV integration.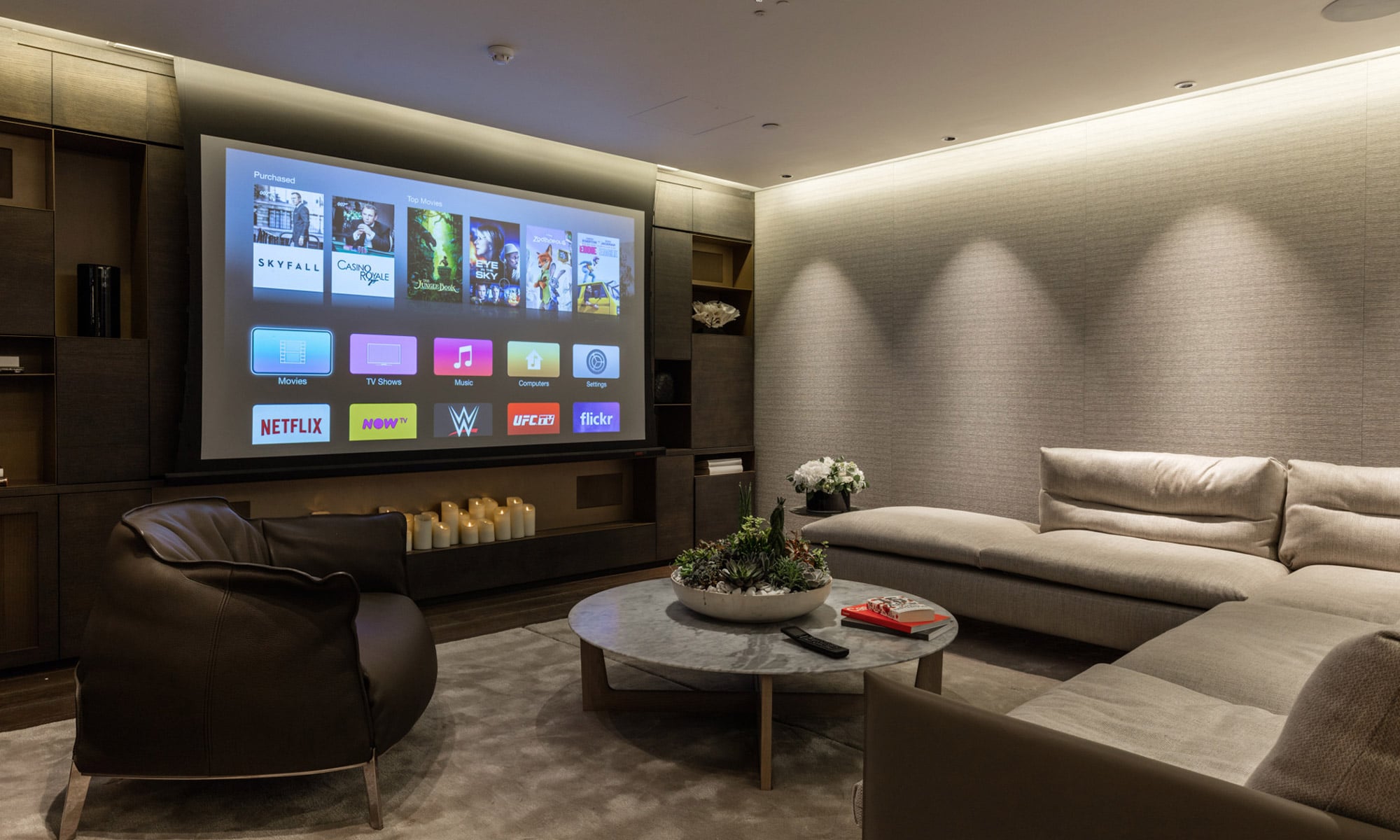 AV Integration with other devices and apps
In and of themselves, all the individual components of a new home theatre can really go a long way to creating that blockbuster experience we've been so eagerly talking about throughout this article.
But here's something you should know:
AV integration with other devices, apps and systems can take that experience to new heights, adding all new levels of ease, comfort, simplicity and style.
As with all aspects of home cinema design, your options are pretty abundant here.
You could use popular smart speaker devices like Amazon Echo to control different aspects of your system ("Alexa, play *Avengers: Infinity War").
Or you could consider how using state-of-the-art media servers like Kaleidescape can make storing and selecting your favourite shows, movies and games even easier.
For now though, let's look at just three systems that could make a big difference to your AV installation.
Crestron integration
For fifty years, New Jersey-based home automation pioneers Crestron have led the way in the world of smart home technology, producing products that are as renowned for their simplicity and style as they are for their innovative features and flexibility.
Fully integrated into your home, a bespoke Crestron installation can give you complete control over your cinema system at the touch of a button.
You could, for example, use it to streamline all the different components fo your home theatre so that they can be controlled through your iPad or smartphone.
Just load up the Crestron app, and you'll be able to lower the lights, load up the movie and adjust the volume settings to be just right.
Of course, one of the marvels of modern smart home technology is that it allows you to quite easily bring many of these processes together so that they happen automatically.
How?
By using pre-set 'scenes' designed by you.
Imagine having the lights automatically fade, the cinema screen and projector automatically rolling down from the ceiling and your media player automatically loading up all when you press just a single button.
That's exactly what a Crestron installation does.
Of course, that system doesn't just have to be limited to your living room. You can use home automation control throughout your property to manage everything from heating and energy management to home security.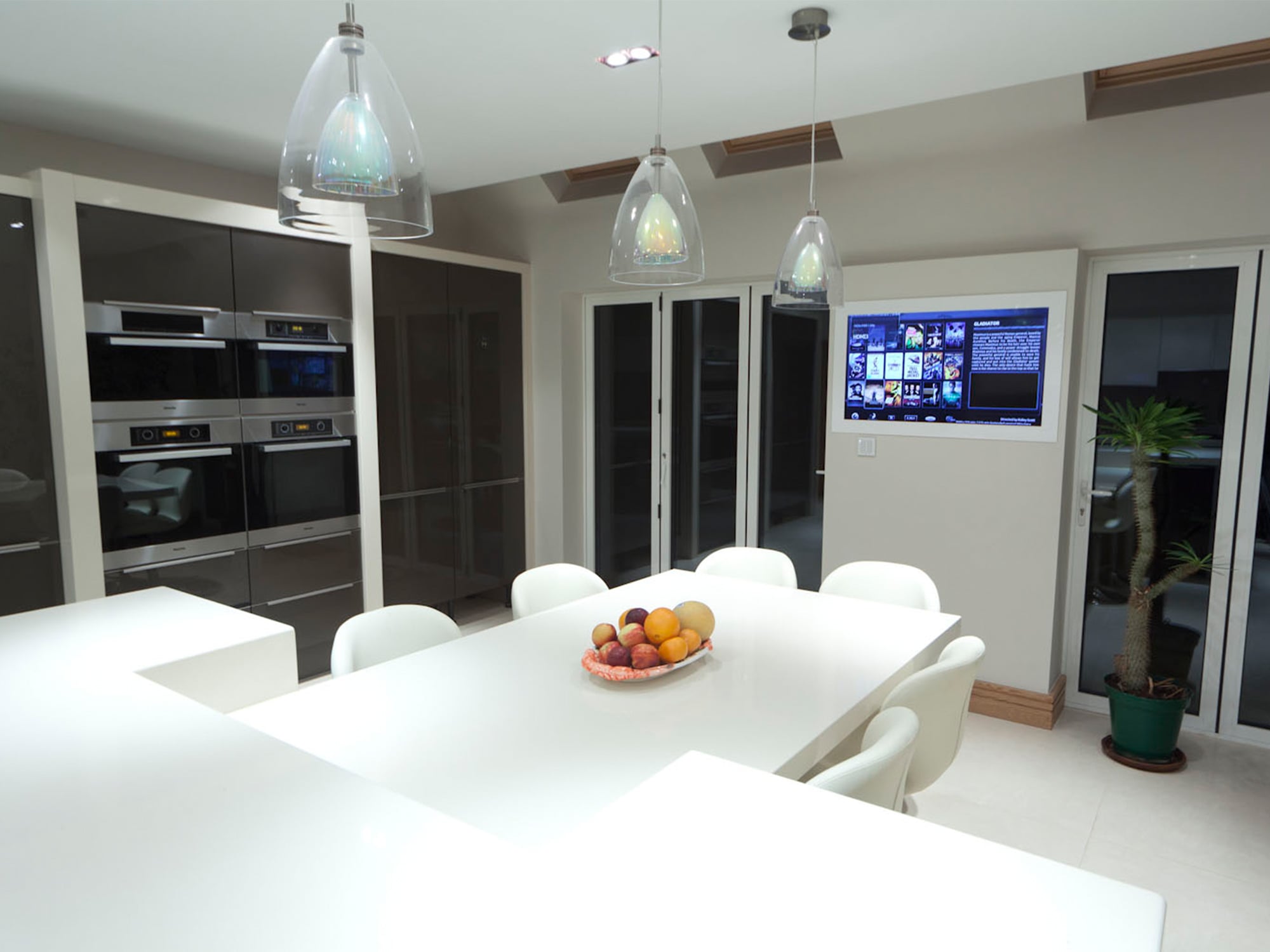 Control4 Integration
While there isn't much that Crestron can't do for you, a Control4 installation may well prove a better option for some homeowners.
Why?
Firstly, because the company's industry-leading smart home operating systems offer an affordable, entry-level alternative to some of Crestron's higher-priced solutions.
Secondly, and perhaps more importantly, because if there's one thing that Control4 are known for more than anything else, it's for their game-changing home entertainment control solutions.
Control4 installations are compatible with over 1,900 smart home products. A large number of these are the sound systems, media devices and individual components that make up a complete home cinema design.
What does this mean for you as a homeowner?
Simple:
It means that if you're planning on investing in a home automation system that is exclusively for managing your AV installation rather than for other aspects of your home, a Control4 solution may be a better -and more affordable- option.
Lutron Integration
Last but by no means least, if there's one integral part of any AV design and integration project that's going to make a big difference from a relatively small amount of work, it's a Lutron installation.
Pioneers in intelligent lighting control, Lutron's groundbreaking HomeWorks system has been the go-to smart lighting solution for thousands of forward-thinking homeowners, chosen for its effortless flexibility, flawless functionality and user-friendly interface.
Lutron HomeWorks enables homeowners to manage multiple lights, shades and dimmer solutions from a single device, but it also does so much more than that.
Remember the pre-designed 'scenes' we mentioned when talking about Crestron earlier?
A Lutron installation allows you to do much the same thing.
What this means, is that you no longer have to go around turning down lights individually, closing shades manually, or even spending time adjusting your dimmer switches to create just the right kind of ambience every time you want to watch a movie.
Instead, you simply do this once, save it as a lighting scene in your Lutron HomeWorks system, and then load it up with a single tap of your tablet or smartphone.
Simple, right?
Want to know the best part?
By giving you complete control over your artificial lights -and by helping you make the most of natural light sources- Lutron can help you reduce your home energy usage by as much as 40%.
Naturally, this not only helps you cut down on those energy bills, but also means your home cinema experience is now cleaner, greener, and more environmentally friendly.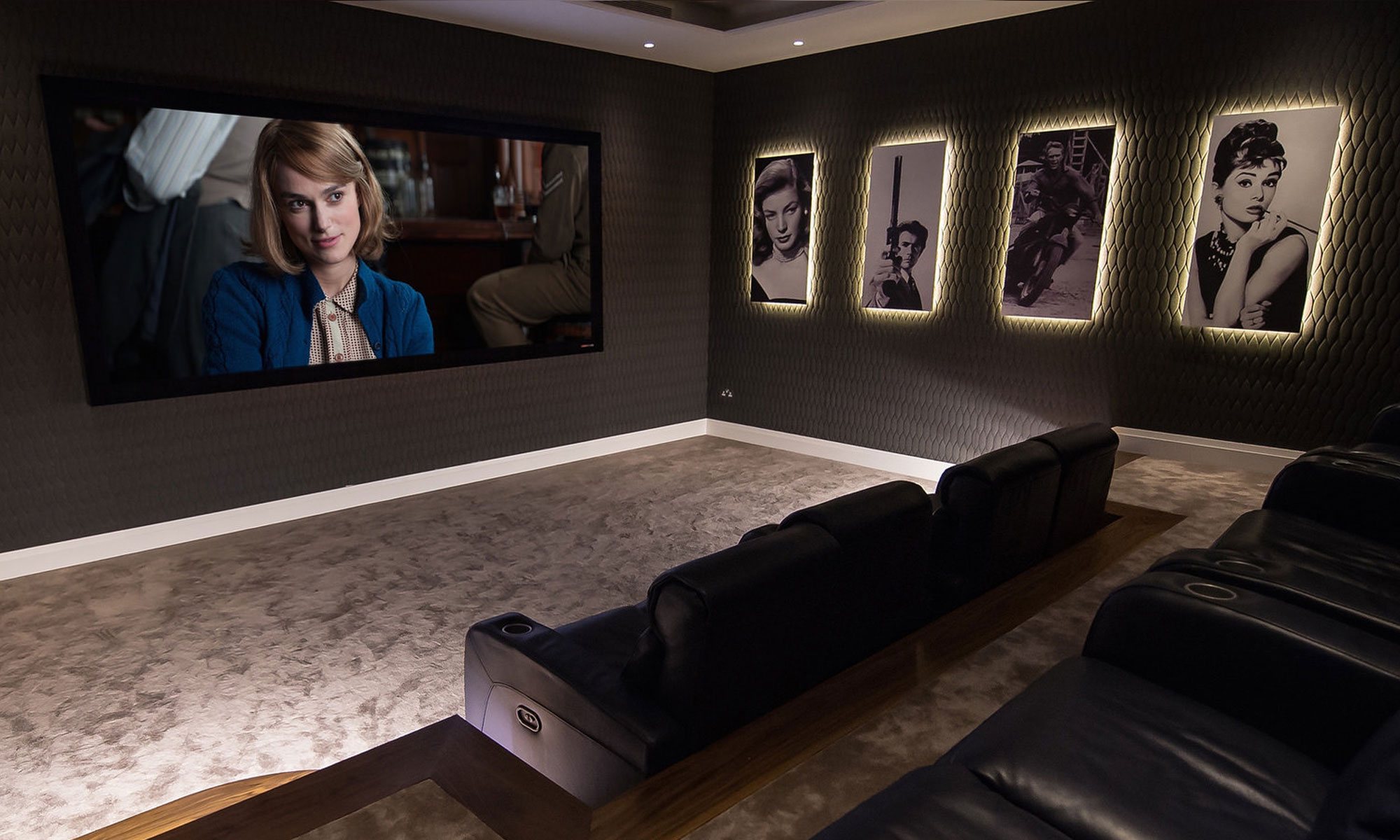 Award winning AV Solutions
Now that we've covered all the multiple components of your new home cinema, just one question remains:
Who do you get to install it?
When looking for for a professional to carry out AV installation in London or wherever you happen to be, there are a few key things to keep in mind.
1: Are they CEDIA accredited?
Accreditation from the home AV industry's leading trade body means that your installer comes with an added level of quality assurance for your peace of mind.
2: Do they do bespoke designs?
Out-of-the-box, pre-defined packages rarely offer the value for money you need, nor do they ensure you're really getting a solution that's perfectly suited to you.
3: Do they have a proven track record?
A portfolio of quality AV installations shows that your specialist team really know their stuff and that they can make a home cinema design work no matter what kind of space they're using.
At Pro Install AV, we proudly answer yes to all three of those questions.
Our CEDIA accredited designers, installers and programmers have a sizeable portfolio of award-winning AV solutions, each one tailor-made to suit a whole wealth of different properties, rooms and lifestyles.
But that's not all we do.
AV maintenance Packages from Pro Install AV
Every home cinema project we carry out is designed to deliver optimum performance well beyond that initial installation.
Yet for those times when you need a little helping hand making the most out of your system, it's reassuring to know that the support you need is never more than a phone call away.
That's why Pro Install AV offers a range of AV maintenance Packages including specialist repair for Crestron, Lutron, Control4 and other leading home automation brands.
All of our maintenance packages are created to be flexible and affordable, so that no matter what kind of system you have in place, you can be sure that it will keep on bringing that blockbuster multiplex experience right into your living room for years to come.
To discuss your dream home cinema design or to find out more about AV maintenance and support, contact Pro Install AV online today, or call us now on +44(0)20 7096 0078.