Beat Away Those Winter Blues With Smart Lighting From Lutron HomeWorks
10 Dec 2018
Lutron
Those long, dark, cold nights don't have to be so depressing. Here, top London Lutron dealer Pro Install AV explain how the brand's flagship HomeWorks smart systems and a wealth of top new lighting and shading products can help you to finally banish away those blues this winter.
For some people, winter can be a magical time of year. After all, it's the season of glistening white snow, Christmas cheer, and good old-fashioned family get-togethers.
For others, however, the season can prove to be a thoroughly miserable time of year.
For them, winter means waking up in the dark, travelling to work in the dark, and spending all day in a chilly, dimly-lit office before once again driving back home in the dark, and -yes, you guessed it- arriving back to a house that's cloaked in darkness.
With all that darkness, it's no wonder so many people suffer from a case of the winter blues.
But it doesn't have to be this way.
At Pro Install AV, we've helped scores of homeowners across the UK eliminate those drab, dreary days and endless nights and enjoy their very own winter wonderland?
How?
With top of the line smart lighting products from the industry's leading innovator, Lutron.
As the year nears its end, the company have recently unveiled a plethora of top new products and control systems that are perfect for bringing some much-needed light to any home, office, or commercial space.
Here, your Lutron dealer looks at what's new in the world of smart lighting and how Lutron HomeWorks and other top products can help you beat the winter blues for good.
What's New in Commercial Smart Lighting?
By now, you don't need us to tell you what a difference the right lighting can make to your business. Especially in the winter months, an adequate amount of light can help your workforce to feel happier, healthier and ultimately more valued by their employee.
What does that mean for you?
Simple:
A happier, healthier workforce is ultimately a more productive and efficient workforce, meaning an investment in commercial smart lighting is ultimately an investment in the success of your business.
Here's a look at the systems, shades, eTools and controls that are set to transform your office space this winter.
New Systems – Quantum 3.2, Quantum 3.3, and Vive
Lutron's new Quantum systems are packed with a wealth of features to help property and facility managers make better decisions about how to produce maximum comfort for occupants with minimum energy spend.
Fixture level controls, complete monitoring from a unique graphical floorplan and brand new space utilisation reports are some of the latest features added to the Lutron Quantum 3.2 system to make it even quicker and easier to manage lighting throughout your premises.
Meanwhile, Quantum 3.3 offers a simple tunable white solution to give facility managers even greater levels of control over the lighting levels.
The end result?
A more natural lighting environment created by a system which simulates changes in natural sunlight as the day goes on.
As you can imagine, this creates an optimum experience for occupants who enjoy all the benefits of natural light, even in the darkest of winters.
Introducing Vive
The pièce de résistance of the company's smart lighting systems, our London Lutron dealers have been inundated with requests from our commercial clients for a best-in-class Vive system.
The next generation in smart, scalable wireless lighting control, vive connects all of your energy-saving, wireless Lutron devices together into one complete system.
Best of all, it affords you the freedom and flexibility to control the whole thing from any smart device.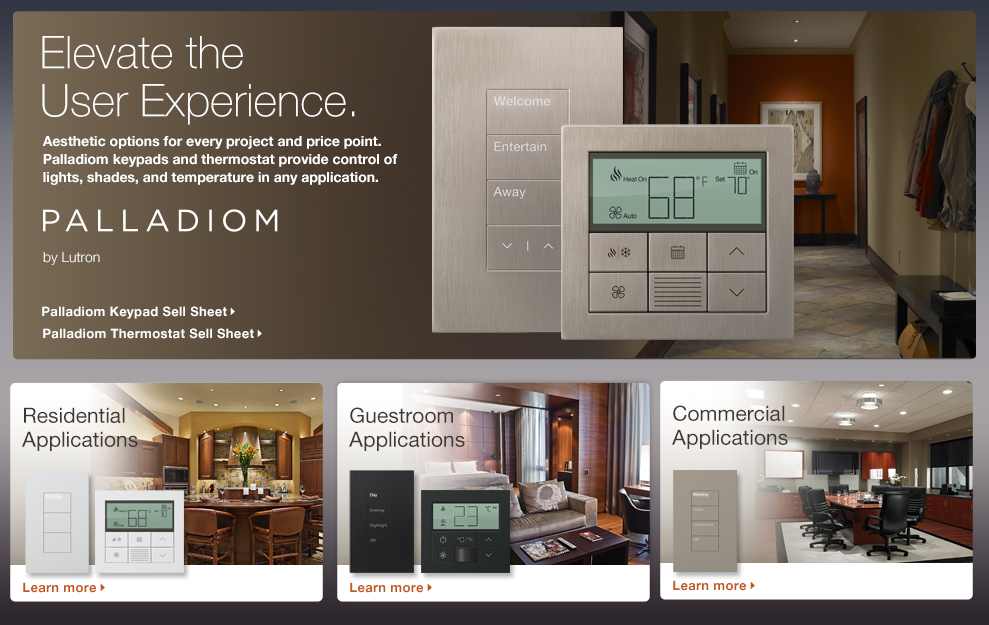 New Lutron Controls – The Palladiom QS Keypad
As effortlessly stylish as it is exceptionally practical, the new Palladiom QS Keypad comes in three and four-button options with an array of aesthetic finishes designed to suit any environment.
Highly recommended for world-class hotels (or hotels with world-class aspirations), the QS keypad can be combined with Lutron's Palladiom QS thermostat and a myRoom plus or prime solution to deliver a truly unbeatable guest experience that will have customers falling in love with your hotel.
Grafik T Commercial Dimmer
Of course, you don't have to be a hotel operator to experience the benefits of best-in-class lighting control from Lutron.
The company's Grafik T solution is an easy-to-use dimmer solution that blends in a seamlessly with its surroundings, providing an elegant way to control your Lutron HomeWorks or Quantum systems.

Make the Most of Natural Lighting with Commercial Shading Solutions
Of course, all that artificial lighting can work wonders at improving staff morale and promoting a happy, healthy office, but it still pales compared to the real thing.
That's why your London Lutron dealer is pleased to reveal that we can now help you take advantage of the new Lutron Performance Shading Program.
This changes the way shades and fabric are used in commercial spaces to help you reduce glare and enjoy more natural daylight without compromising the aesthetic design of your space.
Using the groundbreaking Performance Shading Advisor tool, we can help you select solar screen fabrics based on your preferred performance priorities and style choices.
eTools – Introducing Lutron Designer+ v10
The Performance Shading Advisor isn't the only online tool designed to help your business enjoy more control over your lighting.
The latest version of the company's Designer+ platform allows Lutron dealers like Pro Install AV to create smarter, more flexible bespoke lighting solutions for your workspace.
Ultimately, it allows us to take a holistic approach in designing a system that's tailor-made to you and your workforce, considering how shades, in-wall sensors, lights and controls all work together.
More than that, it helps us to make the entire design and installation process much quicker and much smoother, meaning you have less time to wait for your new smart lighting installation.
What's New in Residential Smart Lighting?
As many of our customers already know, you don't have to be a business owner to enjoy the best in next-generation smart lighting.
Here's a look at the new products you can use to brighten up your home this winter.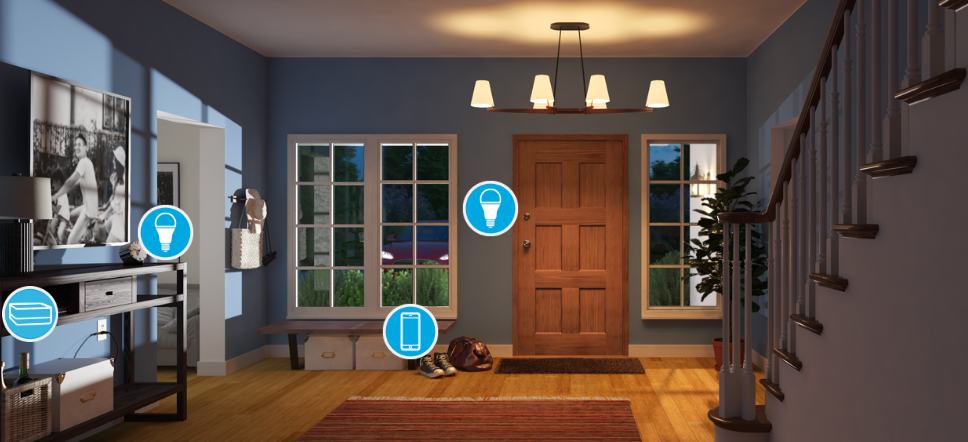 Caséta Wireless System
By far one of our most in-demand residential systems, Lutron's Caséta Wireless brings together multiple products to create one complete system that will help you to create stunning lighting scenes for any occasion whilst keeping your home energy usage at an all-time low.
One of our favourite parts of the system actually has little do with lighting at all. It's the Pico remote control for audio which allows you to beautifully integrate sound into your lighting scenes. For example, you could have relaxing classical music load automatically when you launch pre-made lighting scene for a romantic dinner, or have a high octane playlist pumping out when you fire up the lights in your home gym.
Elsewhere, you'll find a Caséta ELV+ dimmer, Apple HomeKit integration, and the latest version of the Lutron HomeWorks App among other state-of-the-art components to make controlling your home quicker and more convenient than ever.
Powerful Home Control at the Touch of a Button
Prefer not to use an app?
Lutron offers a number of keypads, dimmers and other controls that give you the complete freedom to control your world however you like.
Making the most of the Lutron/Sonos partnership, the brand's stylish keypads with audio programming are essential for anyone who truly appreciates how the right combination of light and sound can create some truly beautiful scenes.
Available in a range of styles to match the interior design of your home, these elegant keypads allow you to control your Sonos audio system using Lutron HomeWorks.
Imagine that:
Instead of arriving at an empty home on a dark winter's night and feeling miserable, you flick on the lights and at the same time, your favourite uplifting tune kicks into life!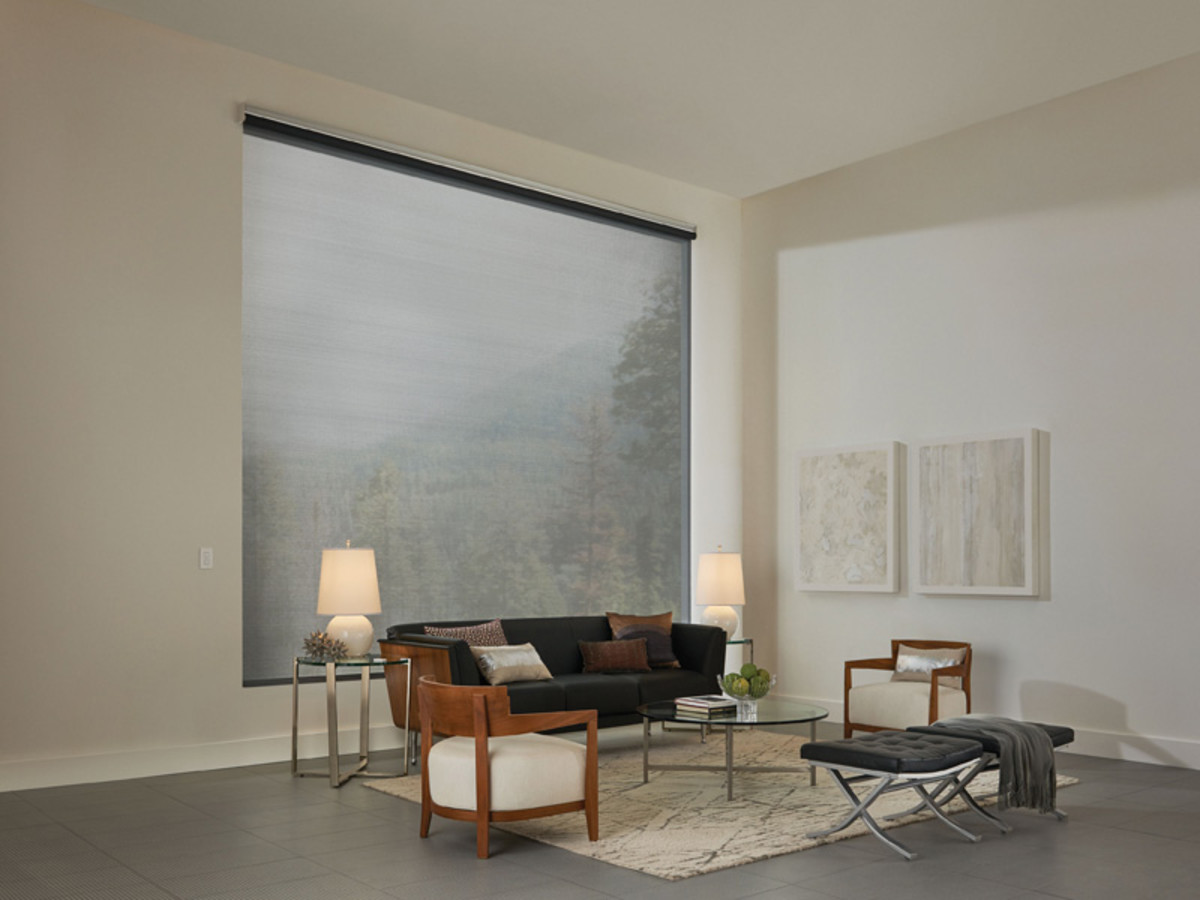 Introducing the All-New Sivoia QS Triathlon WIDR shades
It may seem as though there's nothing but endless darkness out there right now, but that doesn't mean you can't still make the most of what daylight we are fortunate enough to receive, especially when we've got a product that's as beautifully designed and brilliantly practical as the Sivoia QS Triathlon WIDR shade.
Battery operated (meaning no wires cluttering your home), the QS Triathlon is the perfect solution for windows larger than 8′ x 8'and comes with a headrail design that adds a certain contemporary elegance to your living space.
Install Quality LED Lighting in Damp Locations with Lumaris Fittings
Last but by no means least, if there's one thing worse in winter than the dark, it's the damp.
Quite apart from it being simply unpleasant, damp conditions can mean that light fittings are exposed to moisture, which inevitability reduces their performance.
Lumaris solves this problem by being purpose-built for damp locations such as bathrooms and certain outdoor areas, not only eliminating the risk of moisture ruining your expensive lights, but brightening up your winter wherever you go.
To find out more about how Lutron HomeWorks can shine a whole new ray of light on your home this winter, talk to Pro Install AV online today, or call your Lutron Dealer now on +44(0)20 7096 0078.