Crestron Home Automation Trends 2018
06 Sep 2018
Crestron
As a company that blazed a whole new trail in smart technology, it should come as no surprise to learn that, even decades after it was first founded in 1969, Crestron Home Automation remains one of the industry's foremost innovators.
With the smart home market expected to reach a 2018 market value of  US$19,827m in the US alone, the Rockleigh, New Jersey based pioneers have continued to find new ways to make sure they enjoy a significant slice of that multi-million dollar pie.
Indeed, there's no two ways about it:
2018 has already been a landmark year for the company, and we're only halfway through.
Here, specialist Crestron dealers Pro Install AV look some of the biggest Crestron home automation trends of the year so far, examine what that means for the smart home industry as a whole, and ask the one question that's really on everyone's mind:
What's next for Crestron?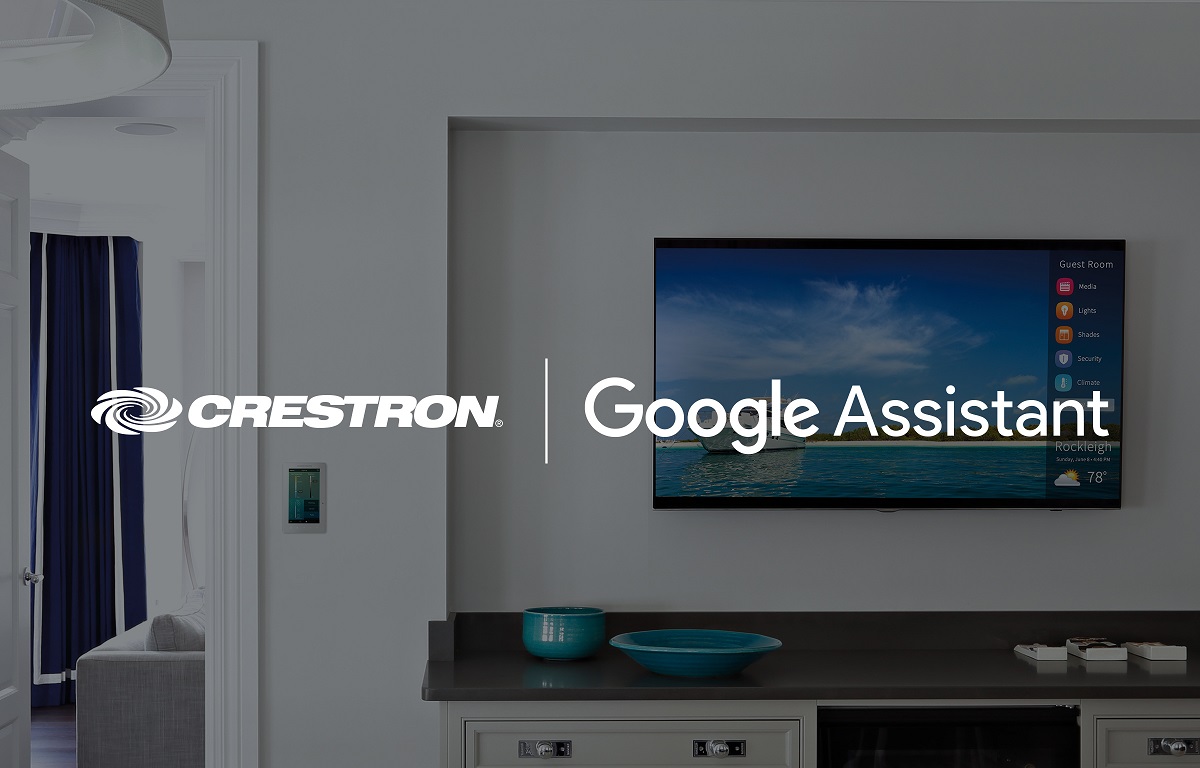 Crestron partners with Google Assistant to deliver Intuitive Voice Control of Custom Home Automation
There's no denying that if there's been one trend dominating the smart home market over the past twelve months, it's this one:
The unwavering popularity of the smart speaker.
According to research specialists Canalys, global speaker sales are expected to reach 56.3 million in 2018.
That's up from 33 million the year before.
Google challenges Amazon's dominance
Sure, Amazon led the pack for the longest time with its best-selling Echo model,  but if Google has anything to say about it, the Echo might not be the top dog for much longer.
In the first quarter of 2018, the web giant's own Google Home device outsold the Echo for the first time, with 3.1 million sales to Amazon's 2.5 million.
Quick to catch on to the Home's surge in popularity, Crestron started 2018 by making a big announcement:
An official partnership with Google Assistant, the artificial intelligence assistant at the heart of the Google Home device.
What does this mean for homeowners?
Simple:
It means that for the first time, they can integrate their Google Home device with their Crestron home automation system.
The result?
Voice-activated control over their smart lighting.
Need an example?
Here's one:
It's the end of a long day and you arrive home to a bunch of dark rooms.
Instead of searching around for the home automation remote control, you simply speak.
You tell Google Assistant to raise the lights, and it does it all for you, creating the perfect scene for any occasion.
The best part?
Crestron/Google partnership set for further innovation
According to a press release put out by Crestron at the time, the company is already working hands-on with Google to introduce what it calls a "second stage of integration."
Eventually, this will allow for voice control of not only your smart lighting but also your AV installation and complete home control system.
With this in mind, there are two trends that you can expect to see over the coming year:
Creston integrating its products with more AI assistants to provide greater flexibility when it comes to voice-controlled home automation.
More smart home manufacturers following the company's lead in partnering up with a smart speaker brand that is quickly giving the Amazon Echo a serious run for its money.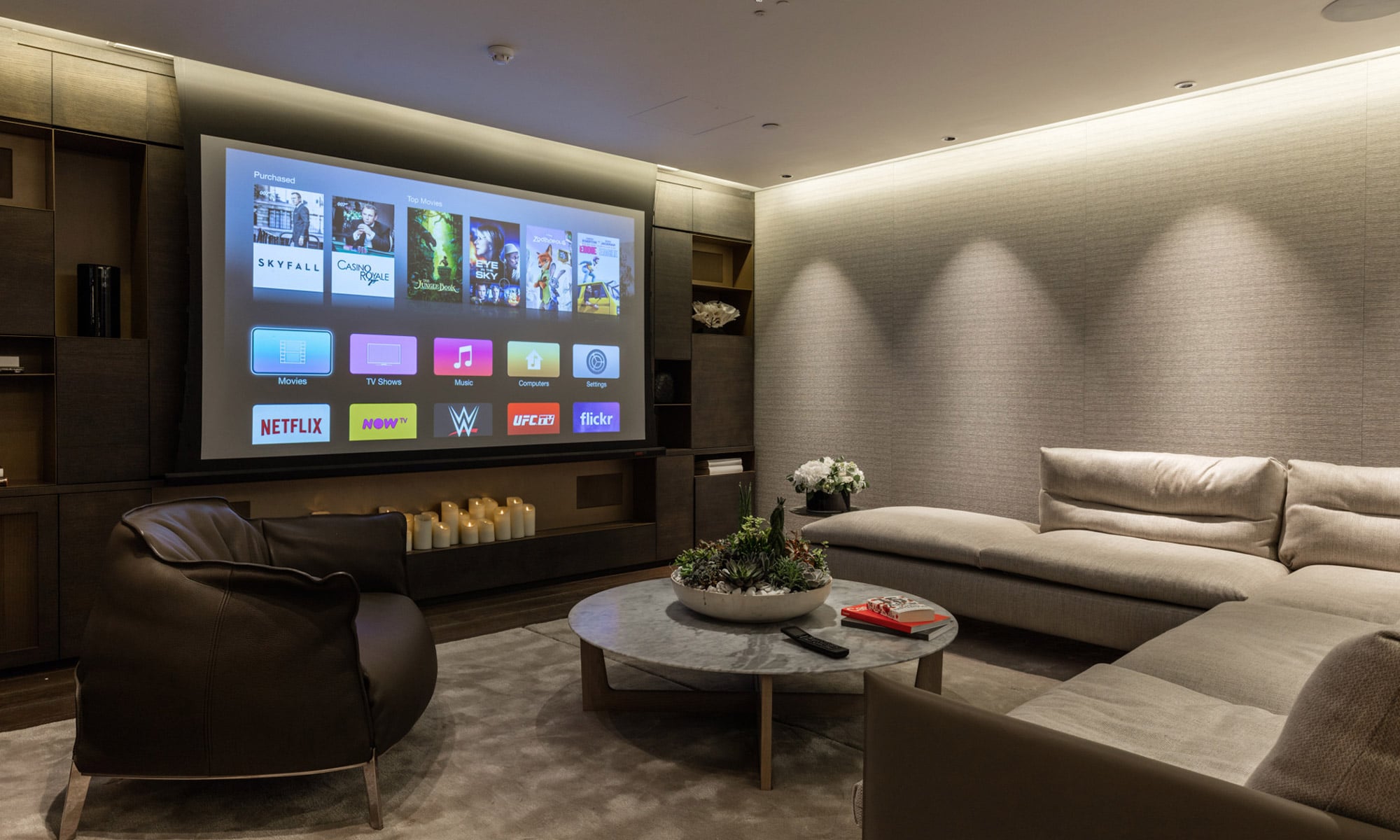 Crestron Home Automation Now Supports 3rd Party AV
Here's a big one that's going to be game-changer for fans of home entertainment.
Previously, coming up with a budget to cover Crestron home automation cost along with other smart home tools often meant you had little choice but to go with all of Crestron's hardware products.
The alternative?
Pay for one home control system and a separate AV installation.
But that's all set to change.
Back in spring, the smart technology pioneers announced that they were finally including support for third-party AV technology.
What does this mean for homeowners?
A partnership with LG Electronics meant that Crestron's Pyng Luxury Home Automation system was now compatible with a range of top-end displays from LG's 2017 and 2018 range.
This includes support for TVs including:
The two companies had already been working together for some time at an enterprise level. However, this is the first time Crestron had allowed support for third-party devices in the residential market.
Going forward, don't be too surprised to see a growing trend of Crestron joining forces with more third-party suppliers to provide even more value for customers.
Crestron home automation technology brings your style to life
Think of the benefits of smart home technology, and your first thoughts turn to the more practical side of things, don't they?
After all, who could blame you?
Let's face it:
We're all busier than ever.
Time is at a premium and anything we can do to make things quicker and more convenient around the home can only be a good thing.
So, while security remains the biggest factor influencing smart tech purchasing decisions (with 63% of homeowners citing it as most important to them), making things easier through automation isn't far behind.
Making life easier…
Sure, convenience remains important, but as we all become more and more used to having smart technology in our lives, today's consumers are beginning to demand more from their home automation.
They don't just want their homes to be automated, they want them to be luxurious, stylish, elegant and uber-modern.
It's for this reason that we've seen Crestron focus much more this year on the added sense of luxury that having a home automation system brings.
In March, the company made their presence felt at the prestigious Architectural Digest Design Show in New York.
There, they invited guests to step inside an immersive booth where they could discover for themselves how Crestron helps them "bring [their] style to life."
What does this mean for your home?
That doesn't just mean having the freedom and flexibility to control the kind of music played throughout their home, creating the perfect ambience with smart lighting control, getting the temperature just right and even turning on the security system for complete peace of mind.
It means doing all that from a single device such as an iPhone or, as we've already seen, simply by speaking to Google Home.
More bespoke options on the way
If there's one trend emerging from this, it's that we can see Crestron focussing more and more on how their products can help homeowners enjoy a completely bespoke system that's tailored to their tastes.
We'll see them focus more on hardware and technology that can be blended into the aesthetic design of any living space.
We'll also see them spend more time hyping the virtues of being able to fully customise every aspect of their living experience.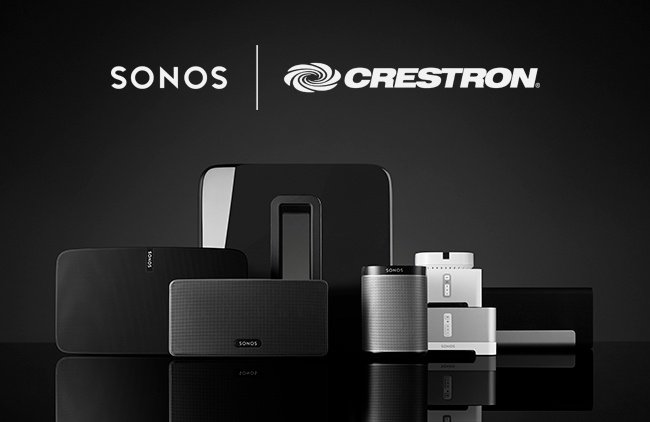 Sonos Available Through Crestron, the Only Home Automation Co. with Embedded Sonos App
There once was a time when Sonos was the undisputed king of smart home audio.
They were to AV installations what Crestron was to the home automation market, accounting for as much as 50% of the wireless speaker market.
Today, like so many other tech companies, the Californian outfit have been knocked from their throne by Amazon.
The company's own wireless speakers account for 77% of the increase in demand over the past few years, shipping five million products compared to Sonos' four million.
But look:
Four million units ship is nothing to be scoffed at.
Sonos remains a hit even in the Echo age
Amazon may have steamrolled over everyone in their path, but Sonos is still a firm favourite with a lot of homeowners.
This is especially true for those who are serious about enjoying their favourite music in the highest of high-quality.
For those audiophiles, there's good news:
Crestron now offers the first and only home automation system that comes with the complete Sonos app embedded in it.
Crestron leads the way in Sonos integration
In 2016, Sonos announced that it was integrating with a number of smart tech brands, including Crestron and Control4.
Yet whilst other brands only went with minimal integration so that you could only manage the basic fundamental controls, Crestron did things differently.
The brand earned praise for giving users access to the entire Sonos system from within its own home automation system.
What does this mean for your home?
That means that if you work with a local Sonos dealer like Pro Install AV to link the two together, you can use your Crestron system to, among other things:
Search and find your favourite music
Create presets
Browse playlists
Pick out any one of hundreds of radio station.
Ultimately, you then enjoy all the ease and simplicity of Crestron, with the deluxe audio quality and advanced features of Sonos.

Crestron vs Lutron vs Control4 – Which is Best?
The question of which home automation system to purchase is one we're asked often at Pro Install AV.
Typically, homeowners look at their options like a three-way Battle Royale that pits Crestron vs. Lutron vs. Control4.
Normally, the most appropriate answer to this question is, in fact, another question:
What are you going to use it for?
Look:
Crestron, Lutron, and Control4 are all pretty much at the top of their game. They're the standard bearers that others in their respective industries try to match.
So in terms of quality alone, all three are pretty much equal.
With that in mind, making the right decision generally depended on what you wanted smart home technology for.
Choosing the right smart home system for you
If it was integrated intelligent lighting control, shading, and simply creating the right mood for any occasion, the Lutron, the smart lighting specialists, were the brand for you.
If it was home control on a budget that means the typical Crestron home automation cost is out of your price range, or if it was total control over your AV installation, Control4 was the best way forward.
If it was unrivalled compatibility with a whole host of smart tech brands, advanced features and next-generation technology, Crestron were the undisputed winners of the Crestron vs. Lutron vs. Control4 battle.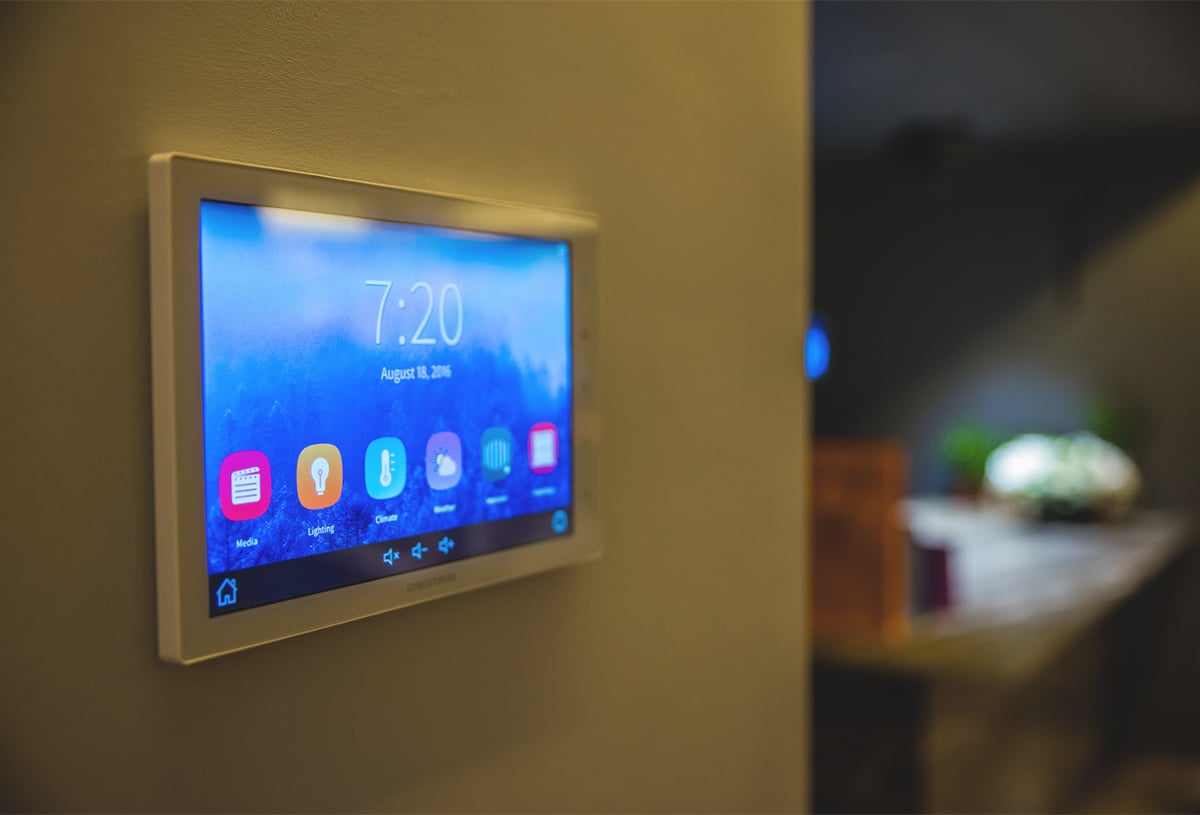 Crestron positions itself as the ultimate home automation system
When it comes to Crestron home automation trends in 2018, what we're seeing is the brand looking to establish itself as the be-all-and-end-all of home control.
There were the advances in the brand's smart lighting products.
There were partnerships like the one we mentioned earlier with Sonos that allowed for better control over AV installations.
There was even a move towards offering some entry-level products so that the typical Crestron cost wasn't a barrier for homeowners who wanted superior quality.
Whilst the brand will always have its competitors, anyone looking for a complete all-in-one approach to smart living will be able to find everything they need from Crestron home automation.
Crestron Systems and Your Smartphone
Let's face it:
We spend more time on our smartphones than ever before.
According to one report, the average UK smartphone user spends up to 83 hours glued to their devices.
When you think about it, is it any wonder?
These tools can do everything from chatting with friends to managing our finances, serving as our GPS, our gaming system and, yes, managing our homes.
Managing Crestron home automation on a smartphone has always been one of the system's biggest appeals.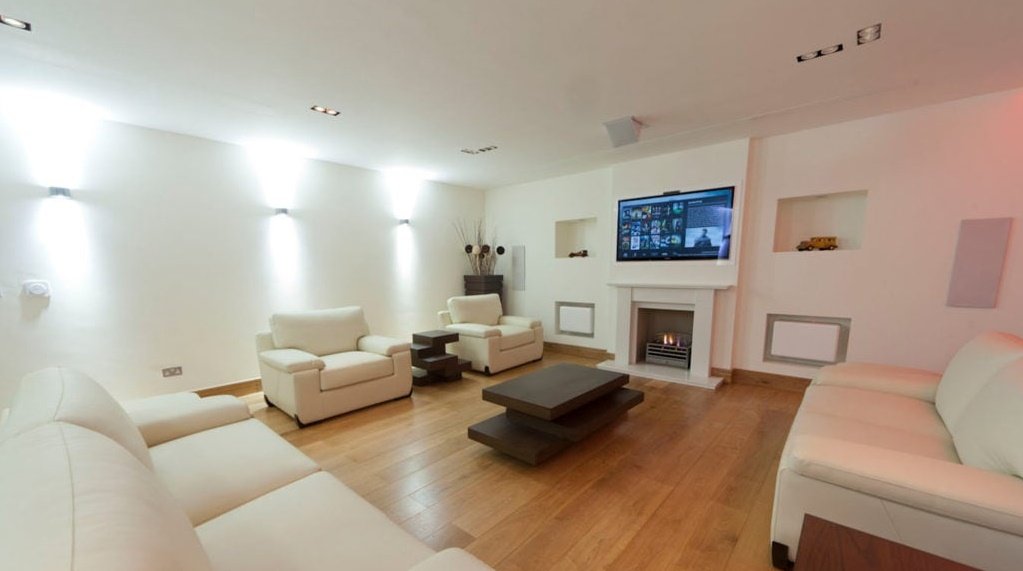 Taking the hassle out of smart home management
Whether you use the free, basic Crestron app or make an in-app purchase of the entire platform, you have complete control over your entire property.
Tap one button, and you've got intelligent lighting control at your fingertips.
Tap another, and there's your favourite music playing on the whole home audio system.
Go at it a third time, and the shades are drawn, the thermostat is set, and you're ready for a cosy night in.
As we come to spend even more time on our phones, there's every possibility we'll see the company integrating more features and advanced controls into its app, making Crestron systems and your smartphone inseparable.
Crestron continues to expand its enterprise offering
Here's some eye-opening figures for you:
Sales of IoT (Internet of Things) devices aimed at the Business to Business (B2B) market are expected to more than double over the next two years, from 2.5 billion last year up to 5.4 billion by the year 2020.
Meanwhile, 94% of businesses who have already integrated such technology into their workplace say they've already seen a return on investment.
Interesting sure, but what does this have to do with Crestron?
As it happens, quite a bit.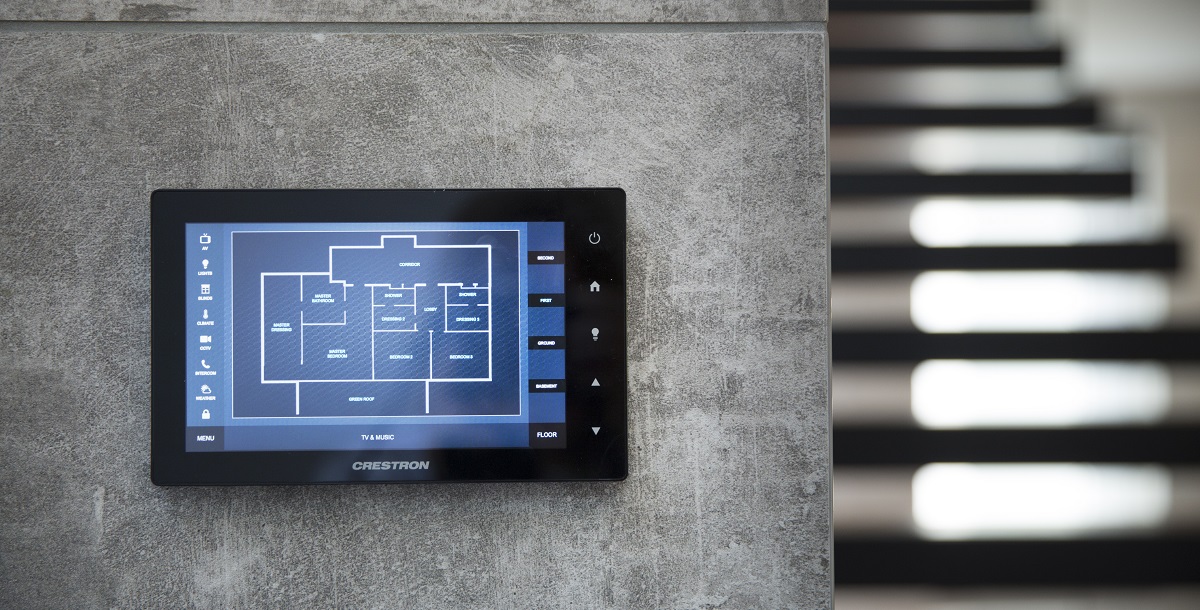 The best of smart home automation tailored to the business world
Though the brand is well-known for their automation products aimed at residential homeowners, that's not the only market they cater for.
Crestron's enterprise solutions have long been employed by businesses to help achieve key objectives such as:
Increasing efficiency
Lowering costs
Improving communications and presentation.
So far, so good, but if 2018 is anything to go by, we could see Crestron place as much focus on their smart technology systems for businesses as they do for the consumer market.
Crestron announces further collaborations
In June, the company strengthened its partnership with enterprise video and online communications specialists Zoom.
The collaboration means Zoom UX is now available on Crestron Mercury® and TSW Touch Screens.
This means that businesses can now control their AV installations, lighting, and communications within the native Zoom Room experience and further improve the way they work.
Earlier in the year, the company also revealed that they'd expanded their collaboration with Sennheiser to bring next-generation automation control to conferencing.
They also released their new Crestron Airboard, bringing the traditional whiteboard into the smart age.
If there's one big Crestron trend to look out for during the remainder of 2018, it's for more announcements of enterprise-level innovations to be coming this way.
Crestron Home Automation Cost
Finally, some good news for those who come to Pro Install AV with the million dollar question:
How much does Crestron cost?
The answer is simple:
Less than you might think.
Though home automation used to be the exclusive reserve of the uber-wealthy, that's no longer the case.
Over the years, we've seen a trend in increasingly affordable costs for home automation, with Crestron giving typical entry-level options like Control4 some stiff competition.
In fact, the typical cost of a standard Crestron home automation system is only around £55,000.
Alternatively, it's even possible to take advantage of the brand's wide-ranging compatibility with other smart home brands, combining Crestron with other systems so that you can experience the height of luxury living, automation and convenience for even less.
To discover why home automation costs less than you might think, or to explore how Crestron can help you bring your style to life, talk to Pro Install AV online today. Alternatively, call us now on +44(0)20 7096 0078