Tips for constructing the perfect Home Cinema
18 Oct 2022
Home Cinema
Have you always wanted that one dream home cinema feature to complete your smart home? There are so many choices you may be wondering which would suit your needs and your budget!
We've put together some tips on creating the perfect home cinema for you in our post.
Location, location, location!
Whether you live in a vast property or something a little smaller, your home cinema will take up an entire room. The space is needed to install the equipment needed, plus all the furniture and other accessories!
If possible, choose a room that measures a minimum of 20ft x 12 ft. It'll provide you with better sound quality. But depending on whether the room is near communal areas, you might want to consider sound proofing your home cinema too.
Soundproofing options for your home cinema
A home cinema may need soundproofing, and there's a choice of ways to achieve this. For example, Maxiboard is often used with significant effect. It's a wall-lining technique that effectively sound proofs a room without losing space.
Colour schemes that enhance a home cinema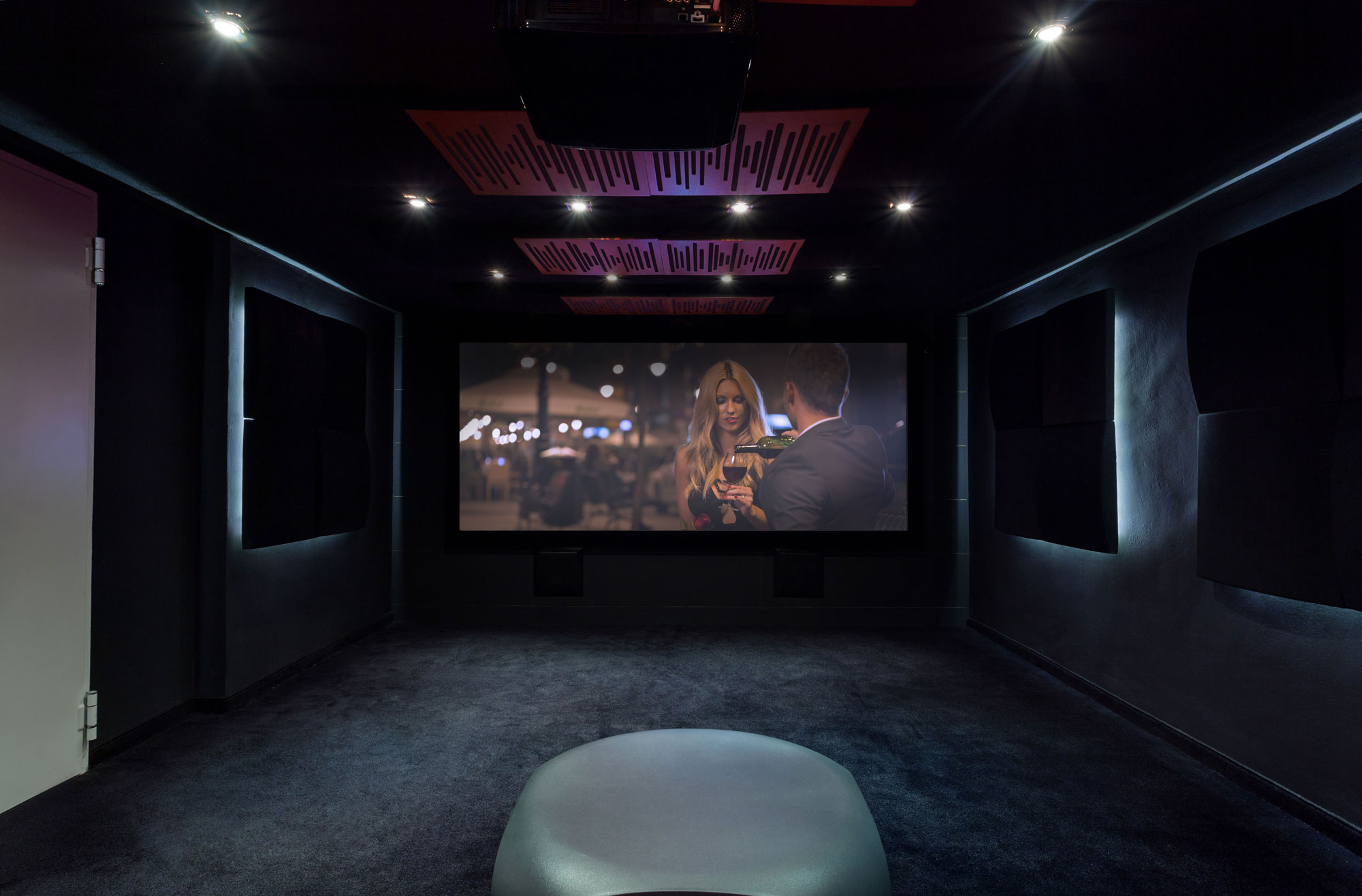 Colour schemes and décor are also important when designing a home cinema installation. Darker colours are the better choice for both walls and ceilings. This includes colours like:
Grey
Burgundy
Dark brown
Black
Darker tones help reduce the light from a projector or TV from bouncing back at people when they're watching a movie which can spoil an experience.
Surround sound speakers
Choosing the right audio set-up for your home cinema helps create the perfect audio experience. There's a great choice of surround sound speakers available, and we've listed a few below:
Bookshelf speakers
Inwall speakers
Floor standing speakers
Soundbars (Active & Passive)
In-ceiling speakers
Our experienced home cinema installation advisers can advise if you're unsure what type of speakers would best suit your home cinema set-up.
Careful furniture placement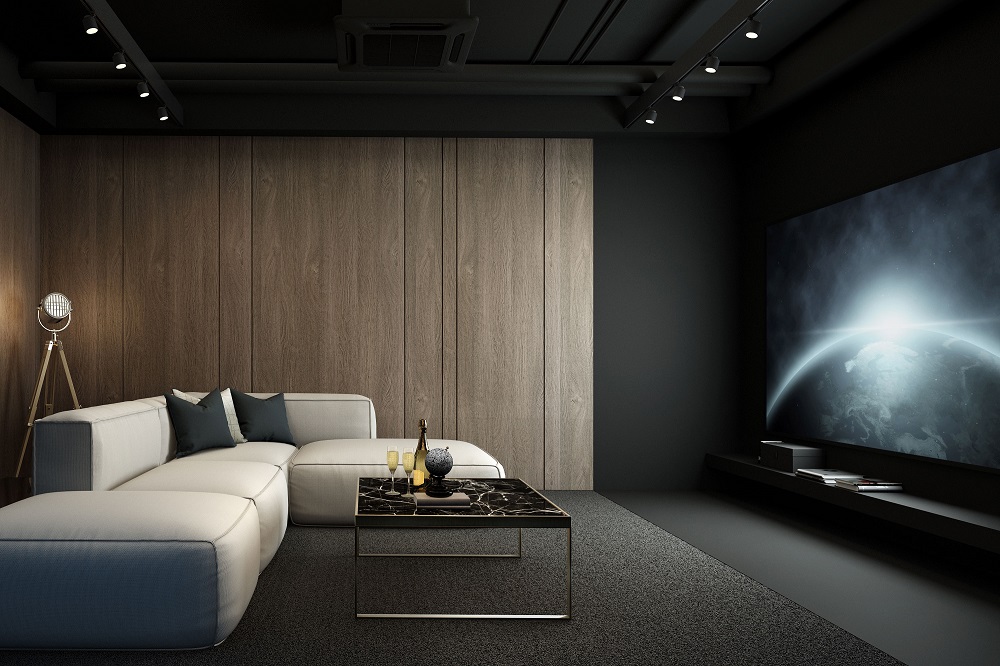 Placing furniture thoughtfully in your home cinema is essential. After all, you want everyone to see the screen. Therefore, it's always a good idea to arrange your layout to mimic that of a real cinema. For example, tables can be placed against walls next to the seating leaving enough room for people to move around safely and quickly without knocking into things.
You might want to add the following to your home cinema:
Footrests
Cup holders
A mini fridge
Lighting is everything in a home cinema
Think about adding ambient lighting to your home cinema. It's also important to create a safe place for people to move around while creating the best ambience to watch a movie.
To achieve effective lighting for a home cinema, consider a combination of the following:
Task lighting
Accent lighting
Ambient lighting
The three lighting techniques help create a captivating viewing experience when expertly installed.
Ambient lighting is a great way to promote comfort and relaxation. In contrast, task lighting makes your home cinema a safe place to move around before and after viewing a movie. Finally, accent lighting is a great way to highlight a specific area or object, which adds more to your home cinema's ambience.
Add dimming functions to your home cinema lighting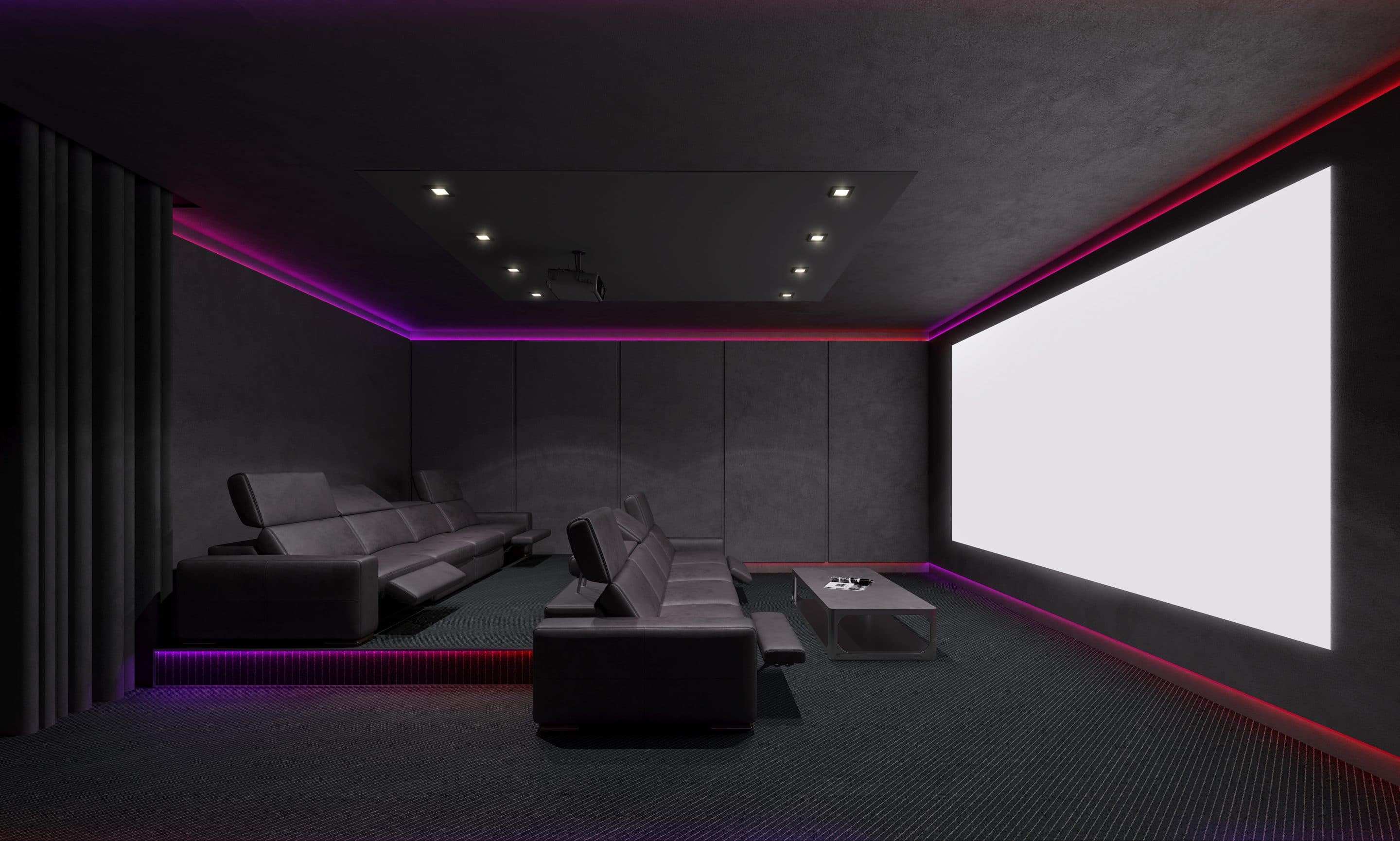 Adding smart dimming functions to lighting in a home cinema helps create a mood and set the scene. When well thought through, lighting plays an important role in setting a mood. Dimming functions for each sort of light add to the ambience and viewing experience.
These little things help create the perfect viewing environment in a home cinema installation, whether you're watching a sci-fi movie, a horror film or spending quality time with kids watching a family movie.
Innovative ideas for your home cinema installation
Creating the perfect lighting for your home cinema installation has never been easier. There are many lighting options, including LED task lighting, cove lighting and accent lighting.
Below, we've put together some ideas that'll help you create an effective home cinema design:
Fade to black is a dimming technique that gently lowers lighting levels, allowing your eye to adjust as the light fades. The technique effectively replicates lighting effects in a real cinema setting
Pause activated allows you to set the lighting level when you pause a movie. It's a great idea and extremely useful when people need to take a bathroom break or to get some more snacks. Once you resume viewing the film, the lighting automatically lowers again
Star ceiling is a great way to light up a home cinema. Fibre optic lighting provides ceiling starlight patterns that simulate a night sky. It helps create a dazzling yet subtly dramatic feel to a home cinema installation.
Dedicated home cinema lighting options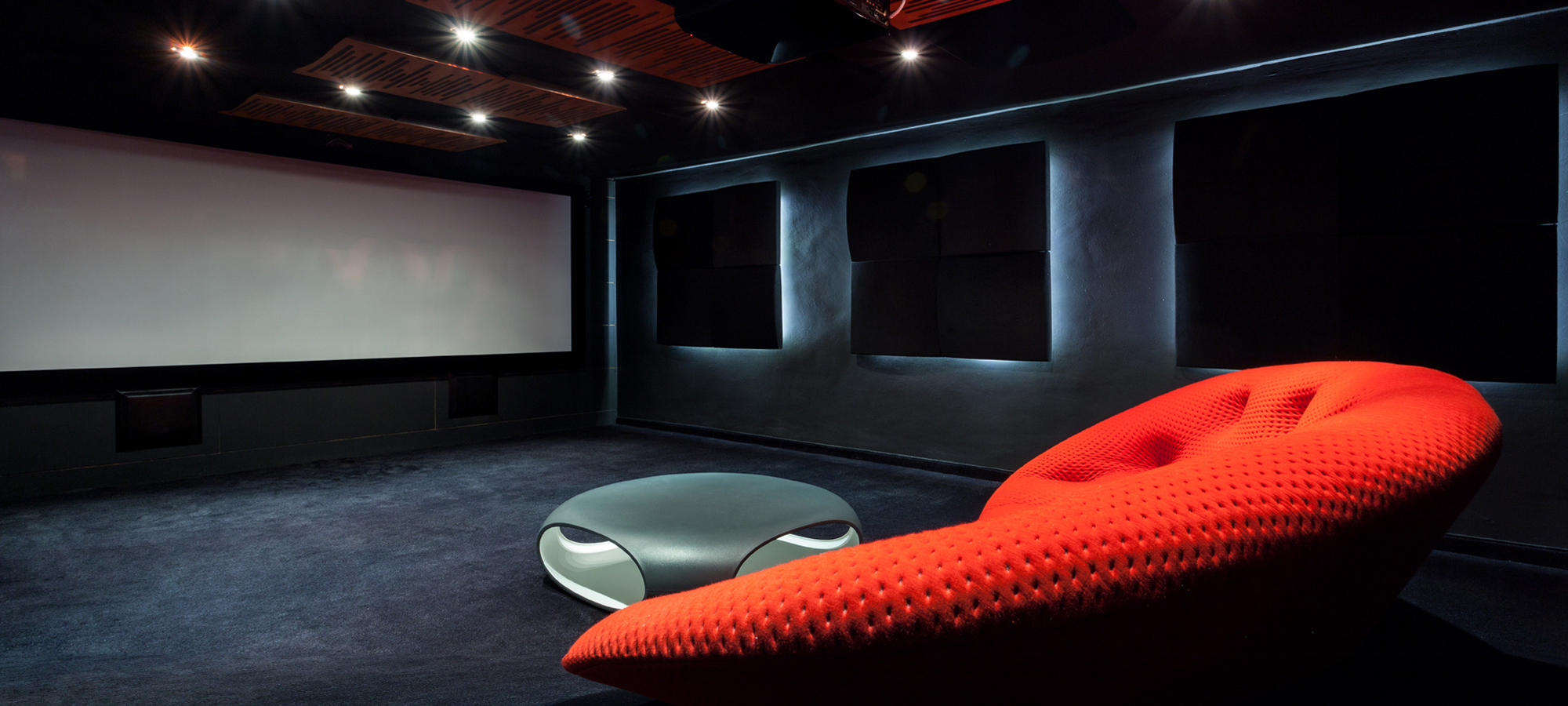 When you dedicate a room in your home to a home cinema, you have endless lighting options. Therefore, combining several lighting systems is all-important in creating the perfect viewing experience.
When you have a lighting control system, you can control a room's ambience at a touch of a button. Or you can pre-set the controls to bring up the lights when you pause a movie. Then lower the lights when you resume viewing!
Setting the right mood in a home cinema is achieved with the perfect lighting effects. With carefully placed furniture, lighting is an all-important aspect of media room design.
Ready to create a home cinema?
Are you ready to create that dream home cinema? We're here to help and advise you on how to set up an optimal viewing experience. We provide a full range of services in home cinema installation. In addition, our home cinema room design service is second to none.
Call today, and one of our audio-visual installation experts can walk you through your options! We pride ourselves in providing a professional service to all our clients as an AV installer London.