View Your Home in a Whole New Light with our Top Picks for Smart Lighting
15 Jun 2021
Intelligent Lighting
Lighting is a tool we have relied on for thousands of years in allowing and improving the visibility of the world around us – yet we very often don't look past its most basic function. It's easy to see lighting as nothing more than a way of brightening up our homes, where we often settle for lighting solutions that are lacklustre and non-personalised. For some, the idea of smart lighting is a concept of the future, but smart lighting is very much the technology of today that bring about a multitude of benefits to your home life.
The global smart lighting market reached a value of $10.8 Billion in 2020, with no signs of its growth slowing down, expecting to grow 23.1% between 2021 to 2025. Once you catch on to the benefits and why its surge in popularity, investing in smart lighting will seem like a natural and overdue choice.
Let's take a look into how you can view your home in a whole new light through our top picks for smart lighting with industry-leading brands like Lutron, Control4 and Crestron.
What are the Benefits of Smart Lighting?
1. Creating Ambience
Smart lighting can create a powerful atmosphere for every room in the home, which can be fine-tuned to any activity. Create a romantic mood in the dining room for your next dinner date, or create the perfect movie set up in your living room with your smart lighting personalised to your choice of film.
2. Improving Security
It's smart for a reason – smart lighting can provide security benefits to homeowners through mock occupancy behaviour and timers so that you always appear to be at home, while also sensing movement through lighting motion sensors. Smart lighting also works directly with a home security system, integrating the two enhances your overall protection and can create interesting and useful results.
3. Energy Efficiency and Savings
Intelligent lighting control solutions are a great investment for those who are more conscious of their environmental impact, which is also likely to result in substantial cost savings in your energy usage. The bulbs and dimmers used in intelligent lighting control can result in energy savings of up to 40%.
4. Improving Mood and Productivity
When skillfully applied, lighting can elicit a wide range of emotional responses. Whether you want to improve your activity and productivity through natural lighting, create warmth in a room through amplifying warmer colours, or lower light levels for comfortable reading and rest. Customising the lighting in your home will bring both comfort and convenience, while always setting the right mood for you and your guests.
Our Top Picks for Smart Lighting
Lutron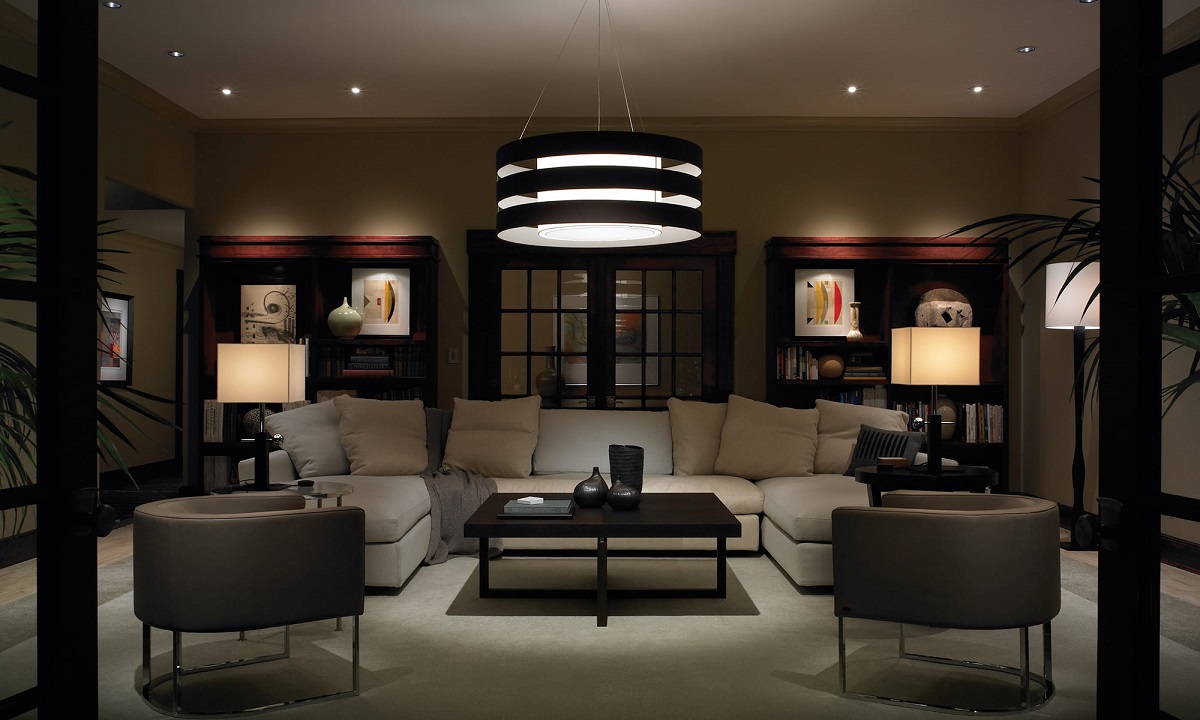 Lutron is internationally recognised as leaders in the smart lighting industry with unparalleled technological innovation and thoughtful elegant design. The Pennsylvania-based company have seen a surge in popularity since 2020, with homeowners and experts considering Lutron to be the essential smart lighting system.
Perhaps Lutron's most unique selling point is its commitment towards energy efficiency and energy savings – helping the environment, reducing your energy bills and increasing energy efficiency whilst beautifying your home. Each year, installed Lutron products save nearly 10 billion kWh of energy, investing in the eco-friendly brand is a no-brainer for those who are environmentally conscious with the added benefit of the massive cost savings.
The Lutron Caseta In-Wall Wireless Smart Lighting Kit ($99.95) is a great starter pack for smart lighting control with do it yourself installation and easy integration with major voice assistant platforms like Amazon Alexa. Along with its commitment to seamless light control, its best-selling Homeworks QS is more than just an intelligent lighting system as it integrates into just about every aspect of your home – including security, entertainment and temperature. Lutron Homeworks is fantastic for convenient light control with optimum energy savings through its use of occupancy and vacancy sensors, with its own "Energy" button to dim lights, lower blinds and adjust the temperature to conserve energy.
As top certified Lutron dealers and installers in London, we recognise Lutron HomeWorks QS to be an essential part of anyone's smart home experience. The Lutron smart lighting system is a top-selling product that transforms homes and provides sophisticated control of your surroundings at the touch of a button.
Control4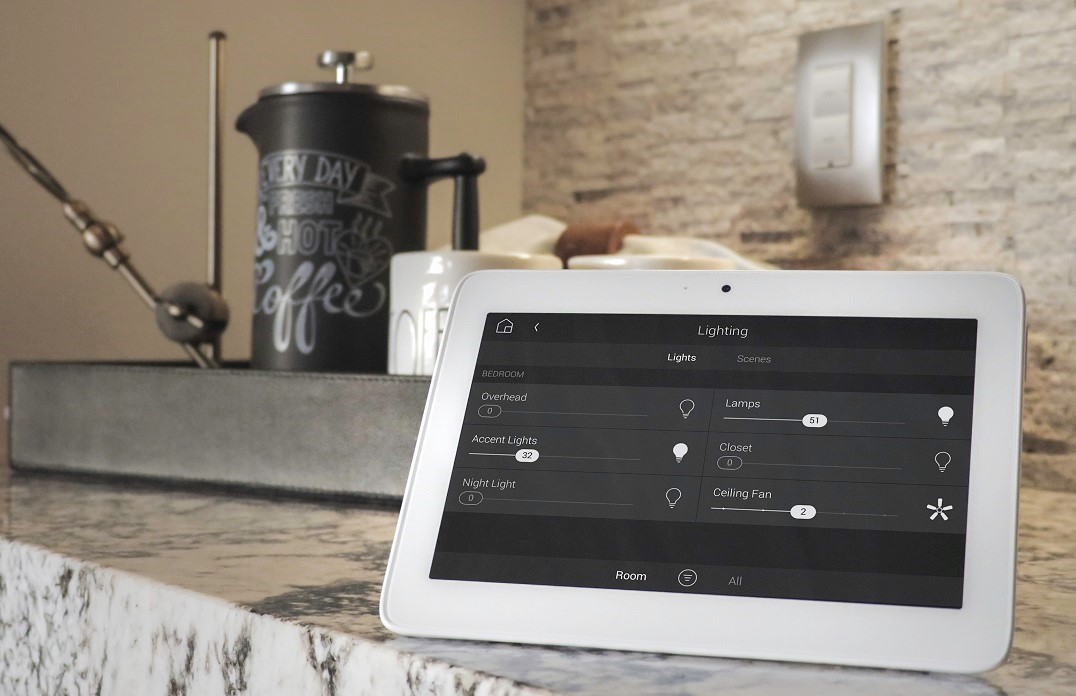 On the topic of whole-home automation systems, Control4 takes the cake for world-class smart home systems with endless possibilities at an affordable cost.
Control4 shows that when smart lighting is integrated into whole-home automation systems, the options and possibilities are endless. Imagine home entertainment with the ability to combine your smart lighting to create ambience and dramatic effect.
We are becoming increasingly aware of how lighting affects our mood and productivity – so it's no surprise that Control4's focus on smart lighting is to go beyond its traditional function in the home. The simple solution to avoiding the negative mood effects of traditional home lighting is to have control, so smart lighting and the use of systems like Control4 with dimming, timer and intensity functions that cater towards the specific task at home is the best way to help our mood and productivity. Now, imagine having this freedom and control in every room of our home to create any mood effect – it's never been easier with Control 4's smart lighting and entry-level home automation system.
Aside from the many functions that Control4 can offer around the home, its smart lighting feature prides itself on offering an experience rather than just a utility for your home. Control4 (prices starting at 20k) believe their smart lighting solutions should set the scene for any occasion – whether you want your smart lighting to control a room or the entire house.
Crestron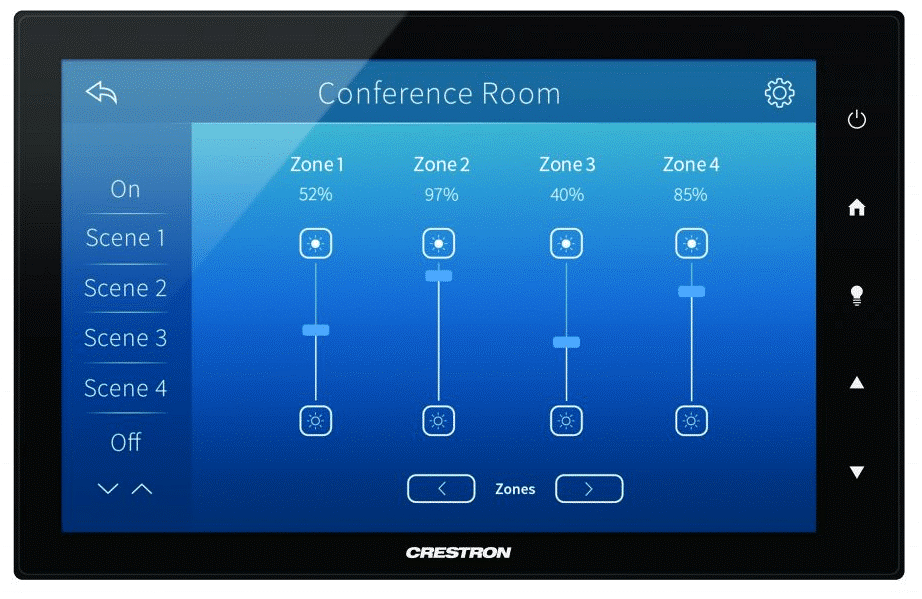 Despite the tough competition, Crestron lighting control aims to stand out through the height of luxury living and bespoke tailored systems that are fully customisable to the users living experience. Quite simply, Crestron aims to go beyond automation and convenience through its pursuit of stylish, elegant and uber-modern technology that helps users "bring [their] style to life."
So how does Crestron's smart lighting system compare? Crestron Home does not give every user the same experience, rather every home can be configured differently and customised entirely to your needs. With the Crestron Home Setup App, you can edit 'lighting scenes' which quite literally enables lighting 'looks' for every room in your home for the ultimate personalised experience.
One of Crestron's main focus is continuing to improve the voice technology experience through a seamless voice integration with its existing products, this is especially true for smart lighting. To do this, Crestron has ensured they have unbeatable third-party compatibility so that you can integrate just about any compatible smart home product.
Although the Crestron Home automation system is more pricey than both Lutron and Control4 (prices starting at 50k), Crestron's smart lighting solutions and energy management systems have huge potential in cutting down costs on your utility bills, while its unique versatility allows extensive third-party compatibility for the whole property and single room solutions.
Pro Install AV are specialists in design, installation and maintenance of bespoke home automation and smart lighting systems – personalised to suit your home, lifestyle and budget. Contact us online today to speak to London's top Lutron, Control4 and Crestron dealer, or call now on +44(0)2070960078.